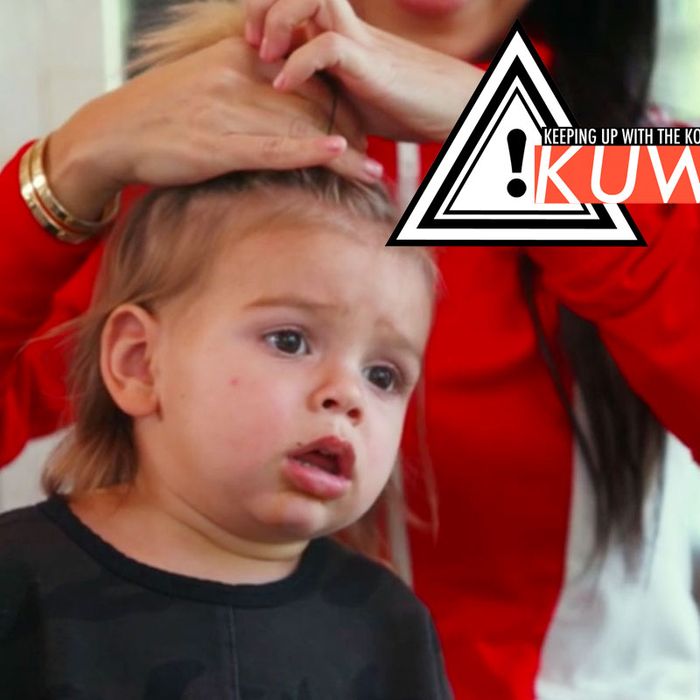 Reign Aston Disick.
Photo: Courtesy of E! Entertainment
This week on the most illustrious soap opera of our time, the A plot was Kim's return to public life and Kanye's stress level; the B plot was Kourtney and Scott's relationship; and the C plot was Khloé and Caitlyn Jenner's relationship. Don't act like you don't know it's time to get to it all, #LEGGO.
Scene 1/Cold Open:
Blessed be the powers that started this week's episode with the Kardashian family's most underrated player: Reign Aston Disick. While with mother Kourtney at aunt Khloé's home, Reign gets an impromptu hairstyle change. According to Khloé he looks like a "G-I-R-L" with one single braid in his hair. Not having any of that confusion on her watch, Kourtney jumps up to immediately replace the "girly" braid with a high ponytail. As Kourtney works on his hair, Reign freezes in the cutest and most uncomfortable position possible. This scene was filmed on December 5, 2016.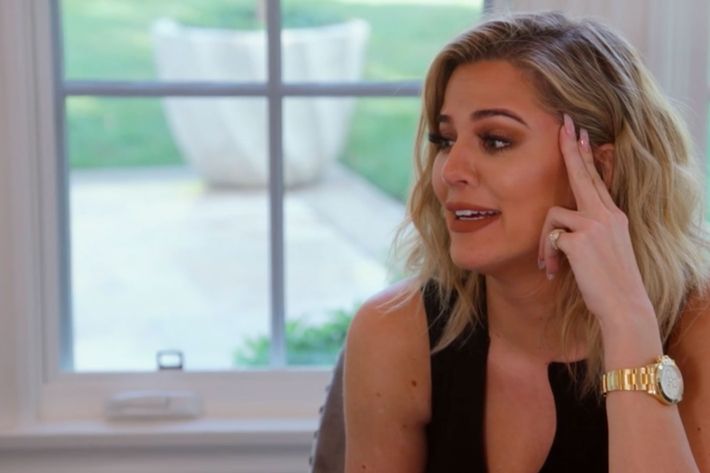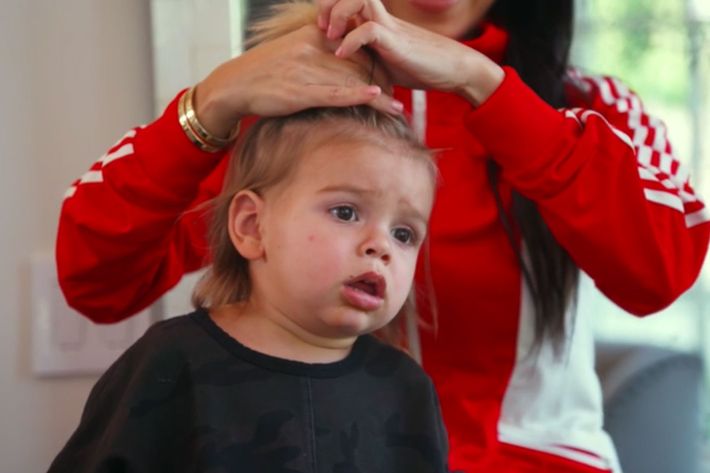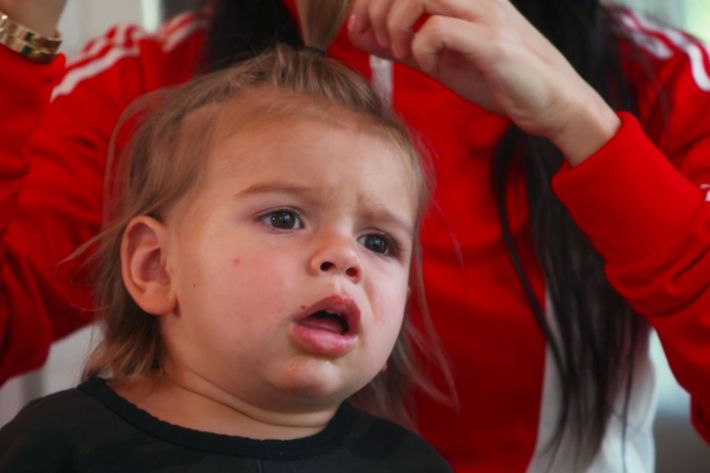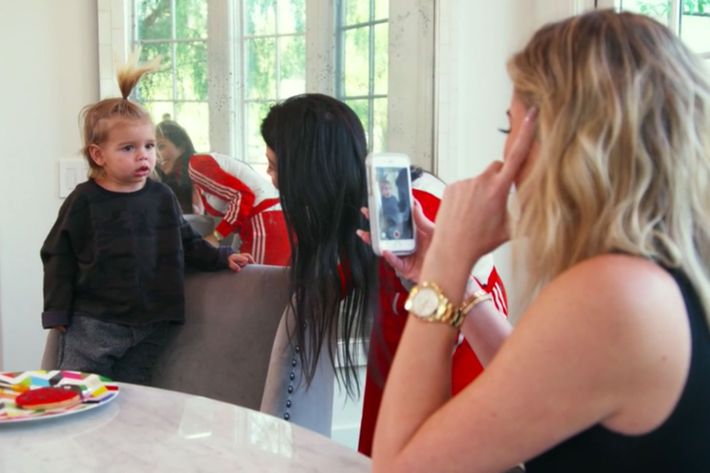 Scene 2:
As she slowly adjusts to making public appearances, Kim attends Kanye West's concert at the Forum in Los Angeles. Kim feels like she should be at as many shows as possible because that was the original plan before the robbery. Plus, the Forum is owned by close family friends Kim considers an aunt and uncle, the Azoffs. Kris arrives to the venue shortly after Kim and is slightly shocked to see Kim so dressed down. For some reason, she assumed Kim would have the energy to pull together something more than an oversize T-shirt and a speck of makeup. While Kanye's guests mingle, a caterer prepares food for the Kardashian-Jenner family, Kim K. BFF Brittny Gastineau, and Katy Perry. Finding the camera at every turn, Katy tells Kim how happy she is to see her, and reminds Kris that everything in life is a "lesson, lesson, lesson!" Whether it be a relationship or being physically attacked in a robbery: It. Is. A. LESSON. So Kim will be fine. Thanks, Katy!
Once the show starts, Kim heads to the arena with Kourtney; the Most Iconic Personal Assistant in Modern American History, Steph Shep; and former E! employee Brittny Gastineau. Kim tries to enjoy herself, but feels pressure from prying eyes to either look super happy or super sad. While dancing, Kourtney notices fans filming Kim and tells them to stop before they're "exited." Not too long into the concert, Kim heads backstage to watch the show from a couch.
Post-show, Kim cuddles up to Kanye while Kourtney talks about the joy of being sweated on by strangers in a mosh pit. This scene was filmed on October 25, 2016, less than one month after the robbery.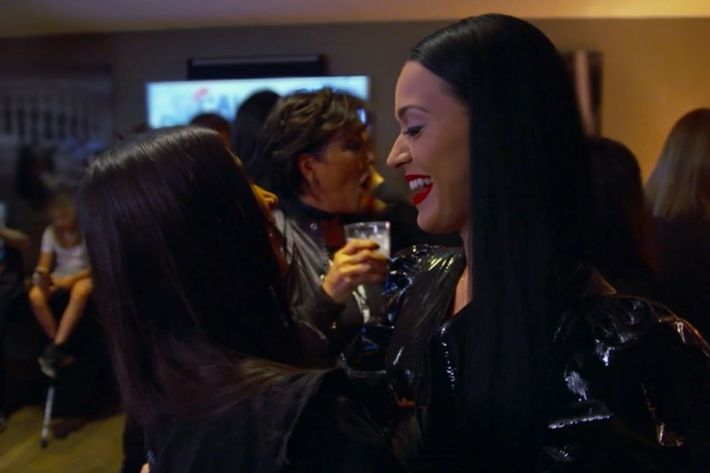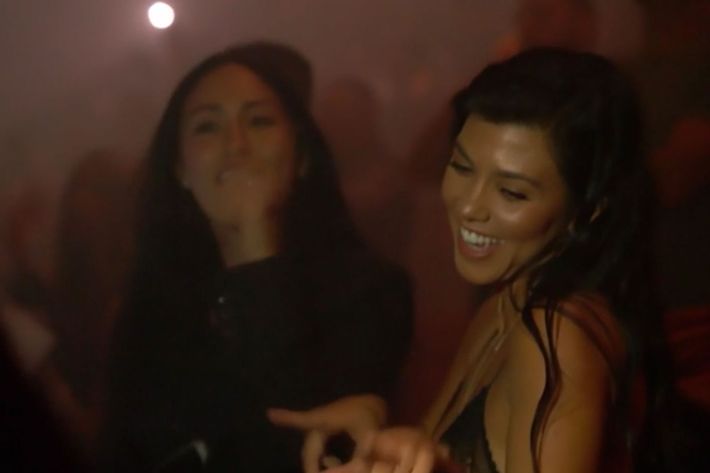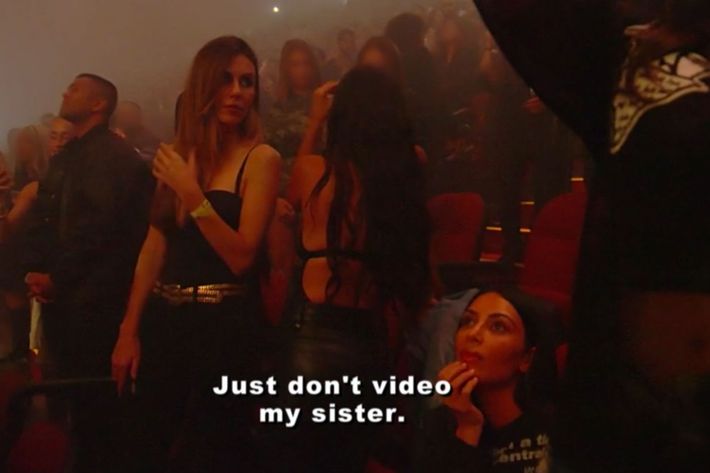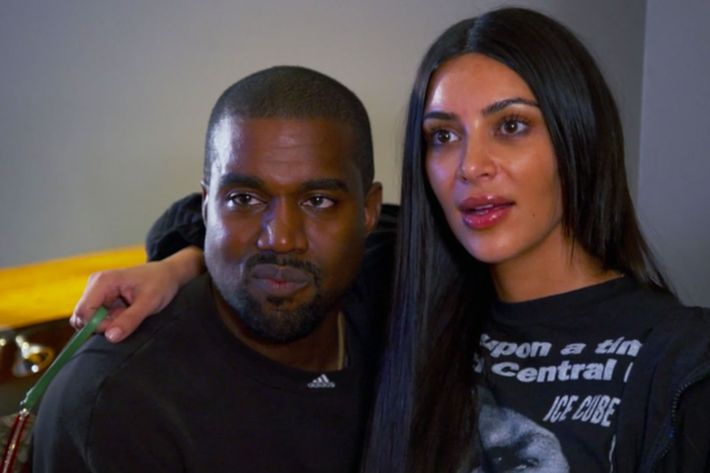 Scene 3:
At Kendall's 21st birthday dinner, she greets her waiting and very drunk family. Caitlyn Jenner is there, seated next to Kris's mom, MJ. Khloé and Kourtney are also in attendance and quietly arguing over who will sit next to Caitlyn. Khloé doesn't want to sit in awkward silence, so instead of sitting right next to her, Khloé sits right across from Caitlyn. Once everyone is settled, Caitlyn and Khloé realize that neither one of them can remember the last time they hung out. The conversation gets more strained as they try to quickly catch up, with Caitlyn asking about how Khloé likes Cleveland and Khloé asking MJ for more fries. After some silence, Kris announces that she's going to the "ladies' room," and invites Caitlyn to join. This scene was filmed on November 3, 2016.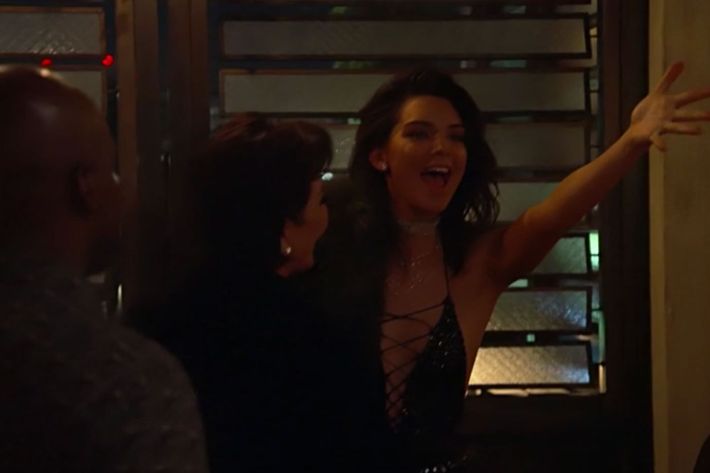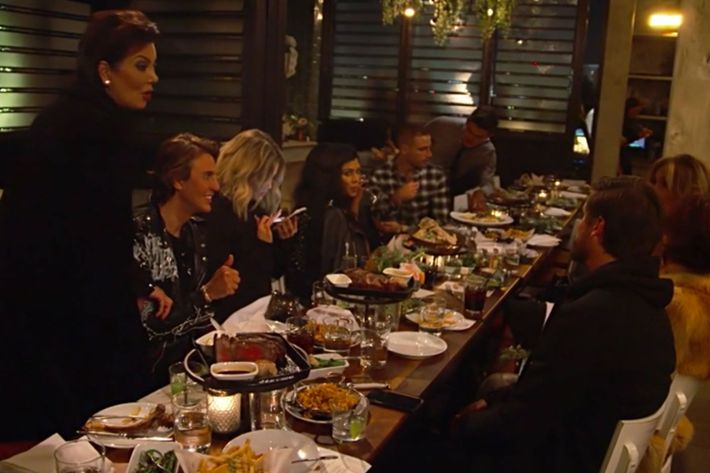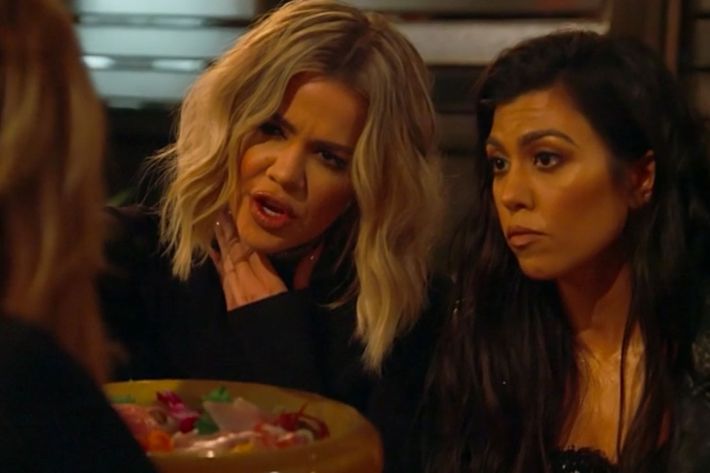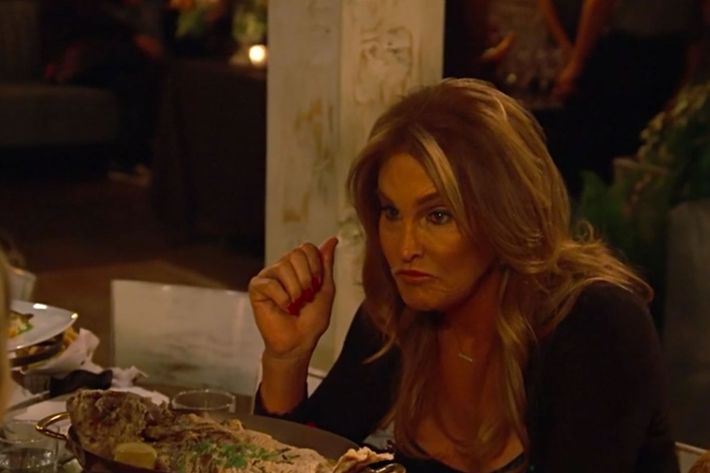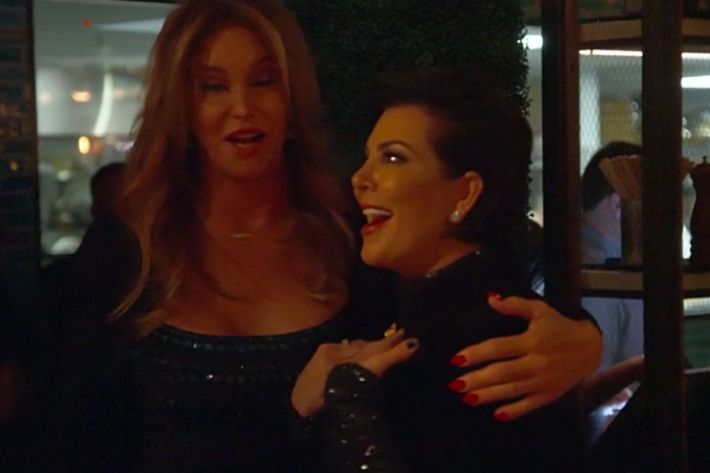 Scene 7:
The family celebrates another birthday, this time for Kristen Mary Houghton Kardashian Jenner. To have a chill Saturday afternoon, the family rented out a movie theater for a private screening and followed it up with a private lunch. Because she's still not going out in public, Kim calls Kris to wish her a happy birthday. Kris is sad that Kim still feels uncomfortable in public and therefore unable to attend, but can't wait to accept whatever gift she has for her once she gets home. Another one of Kris's absent children, Rob, calls too. For his gift, he jokes that Chyna's water broke. Hysterical! Kris thinks that Rob might be serious, but Khloé calls bullshit since he didn't say "bible" to confirm that he was telling the truth. This scene was filmed on November 5, 2016.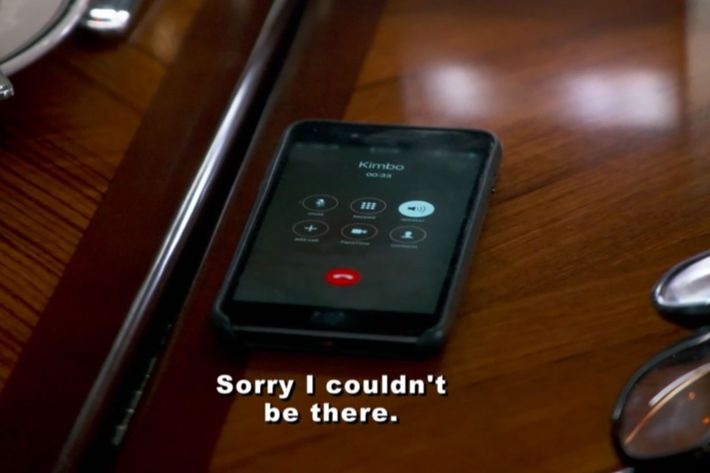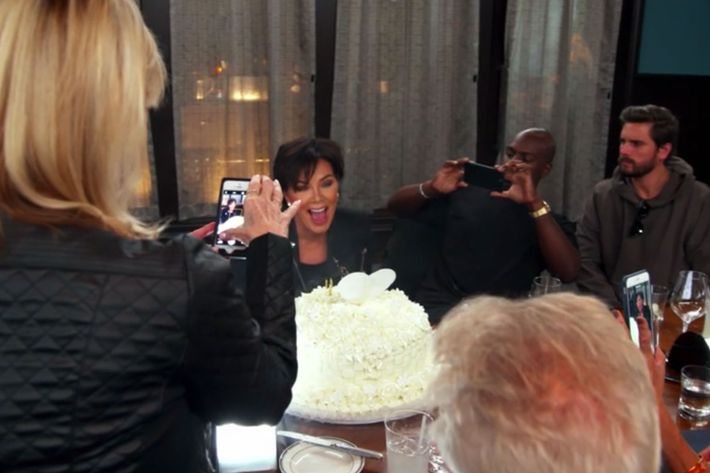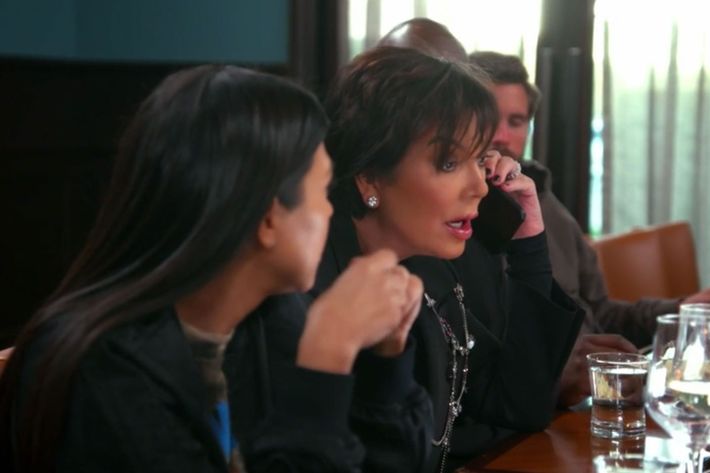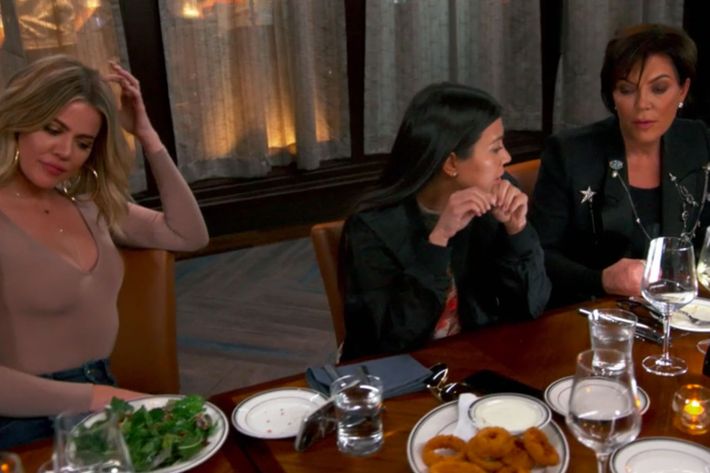 Scene 8:
At Kim's house, Kourtney watches Kim go through old family photos. Kim finds a photo from Khloé's softball days back in 1995, and questions whether she was actually the cutest girl on the team, which the blurb on the back of the photo states. Looking at all of these old memories gets Kim to think about doing a tribute video for her dad at the upcoming Angel Ball benefiting the Angel Foundation for Cancer Research. He'll be honored at the New York City event, which could potentially be Kim's first public appearance since the robbery. What's holding Kim back is Kanye, who has added over 20 new concert dates to his tour. She tells Kourtney that he lost his voice the night before during a show, and she doesn't want to tell him to take a step back from the tour because he knows his limits — she doesn't want to be overbearing. Sadly, Kim nor Kourtney address the mannequin heads behind Kim, and most specifically the mannequin head she used to practice braiding on so she could better do North's hair. This head hasn't been seen since July 2016, and looks like it's been touched since. This scene was filmed on February 10, 2017 — almost three months after the Angel Ball.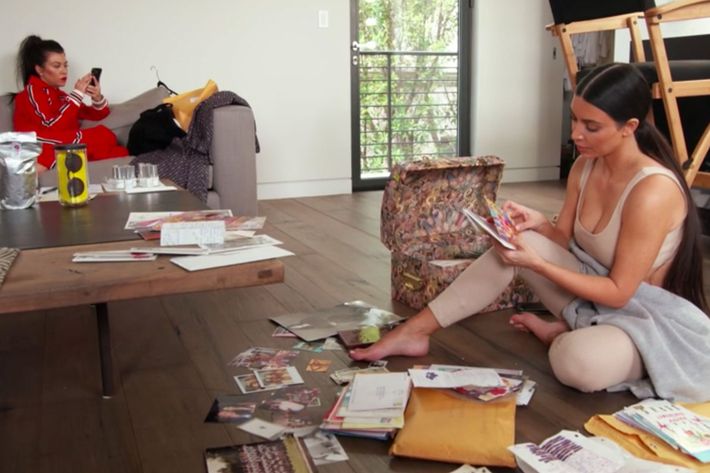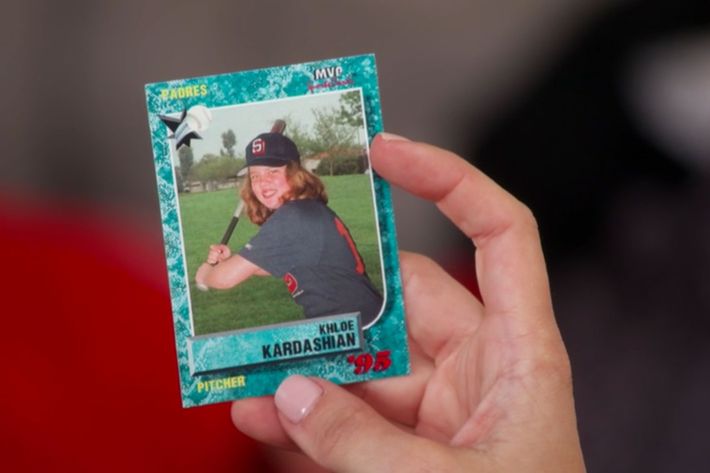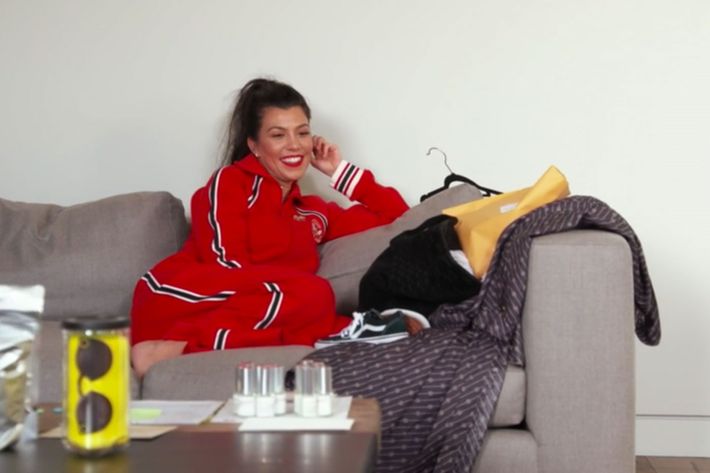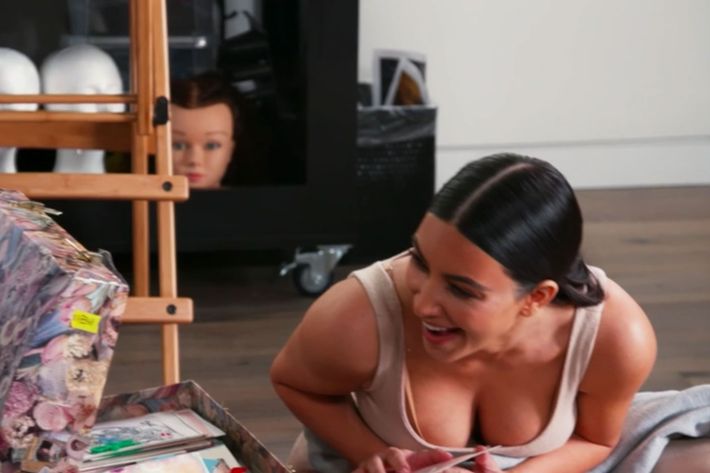 Scene 9:
At Kim's house, her son Saint West is accosted by his cousin Penelope Disick for not being able to speak. Kim tries to temper the situation and tells Penelope that Saint does know the words "go" and "dada." Following the incident, Kim, Kourtney, and Khloé stow away to watch old home videos of their father. They've decided to definitely make a tribute video for the Angel Ball, and want to sift through all of the footage. Nothing can express the sweetness of watching the sisters enjoy seeing their father onscreen. While watching the videos, Kim decides to go to the ball. She doesn't want to miss out on honoring her father, but still genuinely wonders if she's ready to face the public. This adorable scene was filmed on November 17, 2016.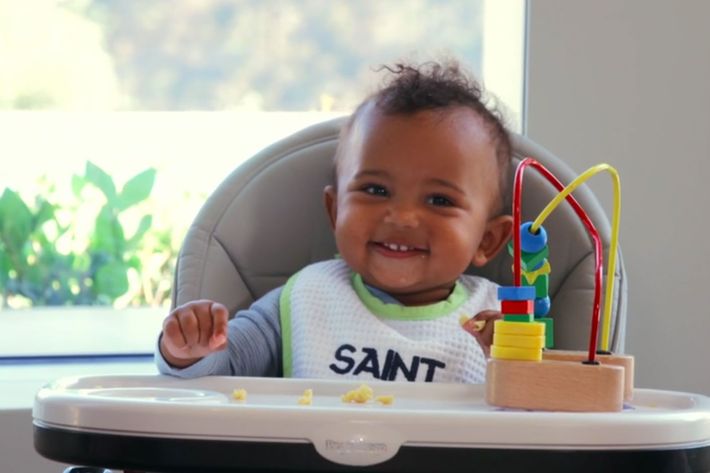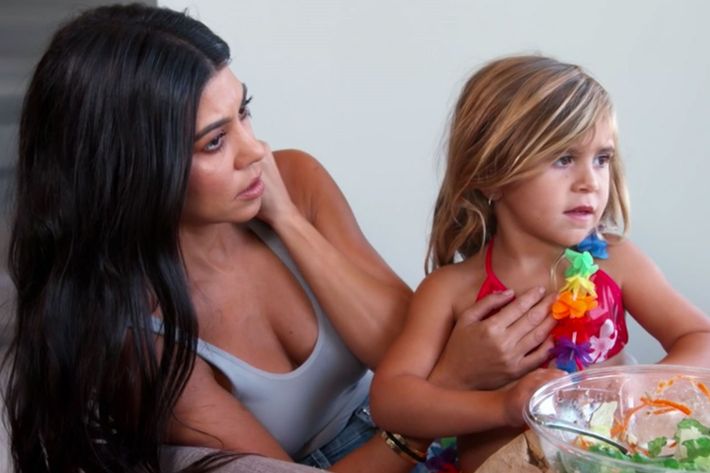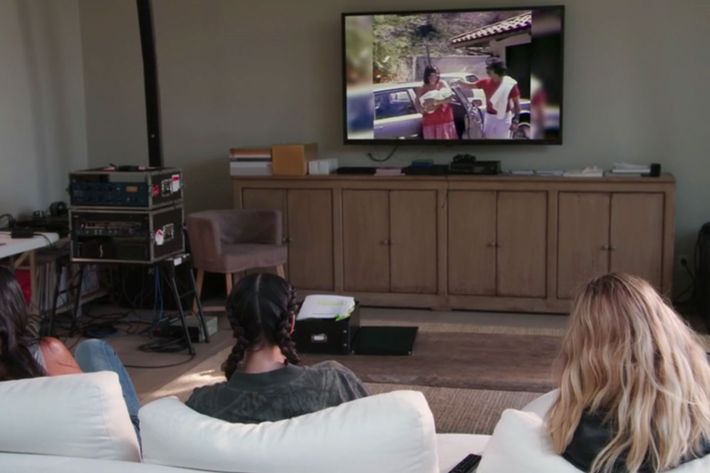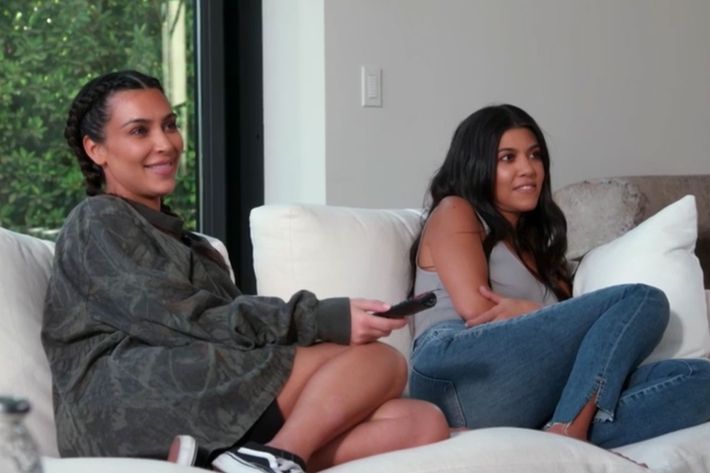 Scene 10:
Calabasas power couple Kourtney Kardashian and Scott Disick rush to the hospital to meet Rob's new child, Dream Kardashian. The two want to make a quick appearance, before they're scheduled to jet off to Mexico with their children. Once at the hospital, we're forced to sit through recycled Rob & Chyna footage showing the family meeting Dream. Not wanting to rock the boat, Khloé, who's also at the hospital, doesn't want to ask too many questions about Kourtney and Scott's "platonic" vacation. This scene was filmed on November 10, 2016.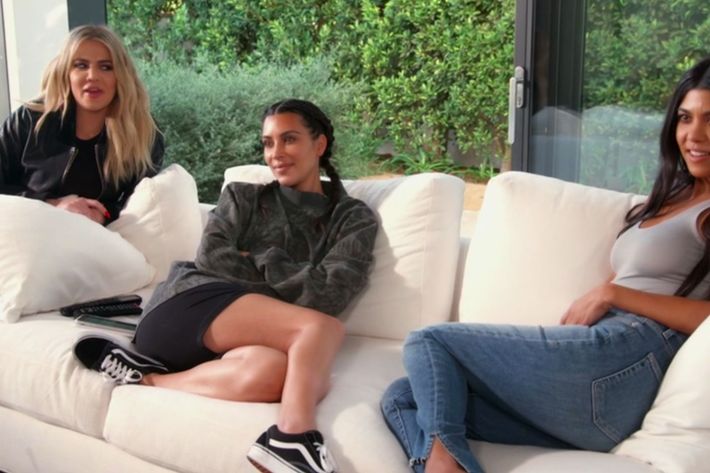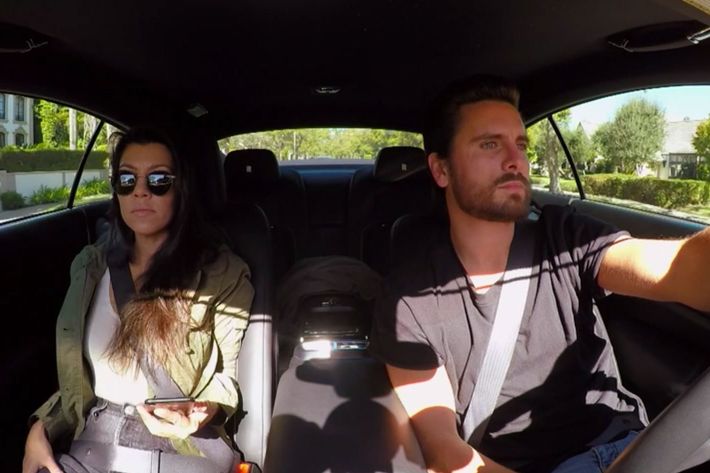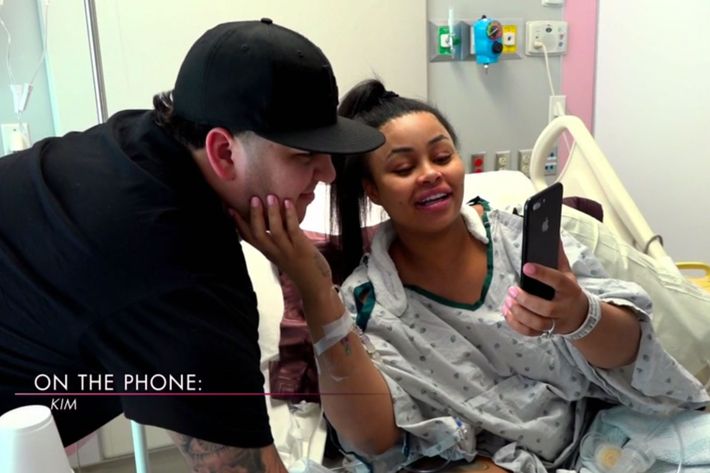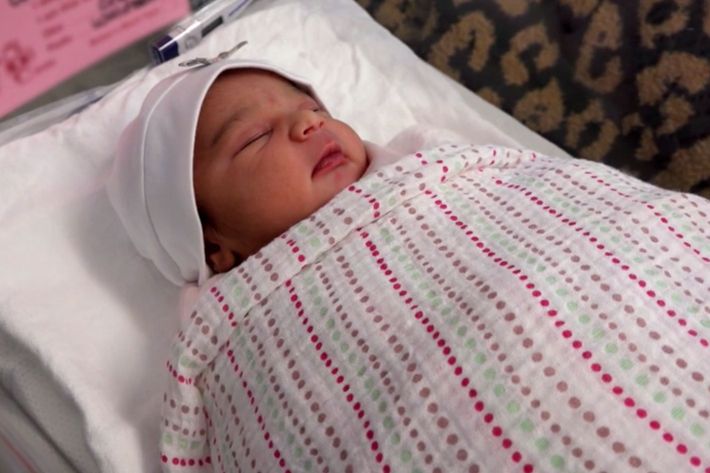 Scene 11:
At Khloé's house, she shows Kim her unfinished guest cottage. Khloé's anxious to have her sister see the space since it doesn't have blinds. Kim tells Khloé to relax because she's "not judgmental anymore." Now that she's feeling more comfortable in her home, Khloé sits Kim down to discuss all things Kourtney and Scott. Khloé is shocked to learn that Kim helped Scott plan the trip to Mexico. Kim helped because she doesn't question their situation and is "pro-them." Khloé agrees, but wants to understand why the two of them won't admit that they're together. She shows an Instagram Scott posted of Kourtney's perky bottom to back up her argument. Kim and Khloé also conclude that Kourtney is the type to call Scott "babe" and not "baby," while Khloé is more of a "baby" girl and Kim, a mix. It's shocking that Kim and Khloé can only cite Kourtney and Scott's Mexico trip as proof that they're back together, when this scene was filmed on February 9, 2017 — three months after the Mexico trip and over a month after a ski trip they took for the New Year.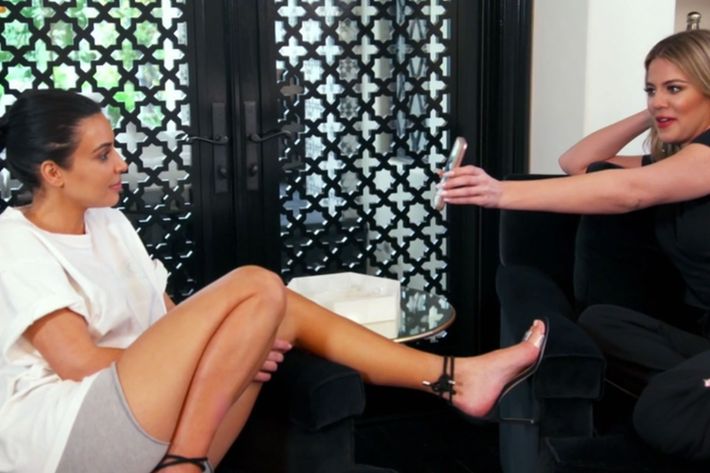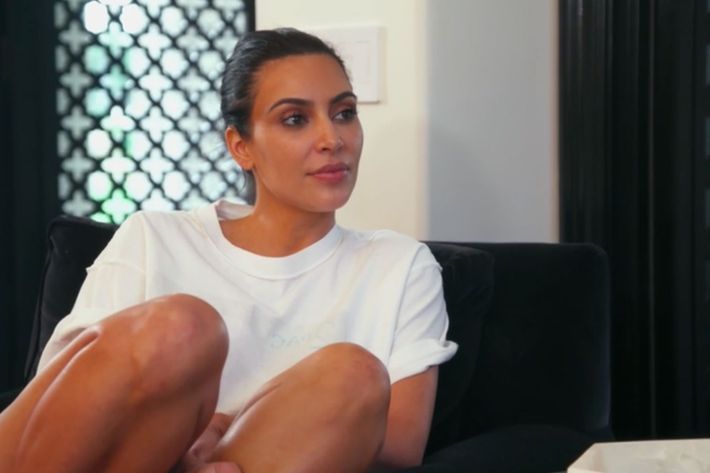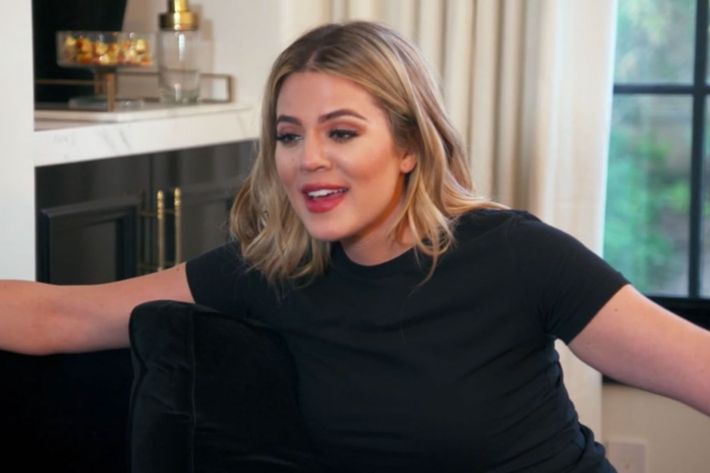 Scene 12:
After her awkward run-in with Caitlyn at Kendall's birthday party, Khloé invites her former stepfather over for a glass of wine and frank conversation. Caitlyn gets right to business, telling Khloé that she's all but forgotten about her, leaving her alone in Malibu wondering what she did. She does say that she understands Khloé was going through a lot, hinting at the Lamar drama, but insists it's easy to shoot someone a text or a quick call no matter the circumstances, especially to someone who practically raised her. Khloé defends herself, claiming that she didn't want to insert herself into the Caitlyn drama, because she had a lot going on and felt upset over how Caitlyn handled her transition, but doesn't think that her transitioning was wrong or bad. Khloé tells Caitlyn that her personality changed when she transitioned, so she doesn't consider her to be the same person as Bruce. Caitlyn accepts her explanation, but disagrees that she's changed.

After talking in circles, the ladies agree to put the past in the past and to try to move forward, with Khloé telling Caitlyn that she needs time to "transition" into accepting her. Caitlyn says she understands. Then Caitlyn shades her former stepdaughter when Khloé's dog, Gabbana, cuddles up to Caitlyn, prompting Caitlyn to say that the dog "knows more" than Khloé, since she recognizes that internally Caitlyn is the same as she was before. This tense scene was filmed on November 14, 2016.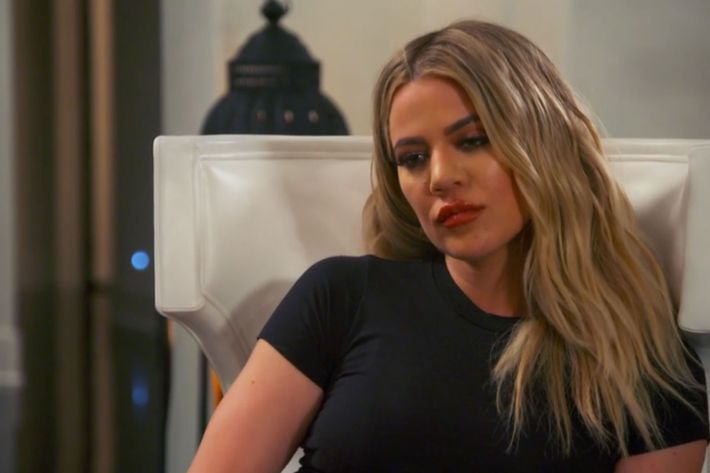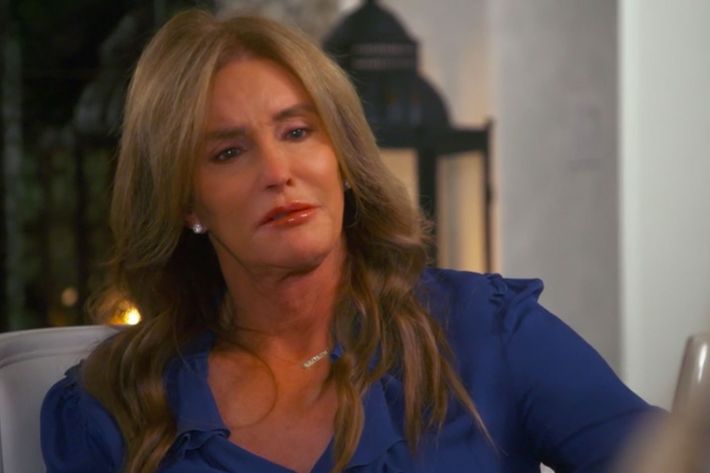 Scene 16:
At Khloé's house, Khloé and Kourtney teach Penelope the art of eating an oversize salad on national television. While the child drowns in lettuce, Khloé and Kourtney talk about Kourtney's relationship with Scott. Kourtney doesn't see anything wrong with how she and Scott behave with one another, because it's just co-parenting. Khloé thinks that Kourtney should tell Scott that — because he may think it's something more, especially after the omnipresent Mexico trip. Frustrating Khloé, Kourtney doesn't really seem to care about how Scott might perceive the relationship, and even admits to maybe wanting another kid in the future. They both agree that to move forward Scott needs to be more consistent in his behavior toward Kourtney. This scene was filmed on January 6, 2016.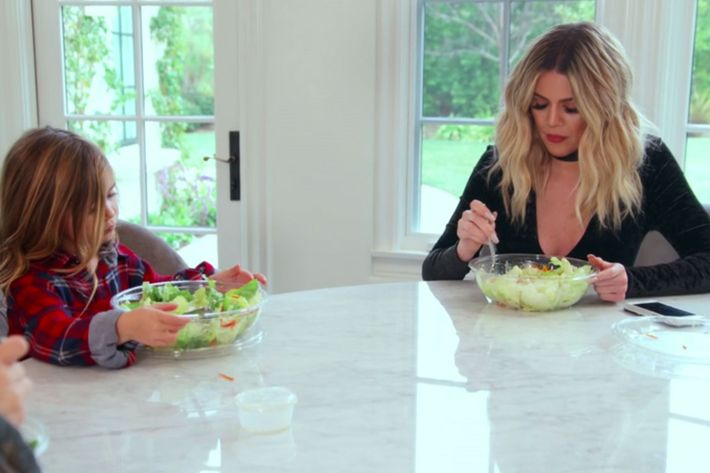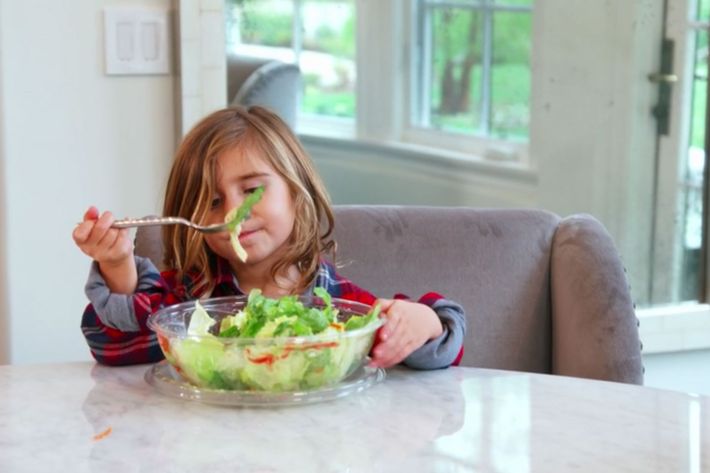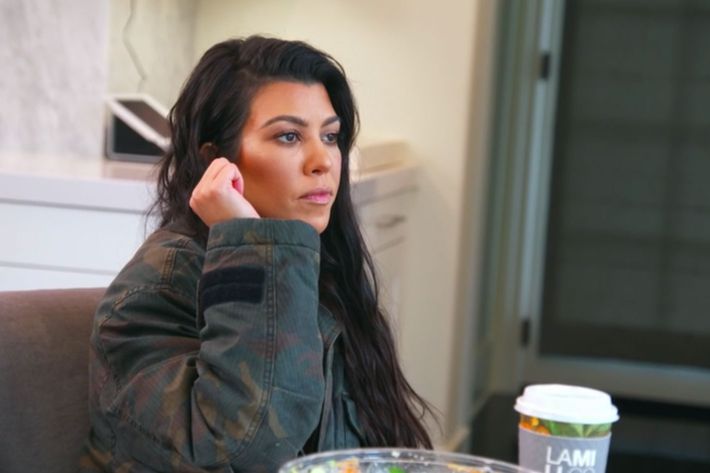 Scene 17:
Kim's decided to go to the Angel Ball in New York with her family, but just after touching down in the city, she's already on the phone with her publicist, who's giving her a Kanye update. The night before Kanye walked offstage, after ranting about Trump and the Carters. This rant resulted in Kanye canceling the rest of his tour, which Kim thinks is a good idea. She tells her mom, sister, and professional Kris Jenner lackey Corey Gamble that Kanye needs the time off. Kim doesn't seem to be too interested in talking about Kanye, so Kris asks which one of the girls will speak at the event that night. Kourtney says that none of them will — they've nominated Kris. Kris chuckles and jokes that he wasn't her "daddy," just her "baby daddy." This scene was filmed on November 21, 2016, the morning of the Angel Ball.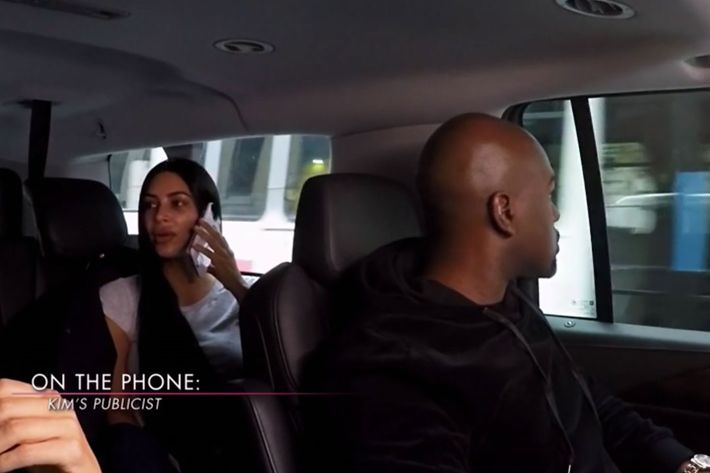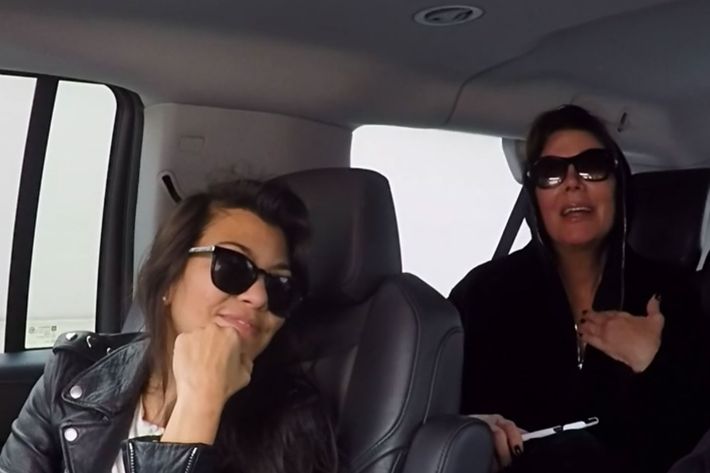 Scene 18:
Once at the hotel, Kim and Kourtney dive into breakfast and read a welcome note that Scott sent for the mother of his children. Kim ask Kourtney if she thinks Scott will ever be "normal," to which Kourtney responds, "I hope." Before she can eat, Kim gets a phone call from a friend of Kanye's. What he says is not heard, but Kim breaks down in tears right away. Curiously calm, Kris and Kourtney look on. Nothing else is known about the call, except for the fact that it's about Kanye. Keeping us on our little toes, "To Be Continued …" flashes on the screen. Sigh. Like Scene 17 this scene was filmed on November 21, 2016.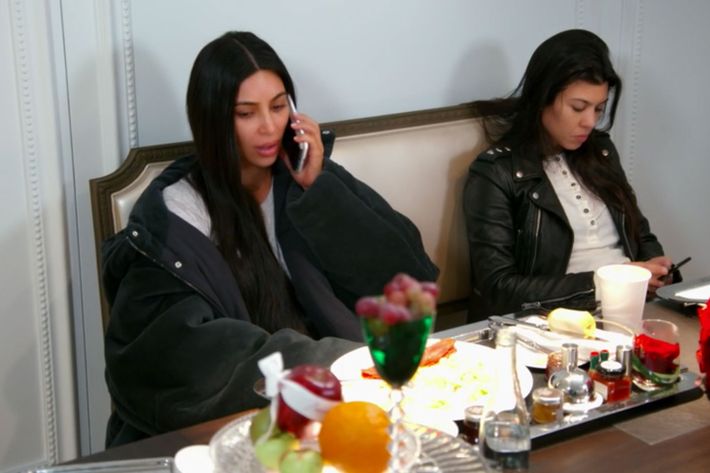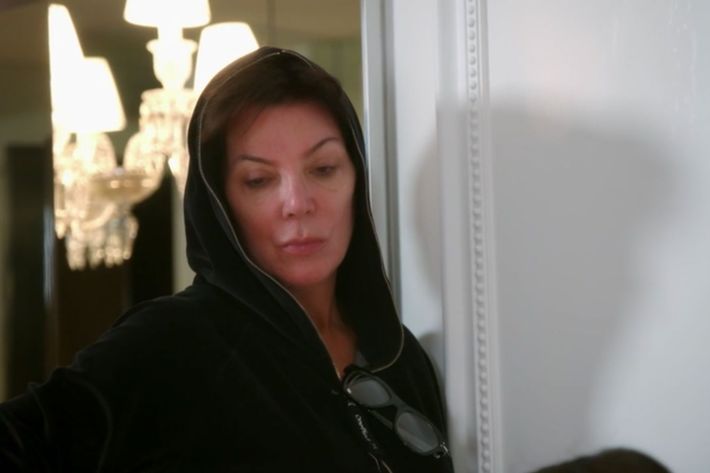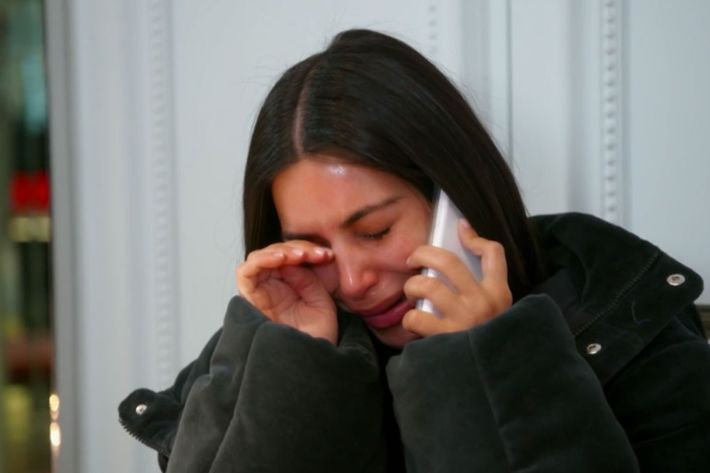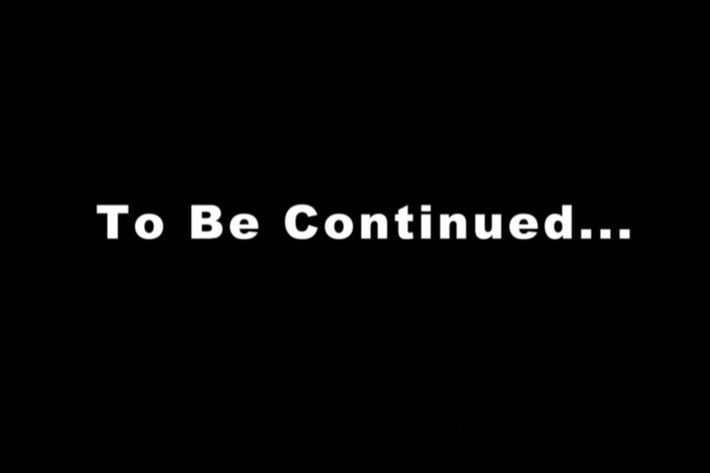 That's all, dolls! Check back to see what happens next week on yet another #KUWTKE recap of Keeping Up With a Platonic Trip to Mexico. #IllHaveYouExited