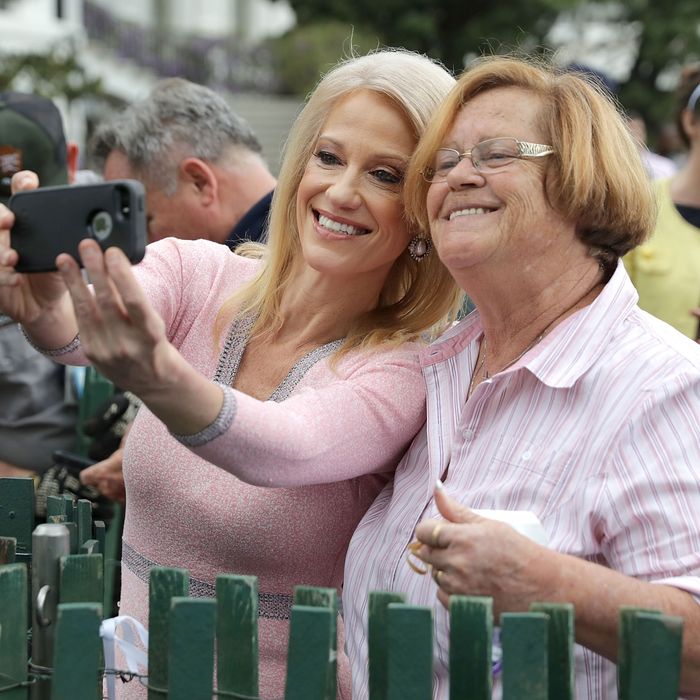 Kellyanne Conway is popular with selfie-taking fans and paparazzi alike.
Photo: Chip Somodevilla/Getty Images
If Donald Trump's Apprentice-like White House antics are any measure, the president represents an unprecedented merger of politics and show business — a phenomenon that's evident even in the treatment of his aides, who have become celebrities in their own right. According to a Politico report, people like Kellyanne Conway, Ivanka Trump, and Sean Spicer are drawing their own crowds of paparazzi, and they're still trying to figure out how to handle the unexpected celebrity that goes far beyond what former White House aides have dealt with.
"This is nothing I ever sought or expected," Conway said. "It's not as if I said to my children, 'Mommy is running for governor, or starring in a new film, so attention will intensify and the unhappy people with poison keyboards will get nastier.'"
Thanks to her, um, notable TV appearances, Conway has become one of the most visible members of the Trump administration — Politico reports that she could hardly move across the White House lawn during Monday's Easter Egg Roll without being stopped for photos, and the Daily Mail recently published a spread of Conway lounging poolside with her family. But Sean Spicer and Ivanka Trump are also routinely followed by paparazzi, and Spicer in particular has unusually high name recognition for someone in his role:
Spicer enjoyed about the same level of name recognition nationwide as Republican Sen. Rob Portman does in his home state of Ohio, which he has represented since 2011. Spicer, a former spokesman for the Republican National Committee who lived his life in relative anonymity, has been on the job for about 90 days.
"There's an old axiom: Everybody in politics wants to be in show business, everyone in show business wants to be in politics," Ken Sunshine, founder of Sunshine Sachs and a former Clinton donor, told Politico. "This is the merger. We've never seen anything like this."
Ari Fleischer, who served as President George W. Bush's press secretary, advised Trump aides to "recognize it's all temporary." He added, "You, as an individual, never get invited to anything; your job title and position do." Whether that holds true for people like Conway, who seems to have grown a dedicated fan base, remains to be seen.