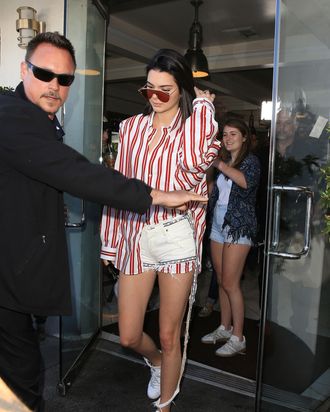 Why?
Photo: BG001/Bauer-Griffin/GC Images/Getty Images
Jorts, or jean shorts, are one of the most perfect items of clothing in existence — and a large part of their appeal is owed to their pure simplicity. Kendall Jenner, however, was spotted last week in a pair that defied all laws of jortsdom: The ankles of her cutoffs are still attached, and hanging by one thin line of denim.

Do her thighs and calves get overheated while one inch of ankle remains frigid? Is it important to her that she always be able to fashion an impromptu dog leash?

Whatever the reason, this is a case for Jorts Court.