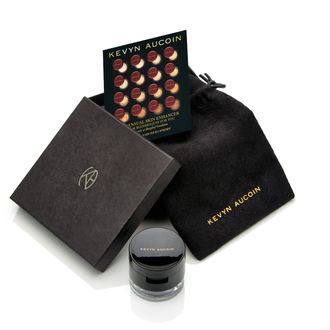 Kevyn Aucoin Custom Sensual Skin Enhancer.
Put down your unicorn frappuccino. It was disgusting, right? (But okay, undeniably good for the 'gram.) Here's a way better "secret menu" option that's not puzzlingly putrid tasting — the unlisted Custom concealer at the Kevyn Aucoin counter at Bergdorf Goodman.
The Sensual Skin Enhancer is my favorite concealer, as well as my colleague Ashley's, and Kylie Jenner's, so you know you're in good, if not entirely common, company. It has just the right amount of tackiness, coverage, and glide to cover anything from tiny pimples to huge hormonal eruptions or dark eye circles or moles, and even small tattoos, which is why it's consistently a MakeupAlley favorite. There are already a decent number of prepackaged shades (there are 16), but did you know that it's possible to get a special shade, uniquely made just for your skin tone?
In a perfect world, dogs would live just as long as humans, a cheese-only diet wouldn't yield gas or pimples, and foundation would be custom-made just for you, at drugstore prices. Kevyn Aucoin at least tries to help you with the foundation so you never have to be in-between shades, or worry that a foundation is almost the right shade but a tad too pink, yellow, red, or ashy. In the brand, I've always a blend of shades 5 and 6, but at the Aucoin counter in the beauty basement of Bergdorf, in under an hour, I got the first and only shade KHou — made just for me. Weirdly, it turns out that the process of making a fancy, custom concealer doesn't look much unlike creating organic peanut butter at Whole Foods. First, the Aucoin expert took Shade 5, added dollops of Shade 6, and then used a fancy metal makeup spatula to blend the two together till it looked like a tasty, smooth almond butter (several people even Instagram-messaged me to say the same thing when they saw my shade in process on my Instagram stories). Mix a tiny pinprick (a little bit goes a long, long way) with a moisturizer or primer, the Aucoin lady told me, and it becomes a perfect foundation.
Then, noticing my under-eye circles were on the purple-ish side, she mixed a little of Shade 3 with Shade 4 to create an under-eye concealer that was about two shades lighter. This looked kind of like a rich, pale-blonde cashew butter. I've always been a mix of the Ochre and Amanda shades of my beloved creamy Cle de Peau Beaute Concealer, but now, I'm a unique shade all my own. The store even keeps a record of your original concealer "recipe" so it can always be replicated. Although the experience takes under an hour and you leave with both shades, it is a little on the expensive side ($105) and you'll have to call ahead to make an appointment. But it's a relief to never have to worry if you're Almond, Walnut, Beige, or Cool Espresso, and to just be you.