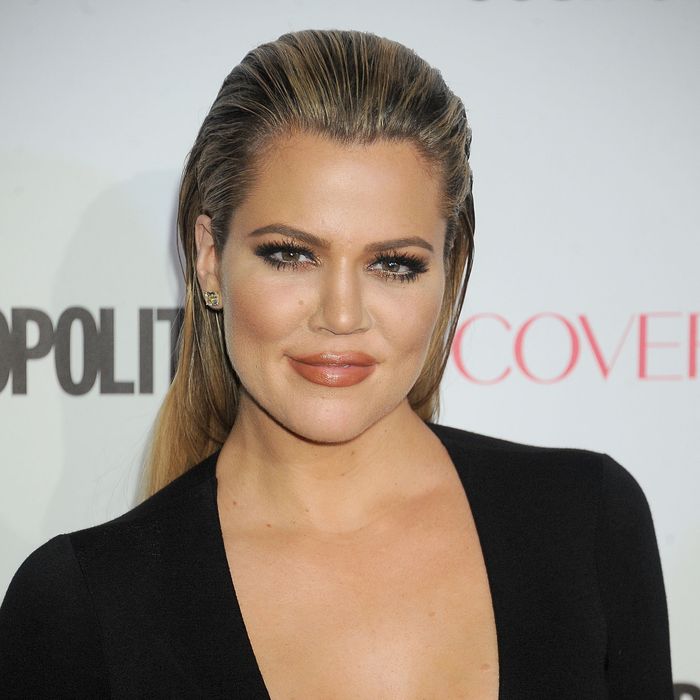 By all outward appearances, Khloé Kardashian's relationship with Tristan Thompson has been chugging along quite smoothly. The two have been dating for a few months now and have taken a liking to posting sweet photos of themselves doing all sorts of couple-y things like vacationing and eating birthday cake. But we can also just take Khloé's words on her relationship at face value. In the cover story for the latest issue of ES Magazine, Khloé says that she's "never been in this type of love." In fact, if Thompson proposed tomorrow, she'd happily say yes. So, yeah, let's say things are going well.

According to E! News, Khloé told ES that while there are no definitive plans for any type of wedding in the near future, she's definitely given the subject some thought. Khloé added that she's long wanted to start a family and the fact that Thompson is already a father has only cemented the idea that he'd make for a great dad.

Still, she said she's not trying to pressure motherhood to happen for herself. "It's not like, 'the clock is ticking," she added. "I feel in my soul it will happen." Well — they say first comes marriage, then comes the baby carriage. Before either of those, though, comes the not-so-subtle hints about marriage.