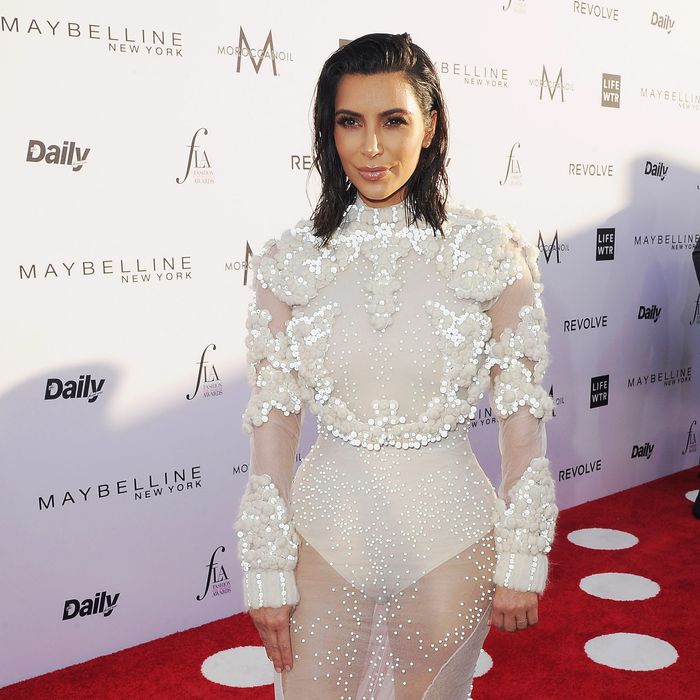 Kim Kardashian.
Photo: 2017 Jon Kopaloff
When Pat McGrath released a snippet last week teasing a new video and celebrity to promote her latest makeup release, Dark Star 006, it took us straight back to our childhood. In the short clip, we hear the voice of Maleficent from Disney's Snow White, with her famous inquiry: "Magic mirror on the wall, who is the fairest one of all?" The black screen didn't give many hints as to who McGrath's new muse is and instead mostly featured scrolling text resembling something from The Matrix. Adding more to the mystery, it read, almost menacingly, "Someone is coming."
But, on Tuesday, McGrath finally revealed that the "fairest one of all" is none other than Kim Kardashian. And, no, she's not done-up in any sort of Maleficent costume. What she does do, however, is examine herself in a mirror as she applies what we can only assume are the finishing touches on her metallic, sparkly eyelids (because they look pretty fantastic already). The dark, smoky-eye look is reminiscent of Kim's preferred makeup look from years ago, before she became "Kim Kardashian West" (fittingly, Kanye West provides the soundtrack for the video).

The makeup from Pat McGrath Labs already has a cultlike following so there's every reason to expect Dark Star 006 does just as well, if not better, as previous releases. The Dark Star 006 eye shadows will become available at 12 p.m. ET, on April 11, at patmcgrath.com. Until then, feel free to fawn over Kim's perfectly done eyelids.