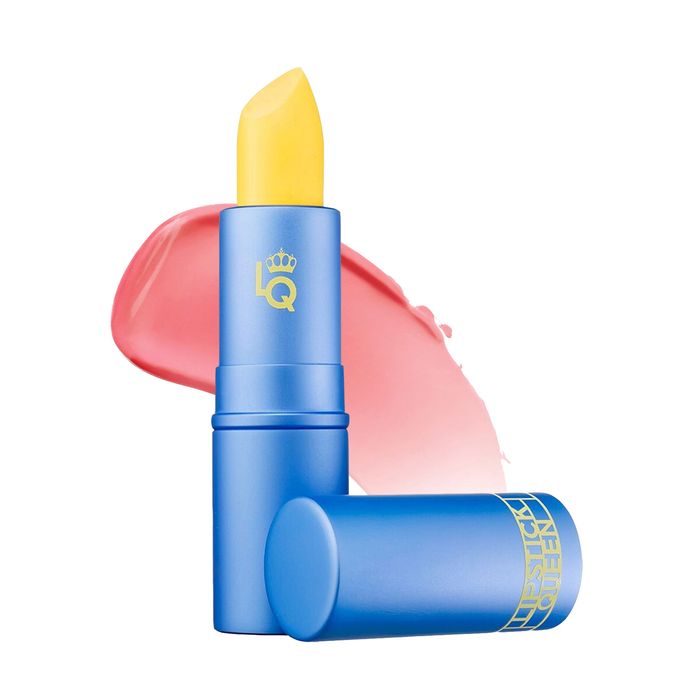 Lipstick Queen's Mornin' Sunshine.
Personal style is uniquely confessional. A conspicuous logo can reveal a person's social rank and tact; you can limn political allegiances with a T-shirt. My personal style — a reel of greys, blacks, beiges, and whites —announces that I'm boring, which is true. I don't like too much color. A newly acquired yellow lipstick, however, makes me appear instantly exciting. I love attention.
The lipstick is Lipstick Queen's "Mornin' Sunshine." Following in the footsteps of the brand's shade-shifting predecessors, Mornin' Sunshine delivers a shiny, coral finish on lips that is very different from the stick's canary color. It's a trick Lipstick Queen has played before: 2013's "Hello Sailor" introduced a blue shade that takes on a purple color when applied to lips, and "Frog Prince" switches from green to pink after a single swipe.
Mornin' Sunshine adheres to an algorithm determined by your skin's pH. Depending on where it falls, the lipstick will transform into a range of corals. For some this coral will look more orange, for others it will appear pinker. You can even layer the lipstick under other shades to amplify its brightness: For example, I layered Mornin' Sunshine under a fuchsia lipstick to exaggerate the shade's liveness and gloss.
The gloss is dispatched by way of a ridiculous assortment of butters and oils, including vegetable oil, castor-seed oil, meadowfoam-seed oil, olive oil, sunflower-seed oil, beeswax, and mango and shea butters. In terms of texture, the formula makes lips feel soft and moisturized for hours on end.
But that's not why you buy Mornin' Sunshine: You don't buy it for the color or texture. You chuck $25 on the beauty counter because the vibrant yellow stick encased in a blue tube is a conversation starter. "I wanted to create something that evoked happiness and fun," Poppy King, Lipstick Queen's radiant founder, said at the shade's launch. I think she succeeded. Though personal style is confessional, I think personal beauty is one of life's great fiction-tellers. A yellow lipstick can say you are adventurous and bold, even when you are squarely not.
Every editorial product is independently selected. If you buy something through our links, New York may earn an affiliate commission.