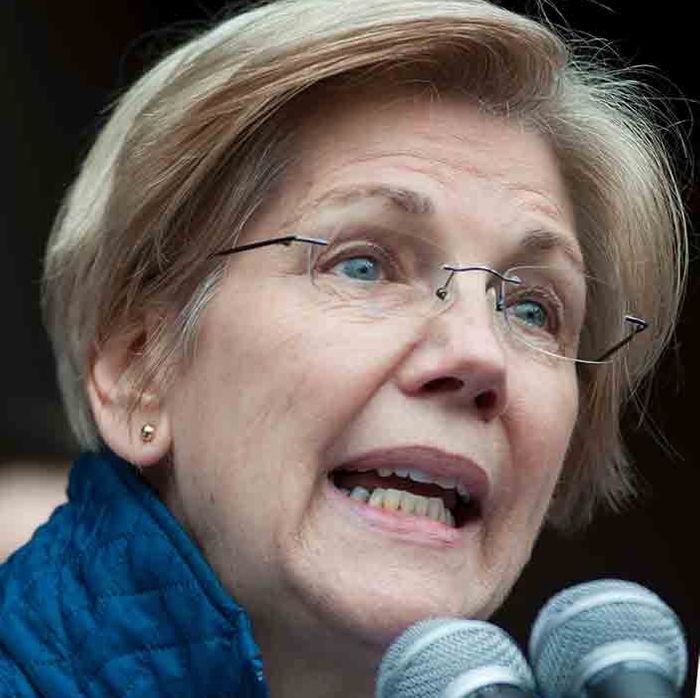 Elizabeth Warren said Mitch McConnell ignores her in the hallway.
Photo: Getty Images
Remember back in February, when Elizabeth Warren was barred from speaking on the Senate floor during Jeff Sessions's confirmation hearing — nevertheless, she persisted — leading to a viral hashtag and new Democratic rallying cry? Well, it seems Senate Majority Leader Mitch McConnell, who instigated the vote to silence her, still isn't over the whole thing. Speaking to Jimmy Fallon on The Tonight Show Tuesday, Warren said McConnell still won't make eye contact with her when they run into each other:
FALLON: He seems kind of like a quiet type of just —

WARREN: Maybe that's it. Maybe he's just being quiet.

FALLON: Wait, but if you see him in the hallway, he won't look at you or talk to you?

WARREN: Oh, come on. You know. I say hi. But —

FALLON: Well, I mean, what does he say back?

WARREN: Nothing.

FALLON: Mitch! Mitch McConnell, you have to say hi to Elizabeth Warren. Come on, how old are we now? This is silly. We have to be civil. Let's do this, we all have to work together.
Warren said the same thing in a recent interview with the Boston Globe. "I've spoken to him, but he has not spoken to me," she said of McConnell. "I say hello to Mitch every chance I get, and he turns his head."
But in an email to the Globe, a spokeswoman for McConnell said he totally says hi to her in the hallways like any mature adult. "I don't believe that to be an accurate account," she said of Warren's story. "They have greeted each other." Either way, Warren shouldn't take it personally — McConnell is an expert at the turtle strategy.