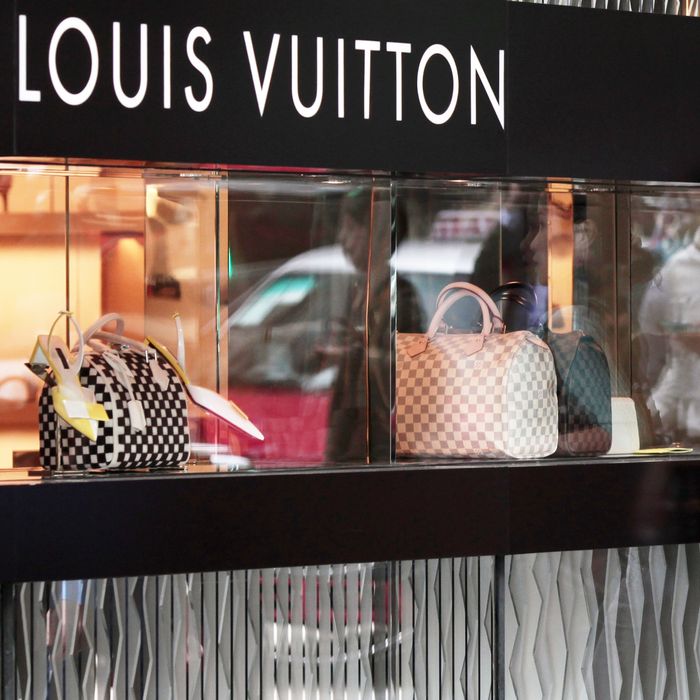 Louis Vuitton.
Photo: AFP/AFP/Getty Images
Leatherworkers from several Louis Vuitton ateliers in France walked out on Wednesday morning, staging a rare strike in support of wage increases, WWD reports.
The strike is the leatherworkers' first in 15 years, according to WWD, and started with employees gathering in front of their various production facilities between 7:30 and 8:30 a.m. The workers then made a statement — just one day before the company's annual salary negotiations were set to take place.
A spokesperson at parent company LVMH told WWD that fewer than 10 percent of leatherworkers from less than one-third of Vuitton's ateliers across France took part in the strike. However, French labor unions reportedly said that 30 percent of employees in Issoudun and Condé, and over 50 percent in Asnières, took part in the demonstration.
The workers were reportedly striking over an offer from Vuitton's management of a gross raise of 30 euros, or $31.95 USD, for every employee, as well as individual increases between 10 euros and 20 euros, which equates to $10.65 or $21.30, for 80 percent of the employees, Agence France-Presse reports. A spokesperson for LVMH told WWD, "In addition to their 13 months of payment every year, employees had in March 2017, for the last business year, the equivalent in profit sharing of between four and five months in compensation."