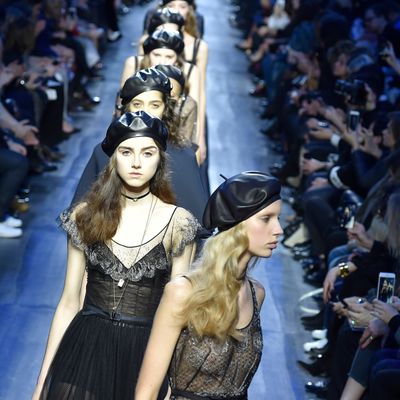 Christian Dior Fall 2017.
Photo: Catwalking/Getty Images
LVMH Moët Hennessey announced Tuesday that it bought out minority shareholders in Christian Dior for $13.1 billion. The 70-year-old French brand is the latest fashion house acquired by the world's largest luxury conglomerate, which also owns Céline, Marc Jacobs, Givenchy, and Louis Vuitton.
The statement released by the group said the Arnault Family Group, largest shareholders of LVMH, would purchase the 26 percent of Dior shares it does not already own. They're purchasing them at $282 a share in a mix of cash and shares in Hermès, which is famously not owned by LVMH. The buy will start a "regrouping" of Christian Dior Couture and Parfums Christian Dior.
It's not their first major change in the past year—in July, Maria Grazia Chiuri was named the first female creative director in the collection's history. Click through to see their latest penchant for navy blue and leather berets.