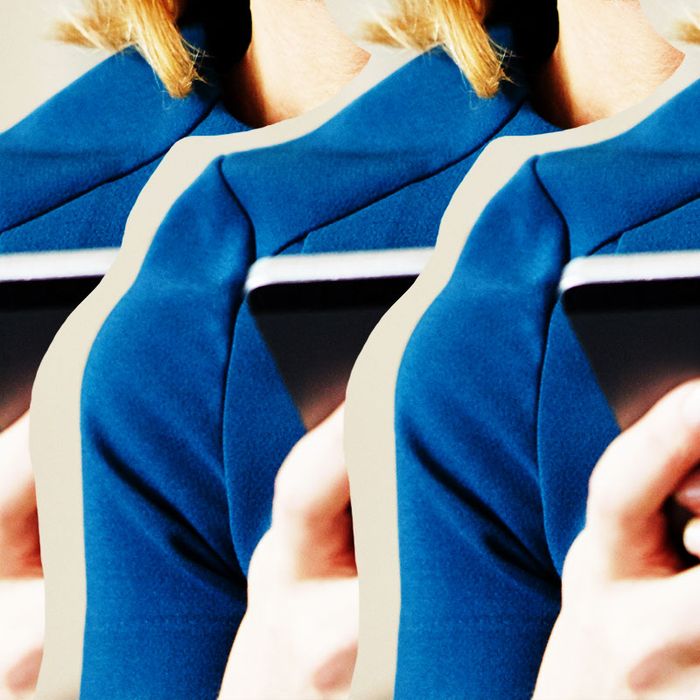 How do you succeed on Tinder without really trying? Some New York singles have it figured out: They pay a dating-app ghostwriter to do the flirting for them. That's right, ladies. The next time a guy sends you a particularly witty opener on Coffee Meets Bagel, consider the possibility that it was written by a 41-year-old married mother of two on the Upper West Side.
That would be Meredith Golden, New York City's Tinder whisperer. I met the psychotherapist-turned-dating-coach last month, and she walked me through how she helps her clients succeed on dating apps — by impersonating them.
Like a modern-day Cyrano de Bergerac with the bubbly cadence of Reese Witherspoon, Golden spends her days swiping, heart-ing, and messaging flirty one-liners on behalf of her single clients. Sitting at her headquarters — the large oak dining table in her classically decorated apartment — she showed me a folder on her iPhone home screen titled "WORK." Inside, there are a dozen dating apps, like Bumble, The League, JSwipe, and OkCupid. Golden logs in and out of all of them throughout each day, finding her clients appropriate matches and setting up first dates.
Though Golden has never personally used a dating app — she met her wonderful, adorable husband through friends 16 years ago — she advertises herself as an expert. When JDate launched in the late '90s, she got a reputation in her social circle for being a savvy dating-profile writer. Since then, she has helped several friends find their matches online. She started charging for her services almost two years ago, when strangers began asking for her help.
Golden is superior at the dating-app game, she told me, because she comes at it from a fresh, unbiased perspective. She may impersonate her clients online, but she does not feel the weight of their emotional baggage. "I don't have their relationship history or their childhood … their divorce, whatever it is," she explained. "I just focus!"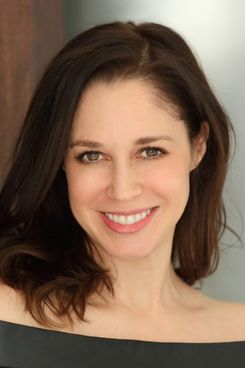 To make sure everything stays organized, Golden works with no more than a dozen clients at a time. She keeps a regular schedule, too, practicing her particular brand of dating subterfuge during normal business hours, Monday through Friday. (No one should be perusing Tinder on the weekend, anyway, she said. Too desperate.)
According to Golden, she is especially successful when she poses as a straight male client. First of all, she sends the guy to a professional photographer to get some decent photos. Men "just don't think," she sighed. "The bathroom selfie kills me." After beautifying her client's dating-app profiles, Golden starts impersonating him, affecting that confident, assured posture ladies love. A lot of guys on dating apps never sack up and ask for a first date; Golden makes her (client's) move right away.
"I think I'm a dream when a girl is communicating with me," she said proudly. "Cause I know what she wants, and I'm just like, banging it out. Asking for the meet and getting it."
Golden is not doing anything untoward, she insists. All she does is swipe, message, and set up first meetings; clients show up to the dates and take the communication from there. When she messages potential matches, Golden typically comments on their photos: What a cute dog! Oh, your kids live in the city, how lucky are you? She types out full sentences, and she does not use emoji, and she certainly does not use innuendo. "I'm not gonna say like, 'How big are your feet?'" she giggled.
Ironically enough, Golden's straightforward style stands out in the online-dating world, which is replete with game-playing. I asked her if she had ever been rejected on one of the apps. "Nope," she chirped, without a pause.
"Just let me say, it's not me," she added. "I'm not like, tooting my own horn."
Golden does not worry about the singles on the other end of the line feeling duped; to this day, she has never been caught impersonating anyone. "The banter is so quick," she insisted. Her client list is private, of course.
Most of Golden's clients are professionals in their mid-30s or older and the majority of them live in Manhattan, where outsourcing is a regular part of the upper-middle-class lifestyle. The singles paying Golden to flirt with their Bumble or OKCupid matches are used to paying other people to do their laundry, deliver their meals, and blow-dry their hair on demand. Golden says some of her clients come to her because they need extra help presenting themselves appropriately online, and some of them are just busy and tired of constantly assessing potential life partners on a six-inch screen.
Clients pay Golden $900 for the first month of her services, $700 for the second, and $500 for each month after. Traditional matchmakers charge thousands of dollars to set clients up on dates, Golden noted, and employing one comes with some stigma.
"If you were single, and someone says to you, 'Oh I'm a matchmaker, I'm working with Abe Schmabe. I'd like to set you up with him,' your initial thought is going to be, Well, what's wrong with him that he can't get a date on his own?" Golden posited. "Doesn't necessarily mean that there's something wrong with him, right? But that is the negative connotation. In working with me, that is removed, because no one knows that there's someone facilitating for them, because I'm posing as them."
Traditional matchmakers typically run background checks on the singles they send their clients to meet, but Golden cannot do the same, since she is working through the apps. She often recognizes the people she swipes across, however. "Oh, I like him so much," she said, pointing to a potential match on a female client's account on The League. "See, I know him from another client." She "liked" him and moved on to the next.
"Oh, he has a nice smile. He looks happy," she commented about a gray-haired guy with glasses. He got a like. The next guy was not so lucky. "Okay he's lying about his age," she determined. "He's an investment banker … I don't know that he's cute enough for her."
"I'm just in and out of all the different apps all day long," Golden explained. She also works overtime.
"Before I'm going to sleep, when I'm putting my kids to bed, and I'm lying with them for an hour as they're drifting off, I'll go back at the end of the night and recheck [all the apps], just to see if there's anything, if anyone responded," she said.
Over the last two years, Golden has swiped across the face of nearly every single person in Manhattan. She rarely forgets anybody, because her memory is "indelible," she told me. "It's just this weird quirk that I have." I asked her if she keeps a spreadsheet of the thousands of people she interacts with online, and she said nope, no need. At one point during our afternoon together, she took a call from a male client and ran through the names of 14 different women with him without checking her notes once — I watched.
The funny thing is, Golden sometimes has to remind herself that all of the people she knows do not necessarily know her.
"There was a guy I used to see on all the dating apps," she recalled. "I guess he's in a relationship, because I don't see him anymore. But I saw him — he must live like a block from me — I saw him on the street! It was like a celebrity sighting for me. I thought he was so cute, and I had to stop myself from being like, 'What's up Josh!' Because I know so much about him, but he has no clue he's been having this conversation with me. So yeah, I stopped myself."
The only time Golden ran into real trouble keeping up her scheme was the time she left the country for vacation. Since many dating apps use GPS to identify users' locations, she had to be careful not to impersonate anyone for the duration of her trip. "When I went to Mexico, I was like, 'I'm out for the week,'" she laughed. "How is this going to be explained, right?"
Her clients swiped for themselves for a few days, and then she came back to fix it all for them.