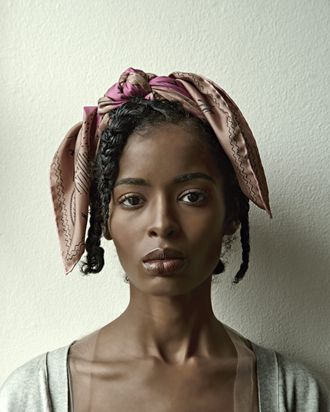 Maxine Helfman's muse, Keiryel Mcfail.
Photo: Maxine Helfman
"I wish I knew," Maxine Helfman says when asked why she prefers to shoot in small-town America. As her dog barks in the background, she pauses to think. "Part of it is I'm drawn to things that are current, but timeless, [where] you really don't know if it was shot today or 30 years ago." For this series, she returned to two of her favorite settings in Texas: the abandoned Trinity College campus in the tiny hamlet of Tehuacana, Texas (population under 300), and the town of Wortham, which is comparatively urbane — home to a little over 1,000 souls.
Helfman was inspired by the way her mother dressed in the '50s and '60s for the homespun-looking fashion in these images. "In those days, women, when they came home, would take off what they had on and get in their slip. It was almost like what yoga pants are today," she says. "I grew up without very much, so it was a lot of hand-me-downs. It's not 'fashion,' it's real clothes. Nobody is standing behind you un-creasing every wrinkle," as they would on a photo shoot. She would know: After working as a prop stylist for shoots, Helfman made a hard 180 from the exactitude of her commercial work when she became an art photographer. This career, she says, has been about "having to break all of the rules that I learned in the commercial world," and she wants her photography to feel "like real life, as opposed to a fashion shoot."
Helfman has become known for images that splice together opposing eras while examining ongoing questions of gender and race. Her project "Historical Correction" cast African-Americans in portraits inspired by Flemish paintings, while "Fabrication" was a series of boys wearing vintage-looking dresses. For this series, she worked with her muse, Keiryel Mcfail, a professional hair braider she met through a hair-and-makeup artist she worked with on a shoot. Mcfail has inhabited many different characters over the course of their work together. "She can look like ten different people. She can look like she's 16, or like she's 40," Helfman marvels of her range.
Romantic as they may be, her images aren't about rosy-lensed nostalgia or feeling frozen in time — they're meant to confront the present. "I feel like the timelessness also ties into a lot of issues that we're still dealing with. Like racial issues. Especially with these single female characters' isolation and struggle and strength," she says. "How did it feel to be a black woman in Birmingham in the '50s? How did it feel to walk down the street and not feel safe? You look at what was happening during the civil-rights movement, when people would get dressed in some of their best clothes to come to a protest — and the violence they endured. You can't not recognize that."
*A version of this article appears in the April 3, 2017, issue of New York Magazine.