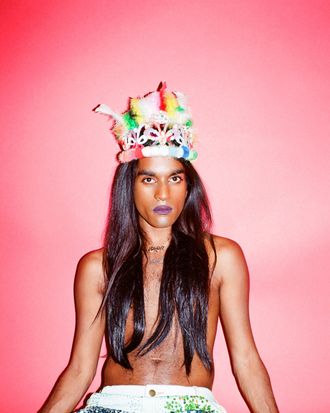 "As a brown, queer body, it's easy for people to automatically assume you're a drag queen, a performance person, but I am a highly layered individual," says Richie Shazam Khan, a downtown multi-hyphenate who truly defies categorization. And he wouldn't have it any other way.
Born in Jamaica, Queens, to Guyanese immigrant parents, Khan majored in international relations at Trinity College in Connecticut, studied abroad in Cape Town and Buenos Aires, and has gone on to work behind the scenes in the fashion and art worlds, at the Jewish Museum in New York, as well as Peres Projects in Berlin and the Zabludowicz Collection working closely with artist Donna Huanca in London.
Not only that, but after catching the lenses of photographer friends such as Ryan McGinley, Yuki James, and Terry Richardson, Khan's become something of a fashion world darling. This past year, for example, he's walked in runway shows for Rachel Comey, Ashish, and Lou Dallas; starred in a campaign for Barragán; and appeared in an H&M video shot by Wolfpack director Crystal Moselle, to name just a few highlights. He was photographed by Dicko Chan for Dazed & Confused; curated an exhibition, "PTSD," that showed in New York and Los Angeles; told fortunes at the New Museum for a collaboration with the artist Curtis Kulig ("I have this weird, witchy side," Khan says); and is currently working on a book of photographs and ephemera "highlighting all the subcultures I'm part of in New York."
Khan spoke to the Cut about his dream modeling gig, race politics in Guyana, and defying gender stereotypes. Read on for the full interview.
How would you describe yourself and your work?
I'm trying to go against the gender binary, depending on my mood and how I want to adorn my body and present myself to the public. It's an idea that really goes against the way we are programmed to think. We are coded to behave in this regimented way, and my whole being is about rebellion and breaking free — showing the younger generation that you can be whatever you want to be. I'm involved in activism and always expressing my transgressive nature. Fashion and art are vehicles that give me agency to exist and show others that they can excel. I want to give other people the opportunity to speak and be heard.
What are some of the challenges you face in doing that?
There's a lot of isolation within the gay community. And I identify not as gay, but queer. It's hard because I don't want to be placed in categories. I don't want people to have a label — I want to defy the labels. And there's still a lot of fear. I'm fearful for my safety and security and for my brothers and sisters that also live in that. I've been through really crazy shit. I don't really have a relationship with my family. It's sort of the price tag of me being me.
Your parents are from Guyana. What's it like there?
Guyana's really special because it's in the heart of the Amazon, and there are these jungle, tropical vibes mixed with West Indian culture and a history of British rule. It's a place of really intense race politics, and deep segregation of the Indians and blacks. But it's also magical. Growing up with an Indian-diasporic background, we were watching Bollywood movies with subtitles. I'm inspired by the beauty and eccentricity of Bollywood, hence [I call myself an] NYC Bollywood princess.
What was your experience like growing up?
I think definitely [when I was] growing up in Jamaica [Queens], coupled with my West Indian background, it was really hard to express myself the way I wanted to. I had to fight a lot.
Living in New York, I really grew up at such an accelerated pace. I was taking the train at 11 or 12 to go to middle school on the Upper West Side. Definitely I had a lot of fear because of being a brown, queer individual. If I wore tight jeans, men would attack me or people would say mean things. But I'm highly resilient and have tough skin. I knew from a young age it wasn't about me. It was their issue.
How did you make peace with that?
It's something where every day I have to look in the mirror and give myself these affirmations — "I'm going to be okay" — and continue to work and strive hard for something. Sometimes I don't know what that's gonna look like.
Tell us more about the art show you curated.
It was photographs by Julia Fox, my best friend who I live with, of her experiences living in Louisiana. The name of the show was "PTSD" because I think PTSD is something that we all go through. I definitely have it, from my childhood and all these gnarly life experiences. Self-expression has been the ultimate tool to heal.
How did you get into modeling?
It just landed in my lap. My friends who were working in that world, like Terry Richardson, Yuki James, and Ryan McGinley, wanted to shoot me, and things evolved from there. It's almost like a dream sequence come to life. I worked in fashion behind the scenes; being in front of the camera and being shot, working in collaboration with designers, brings me such joy. I've worked with Coach, Rachel Comey, Ashish, Barragán, Adam Selman, J. Mendel, Thom Browne … they're all so incredible. It's wild because I've had the opportunity to walk in runway shows, and that was such a mindfuck. I was overjoyed, but also confused — They want me to walk on their runway? But I had the fearlessness. And stepping onto a runway and serving sass and attitude — that comes naturally.
What would be your dream modeling gig?
I really want a Gucci moment.
What's your secret weapon?
I've learned that you need to be very upfront and honest with your intentions. Radiating positivity and being open, so many great things have come my way.
Is Shazam your real last name?
It's my middle name. My full name is Richie Shazam Khan. I hated it growing up — kids would make fun of me — but now I love it so much.
If you could have dinner with one person, living or dead, who would it be?
Oprah — we share a birthday.
Who or what else inspires you?
My mother. She's no longer with us, but I think of her all the time. She had such power and strength. She really gave me tools to express myself. I'm also inspired by gypsies, prostitutes — I love the working girl. I love flashy lights, and I also love the sporty look. When I'm not fully glam, I'm very much a chameleon. I want to be every kind of look possible.
Was your mom also into fashion?
She definitely had a keen eye and amazing fashion sense that always inspired me. I wanted to emulate her as a child, and still do now. She also makes me want to have a strong tie to my Guyanese roots.
Who cuts your hair?
My other best friend, Briana Andalore, who I also live with, does my hair. She's the only one I trust. She's my eternal glam squad — she can do wonders with my scalp. I've known her since we were 14, a couple of troublemakers hanging out in Union Square. We were like [the movie] Kids, the real deal.
What will you not leave home without?
I always have remnants of glitter and lip gloss in my bag. And my headphones — I love escaping into a vortex walking down the street, imagining the sidewalk is a runway. You can probably see me strutting.
What's your coffee order?
I'm an eternal soy-latte drinker.
Where do you shop?
I'm the hand-me-down queen. So many friends give me pieces that I repurpose. I love vintage stores. I've always been a big fan of the Salvation Army and thrifting. I was just in Japan and I found a vintage, peach-colored Palladium New York jacket. It's the most beautiful piece I own.
What do you sing in the shower?
I've been singing "Mercedes Benz" by Janis Joplin in my brain because we did it for karaoke in Japan.
What do you dream about?
My dreams are next-level. I have this weird, witchy side to me. When I was in Japan, I had really crazy dreams about traveling and being in Chronicles of Narnia … my heart was racing out of my chest.
Tell us more about this witchy side?
I did a thing at New Museum with Curtis Kulig where I was doing fortunes. Things just came to me. I feel like my role in life is to listen to people and have them communicate ideas and give them hope that it's going to be okay.
What's next?
I'm working on a book I hope to release at the end of this year, highlighting all the subcultures I'm part of in New York. There are photos I've created, shoots I've collaborated on, and also new material and artworks, collage, writing. It's very colorful and big — I don't do anything small.