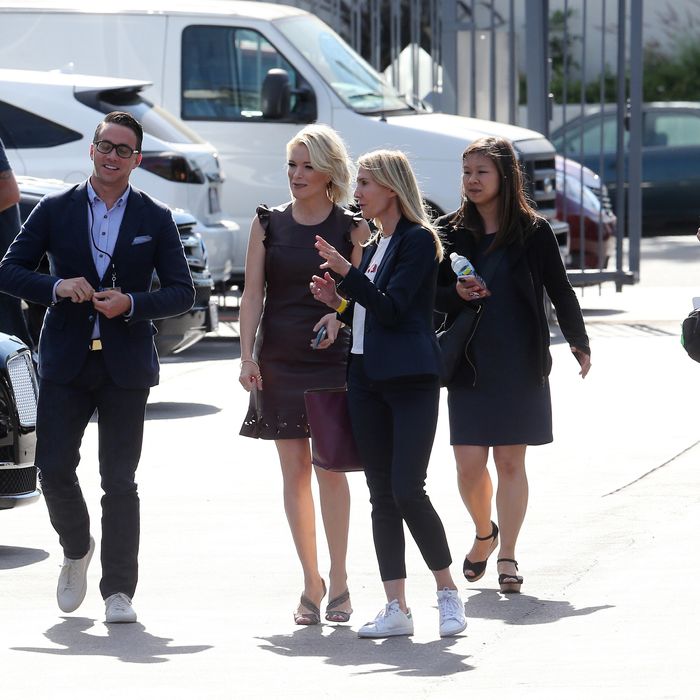 Megyn Kelly on the KUWTK set.
Photo: Clint Brewer / Splash News/Clint Brewer / Splash News
Megyn Kelly was spotted on the set of Keeping Up With the Kardashians in Los Angeles on Thursday — and no one is really sure why. On the one hand, as TMZ suggests, Kelly's new NBC show is set to debut in June, so perhaps she was trying to secure an interview with the famous family. But on the other, as the Daily Mail notes, the Kardashian and Jenner women were apparently at the studio filming a tenth anniversary special for the Today show, so Kelly may have been playing a role on that. Or maybe, just maybe, she was trying to get her hands on a Kylie lip kit.
Update, 11:30 a.m.: TMZ now reports that Kelly's show will premiere with a sit-down with the entire Kardashian and Jenner crew, minus Rob and Caitlyn. "Sources" told TMZ that Kelly was on the KUWTK set on Thursday to tape a "very long interview" with Kim, Khloé, Kourtney, Kylie, Kendall, Kris, and Ryan Seacrest (the producer and creator of the show). Apparently the interview will "consume Kelly's premiere Sunday night show."