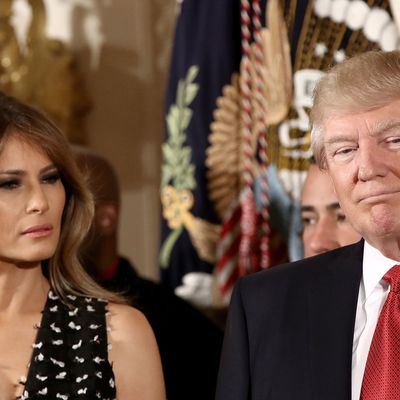 Melania and Donald Trump.
Photo: Win McNamee/Getty Images
Last week, Vanity Fair published an in-depth look at Melania and Donald Trump's marriage, adding further fuel to the already widely reported rumors that the First Lady is "miserable" in her relationship with the president. And now, Melania's spokesperson is attempting to squash those rumors, telling Huffington Post that everything is just fine between the two.
Per the Huffington Post:
"Mrs. Trump is a loving wife and mother who has always put her family first and that will not change," Grisham told HuffPost, calling the VF piece a "false story." "She is an independent woman who believes in our country, and continues her plans to serve as First Lady with integrity and dedication."
Grisham called VF's report "offensive" in an email to the Huffington Post, writing, "Vanity Fair chose to publish not only a false story, but one that is degrading to women. When you consider it is a magazine that is tailored to women, it becomes even more offensive."
Since an awkward clip of Donald and Melania interacting at the inauguration suggested icy relations, countless reports have painted a less-than-ideal picture of their relationship. They apparently sleep in separate bedrooms, multiple sources told Us Weekly, while others claimed Melania is in no rush to move into the White House, as she's "unhappy with how her life ended up." On top of that, included in VF's recent report was a claim that Donald only agreed to have a child with Melania on the condition that she get her body back post-pregnancy.