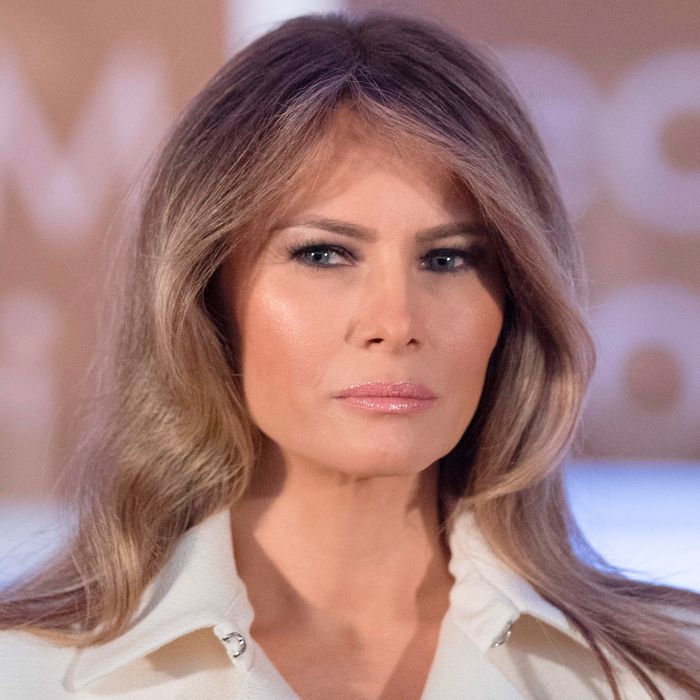 Melania Trump.
Photo: JIM WATSON/AFP/Getty Images
Melania Trump's long journey through libel lawsuits has come to an end: The Guardian reports that the Daily Mail and Mail Online have settled with the first lady for about $2.9 million. The publication also posted an apology to Trump, writing: "We accept that these allegations about Mrs. Trump are not true and we retract and withdraw them. We apologise to Mrs. Trump for any distress that our publication caused her."
The allegations in question involve a now-retracted article in which they republished a rumor from a Slovenian magazine that speculated that the modeling agency Trump was involved in when she moved to the United States was also an escort agency.
Trump initially sued Mail Online in Maryland back in September for a reported $150 million in damages. Her case was dismissed on the grounds that the company didn't have enough of a connection to the state for the lawsuit to move forward there, but was refiled in New York in early February.
At the time, Trump included language in the lawsuit that implied she planned to profit off her time as First Lady, specifically that she "had the unique, once-in-a-lifetime opportunity, as an extremely famous and well-known person, as well as a former professional model, brand spokesperson and successful businesswoman, to launch a broad-based commercial brand in multiple product categories, each of which could have garnered multi-million dollar business relationships for a multi-year term during which Plaintiff is one of the most photographed women in the world." That language was quietly removed shortly afterwards.
In September, Trump also sued 70-year-old Maryland blogger Webster Griffin Tarpley for making similar "false and defamatory statements" about her history on his blog. That case was upheld and settled in early February for an undisclosed "substantial sum."