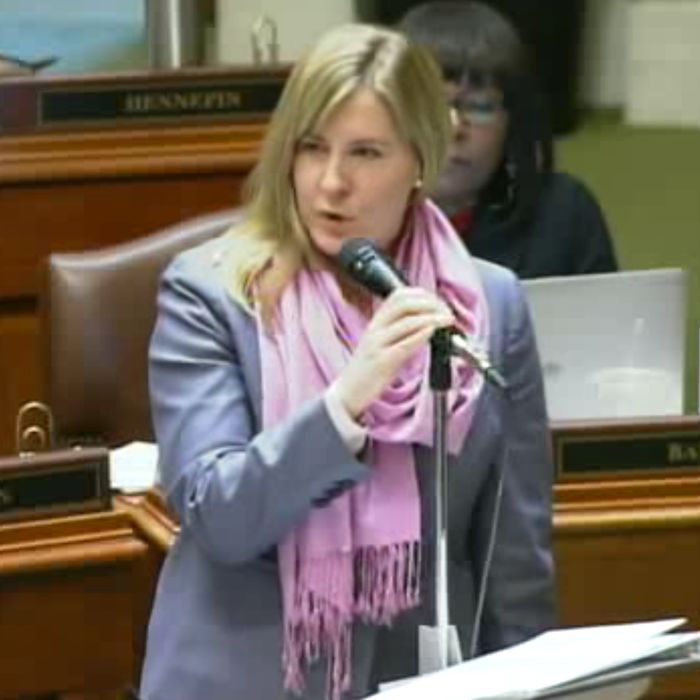 Minnesota House Minority Leader Melissa Hortman.
When Ilhan Omar, the first Somali-American lawmaker, argued on Monday in the Minnesota House of Representatives against a public-safety budget bill that would increase penalties against protesters, a group of male representatives decided to "absent" themselves. But Minnesota House Minority Leader Melissa Hortman wasn't having that, and called the men out for their rude behavior, while forcing them to return to the chamber.
As the Minneapolis City Pages reports, state Democrats, including Omar, sought to convince House Republicans to vote against the public-safety budget bill, which they said would serve a blow to civil rights and prohibit protests similar to Martin Luther King's march in Selma, Alabama. Noticing that several male members of the House were absent during Omar's speech, Hortman, a Democrat, then moved for a "call of the House," which requires absent members to return to their desks on the house floor.
"I hate to break up the 100 percent white male card game in the retiring room, but I think this is an important debate," Hortman said, before a herd of white, male representatives returned to the chamber.
Of course, the House Republicans weren't pleased with Hortman's comments, according to City Pages. House Majority Leader Joyce Peppin called Hortman's remarks "racist," while Representative Bob Dettmer stood up for men like himself. "I'm a white male. I respect everybody. But I really believe the comments that were made by the minority leader were really not appropriate," Dettmer said. He then asked Hortman to apologize.
However, per City Pages, Hortman doubled down on her remarks, accusing her colleagues of ignoring women of color.
"Representative Dettmer, I'm glad you asked me to yield. I have no intention of apologizing. I am so tired of watching Rep. Susan Allen give an amazing speech, Rep. Peggy Flanagan give an amazing speech, watching Rep. Jamie Becker-Finn give an amazing speech, Rep. Rena Moran give the most heartfelt, incredible speech I've heard on this House floor, as long as I can remember, watching Rep. Ilhan Omar give an amazing speech … and looking around, to see, where are my colleagues? And I went in the retiring room, and I saw where a bunch of my colleagues were. And I'm really tired of watching women of color, in particular, being ignored. So, I'm not sorry."
City Pages noted that the Minnesota House is, in fact, largely made up of white men: Of the 77 members in the House GOP majority caucus, 56 are white males, which accounts for 72 percent of the majority caucus and more than 40 percent of the House chamber alone. White Republican men also chair 19 of the 28 House committees. When all was said and done on Monday, the public-safety budget bill in question was passed.