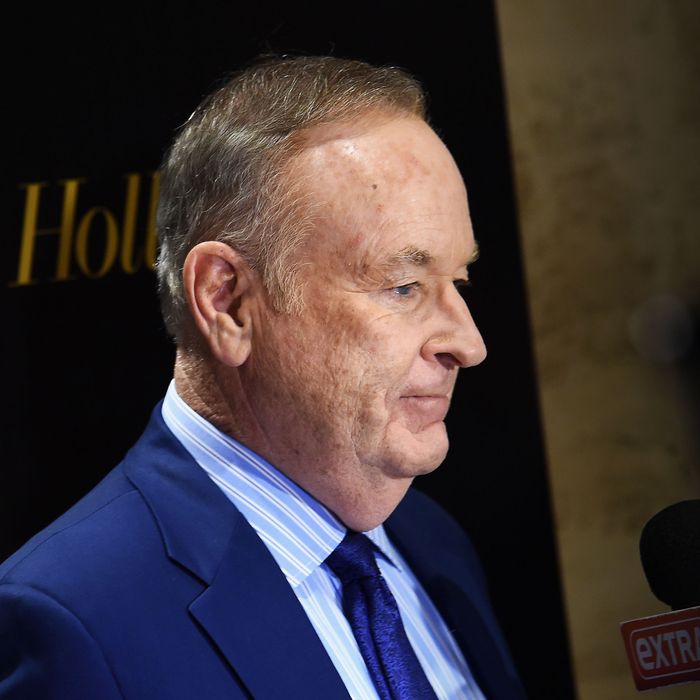 New sexual-harassment allegations have surfaced against Fox News host Bill O'Reilly.
Photo: Ilya S. Savenok/Getty Images
Over the weekend, the New York Times published a story saying Fox News and Bill O'Reilly paid out a combined $13 million to five women alleging O'Reilly sexually harassed and verbally abused them. And although 21st Century Fox released a statement in support of O'Reilly, a handful of advertisers have now pulled their ads from O'Reilly's show, The O'Reilly Factor, due to the allegations against him.
Mercedes-Benz and Hyundai were the first two companies to yank their ads; both said their decisions were directly connected to O'Reilly's alleged treatment of women. "The allegations are disturbing and, given the importance of women in every aspect of our business, we don't feel this is a good environment in which to advertise our products right now," a corporate communications manager at Mercedes-Benz said in the statement. She added the ads that would normally appear during O'Reilly's show have been "reassigned in the midst of controversy."
Meanwhile, Hyundai said it was "reallocating" advertising spots "due to the recent and disturbing allegations" against O'Reilly. "As a company, we seek to partner with companies and programming that share our values of inclusion and diversity," the company added.
Then, following Hyundai's and Mercedes-Benz's decisions, more companies followed suit: BMW of North America, Mitsubishi Motors, Lexus, Constant Contact, Bayer, Ainsworth Pet Nutrition, Orkin, UNTUCKit, Allstate, Esurance (which is owned by Allstate), T. Rowe Price, GlaxoSmithKline, Sanofi, Credit Karma, Wayfair, The Wonderful Company, TrueCar, the Society for Human Resource Management, Coldwell Banker, MileIQ, Voya Financial, and Ancestry.com. That brings the total number of companies to 24, Axios reports. (Axios also has a handy list of each company's statement on the matter.)
Despite the settlements it has made on O'Reilly's behalf, Fox News recently extended his $18 million contract, which was set to expire this year, the Times reports. What's more, The O'Reilly Factor continues to buoy Fox's ratings; over the past few months, "the anchor's prime-time show scored the highest-rated cable-news quarter ever, with 4 million viewers," contributing to Fox's "best quarter in cable-news history," according to Axios. Research firm Kantar Media found that The O'Reilly Factor generated more than $446 million in advertising from 2014 through 2016. But if advertisers continue to flee at this rate, it could put a serious dent in the revenue O'Reilly generates for Fox.
In an emailed statement, Paul Rittenberg, Fox's executive vice-president of advertising and sales, said all ad revenue would stay within the network. "We value our partners and are working with them to address their current concerns about The O'Reilly Factor," he wrote. "At this time, the ad buys of those clients have been re-expressed into other FNC programs."
But the fallout could expand beyond lost ad revenue. Fox's continued support of O'Reilly has led at least three women who work there to "question whether the company was committed to maintaining a work environment 'based on trust and respect,'" according to the Times. And the National Organization for Women called for O'Reilly to be fired and suggested an independent investigation into the culture at the network. "Fox News is too big and too influential to simply let this go," Terry O'Neill, the president of NOW, said in a statement.
This post has been updated throughout.