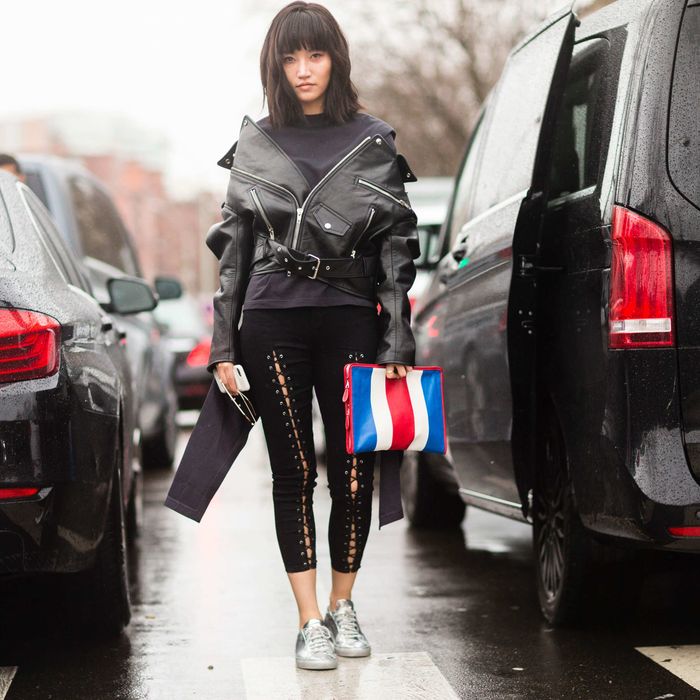 Courtesy of Nabile Quenum.
In the last few years, white sneakers have been the go-to when you want to dress down an outfit while looking stylish at the same time. The downside to the style? They show every last scratch and dirty smudge, unless you're meticulous about babying them. Plus if you're dressed in super-simple clothes, they could feel a little boring.
That's where metallic sneakers come in: They're a secret weapon to making even jeans and a white T-shirt feel fresh. Before you question the versatility of a flashy pair of gold or silver kicks, just think of them as jewelry. They add that extra punch much like a pair of earrings would. From rose-gold platforms, to silvery snakeskin high-tops, these are the ones to buy now.
The shiny silver faux snakeskin high-tops are the ideal counterpoint to spring's best white pieces, like skinny jeans or a midi dress.
If you want to have more fun with the metallic trend, try the holographic route — the not-quite-blue, not-quite-silver shade looks especially cool in the sunlight.

Metallic colors exist outside the parameters of gold and silver, but how do you find one that feels appropriately sophisticated? Nike plays up classic navy with the depth of an iridescent shimmer.

In the shoe world, Axel Arigato is somewhat of a new kid on the block. Launching in 2014, the brand has a steadily rising favorite among sneaker heads for their minimalist approach and sleek designs. If you're worried about diving head first into metallic sneakers, start by trying it with subtle accents like this rose-gold cap-toe style.

If you want something a bit more subtle, this matte silver sneaker is the best of both worlds.

Gold is tricky when it comes to shiny sneakers — it can't be too yellow or it can look artificial. This Tretorn style is more muted and has the right amount of sheen.

So you're looking for the equivalent of shoulder-grazing earrings? Then go for this copper pair — the super shiny finish combined with the unusual color will have people stopping to compliment your sneakers.
You'll find variations of this minimalist style at pricier retailers, but if you want to spend a lot less, this is a good dupe that feels especially slick in rose gold.
Each product featured is independently selected, but may include paid promotion or additional compensation from our partners.