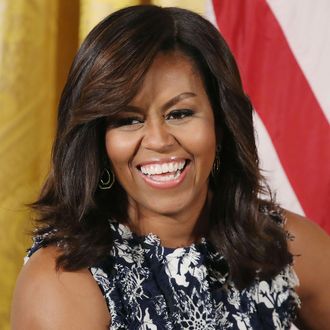 Michelle Obama's hair is natural.
Photo: Mark Wilson/Getty Images
The internet rejoiced this week when a picture of Michelle Obama seemingly on vacation with natural hair appeared on Twitter. Many were dubious as to the photo's authenticity, but according to her long-time hairstylist, Johnny Wright, the photo is definitely real. Wright told Refinery29 that the photo is recent, explaining, "She was actually blown straight before she left for vacation. I guess she got in the water or something, and she didn't feel like straightening it herself! People want a more sexy answer, but that's really what it is."
Wright, who has been working with Obama since even before she entered the White House, also confirmed that the First Lady has actually been wearing her combination 4a, 4b, and 4c curly hair natural for seven years.
I stopped doing her relaxer the first year of the administration. Very shortly after that, her hair grew out completely. She has no relaxer anywhere on her hair, not even on the tips. She's always embraced her natural hair. For the looks she was going for and the stories she wanted to tell, I styled her hair straight. There wasn't any lack of embracing her curls. It's just what she wanted to do.
While her hair has been blown straight, Wright says that Obama's hair-beauty secrets are trims every four to six weeks, lots of moisture, and steam treatments.
I did a lot of steam treatments with her, too. They're important because they help build that resistance against humidity, and they keep the hair really strong.
Resistance and strength: Two things Michelle Obama exudes up to her hair.