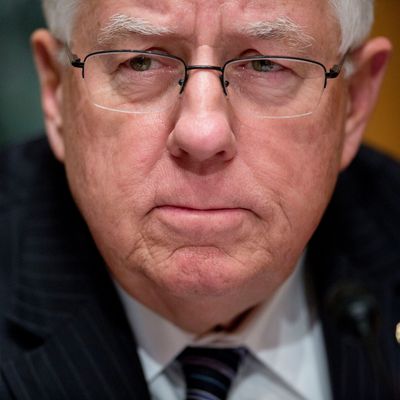 Senator Mike Enzi.
Photo: Andrew Harrer/Bloomberg via Getty Images
Senator Mike Enzi stopped by Greybull High School in his home state of Wyoming last week for what should have been a rather innocuous Q&A with students. However, when asked a question about LGBT rights, the Republican lawmaker suggested that if someone is too open about their sexuality, they are "asking" to get beat up.
As the Greybull Standard reports, a sophomore asked Enzi what he was doing to improve the life of the LGBT community in the state, and how he planned to help Wyoming live up to its nickname — the Equality State. The lawmaker replied that not every issue has a "federal, one-size-fits-all solution," and that not everything can be "done by law." He then said that what makes the state great is that "you can be just about anything you want to be, as long as you don't push it in somebody's face."
Per the Standard:
"I know a guy who wears a tutu and goes to bars on Friday night and is always surprised that he gets in fights. Well, he kind of asks for it. That's the way that he winds up with that kind of problem," he said, reemphasizing his believe that "everything can't be done by law."
The senator's response has drawn criticism from other lawmakers in the state, including Wyoming Democratic Party chair Joe Barbuto, who said in a statement that Enzi's comment "was not just inappropriate, it was ugly and indicative of a kind of backwards thinking that has no place in today's society." He continued: "It only makes matters worse that his remark was made to a group of young students."
Enzi's press secretary Max D'Onofrio told the Standard that the senator's comments were taken out of context (although the Standard also published a rough transcript of Enzi's remarks) and that the lawmaker believes "all individuals" should be treated with respect. "[Enzi] does not believe that anyone should be bullied, intimidated or attacked because of their beliefs. This is a hot button issue and emotions can run high, but no one should take his remarks out of context or misconstrue them to mean anything but advocacy of kindness toward our fellow citizens," D'Onofrio said.