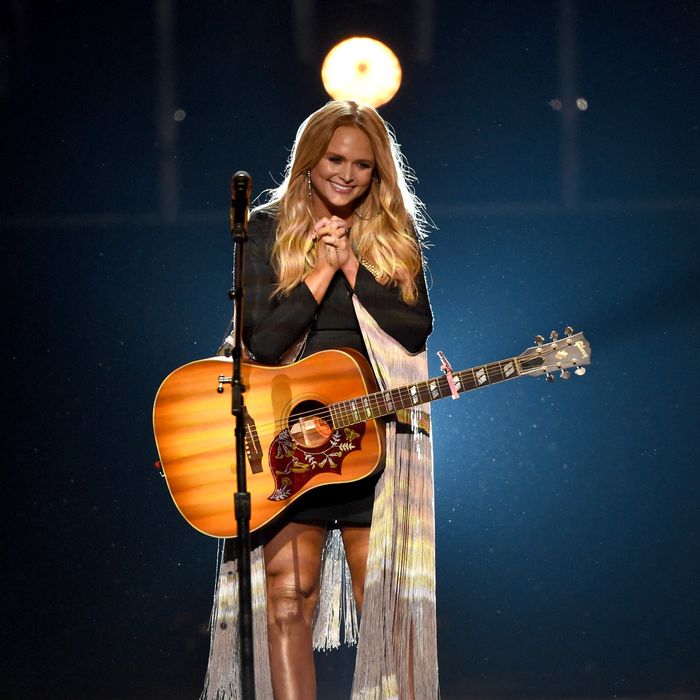 Miranda Lambert.
Photo: Ethan Miller/Getty Images
Miranda Lambert had herself a very good Sunday at the Academy of Country Music Awards. Lambert went into the night nominated for five awards and she ended up winning Album of the Year and Female Vocalist of the Year. The latter was a historic win: No one female songwriter had achieved the feat eight consecutive times before.

Lambert began her winning streak in 2009 as the top female vocalist at the awards show and in 2016 she tied with Reba McEntire for the number of wins, according to E! News. During her acceptance speech for Album of the Year, Lambert referenced her divorce from fellow Country Music star Blake Shelton, saying, "Thank you for letting me use my heartbreak and sharing it with me."
The album, The Weight of These Wings, was the first body of work she released following her 2015 divorce from Shelton. The 24-song double album is the result of a year's work and it includes plenty of heartbreaking ballads, though the songs aren't specifically about heartbreak. That her songs were nominated, however, felt more like her "diary got nominated," she told The Tennessean. Lambert's moving, acoustic performance of "Tin Man" during the show also served as a reminder of why the songwriter won two of the night's best accolades.

So, yeah, Miranda Lambert had a really great, winning Sunday. Did we mention that she also walked the red carpet with her new beau, Anderson East?