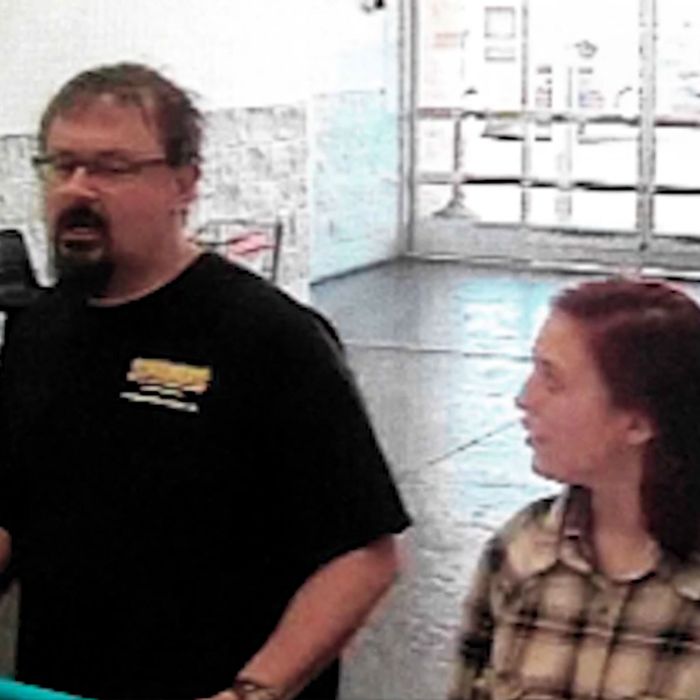 Surveillance footage of Tad Cummins and Elizabeth Thomas.
On March 13, 15-year-old Tennessee teen Elizabeth Thomas went missing, along with her 50-year-old teacher Tad Cummins. On Thursday, after over a month of searching by police, they were found in a cabin in a remote area of northern California and Cummins was subsequently arrested.
Their disappearance came after Cummins had been suspended and eventually fired from his job at the Culleoka Unit School; he had been investigated for months after they were allegedly seen kissing, though both denied that incident. After they went missing, Cummins's wife of 31 years, Jill, filed for divorce.
Law enforcement was eventually led to the cabin after the caretaker called the sheriff's department. According to cabin owner Monk O'Hare, a friend of his also pointed out some details about the two that seemed off.
The friend told him something didn't seem right, O'Hare said. Cummins told O'Hare's friend that he was 44 years old, the young woman with him was 22 and they were recently married. He added that when Thomas wanted to share something she would whisper stuff in Cummins' ear and then Cummins would repeat it.

Their vehicle did not have license plates and he noticed that the young woman would not get out of the car when the man got out.
Cummins, who reportedly said "I'm glad this is over" upon his arrest, is facing both state and federal charges including aggravated kidnapping, sexual contact with a minor, and taking a minor across state lines for sex.
When asked if Thomas went willingly, Tennessee Bureau of Investigation director Mark Gwyn said, "At the end of the day she's 15 years old. She's 15 years old; she's a young girl that's with a grown man that's 50 years old. He needs to be held accountable for kidnapping this girl."