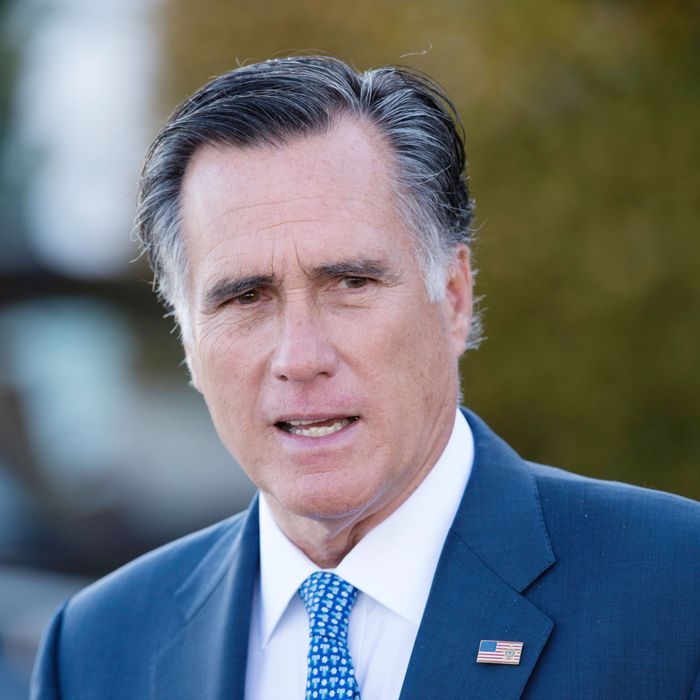 Mitt Romney had actual binders.
Photo: DON EMMERT/AFP/Getty Images
Mitt Romney's "binders full of women" have been the stuff of political legend ever since the former Massachusetts governor uttered the phrase during 2012's the second presidential debate in response to a question about workplace inequality. "We [made] a concerted effort to find women that could be qualified to become members of our cabinet," he said. "I went to a number of women's groups and said, 'Can you help us find folks?' and they brought us whole binders full of women."
And although some took the phrase to be a metaphor, apparently Romney meant it literally. Almost a decade later, the Boston Globe has unearthed said binders (there are two), which weigh in at 15 pounds, 6 ounces and are "packed with nearly 200 cover letters and résumés, along with a few handwritten notations."
Apparently the binders date back to Romney's 2002 transition into governorship. According to the Globe, a coalition of women's groups called Massachusetts Government Appointments Project (MassGAP) put them together and submitted them to the brand-new Romney administration. "They drummed up what was an inelegant way to get at this pool of talent," said Linda Rossetti, who worked with MassGAP at the time. Although Romney says he asked for the information, and some aides remember his lieutenant governor requesting it, MassGAP members say they delivered the binders unprompted.
Beth Myers, Romney's former chief of staff and his presidential campaign manager, went with the first option. "He wanted to have his Cabinet and office staff well represented with women," she said. "We weren't getting a ton of names." She added, "those résumés in the binders — they weren't just used in the beginning to look for staff and put in a corner; we used them throughout, especially for boards and commissions."
The Globe points out that several women in the binders actually did end up in state jobs, either under Romney or one of his successors. Maybe MassGAP can send a couple three-rings to the current administration.