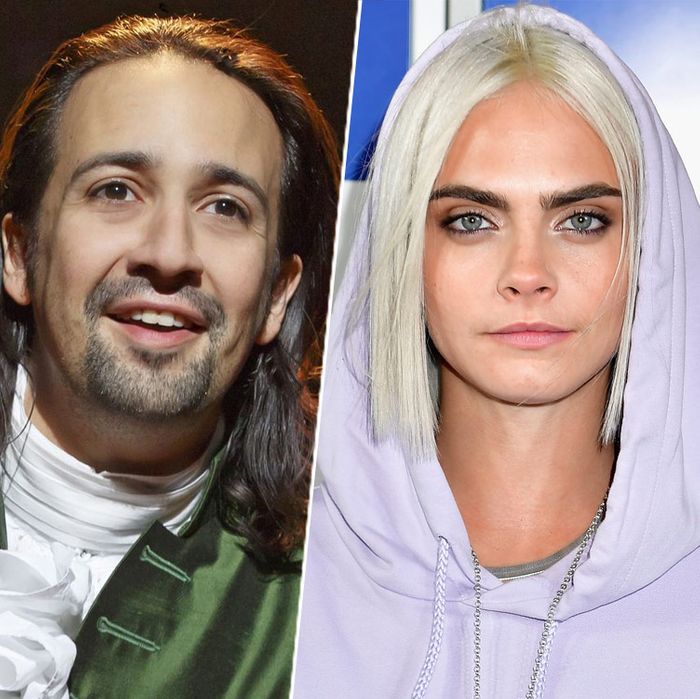 Coco Rocha (L) and Cara Delevingne (R) were among the models present that night, though it's unclear who the anonymous models quoted are.
Photo: Getty Images, Joan Marcus
On Saturday night, American Express Platinum hosted a private Broadway performance so that the professionally hot people of the world could have a chance to see one of the most popular shows in ages. No, reader, not the Cats revival — it was Lin Manuel-Miranda's Hamilton.

Models in attendance included Cara Delevingne, Coco Rocha, Hilary Rhoda, and Helena Christensen. But, according to "Page Six," a select few members of the crowd were positively out of control.
Apparently ushers kept having to remind them that they couldn't take photos and one anonymous model reportedly said, "We can drink inside and do whatever we want because they rented the whole theater." Her friend, apparently unimpressed by the rhyming history lesson, chimed in with "We'll need tequila to stay awake."
Delevingne, for her part, told W, "I really liked it."
Update: Rocha released a statement on Twitter clarifying that neither she nor Delevingne were among the misbehaving models, writing "I have a background in performance and have always loved and respected the theater."