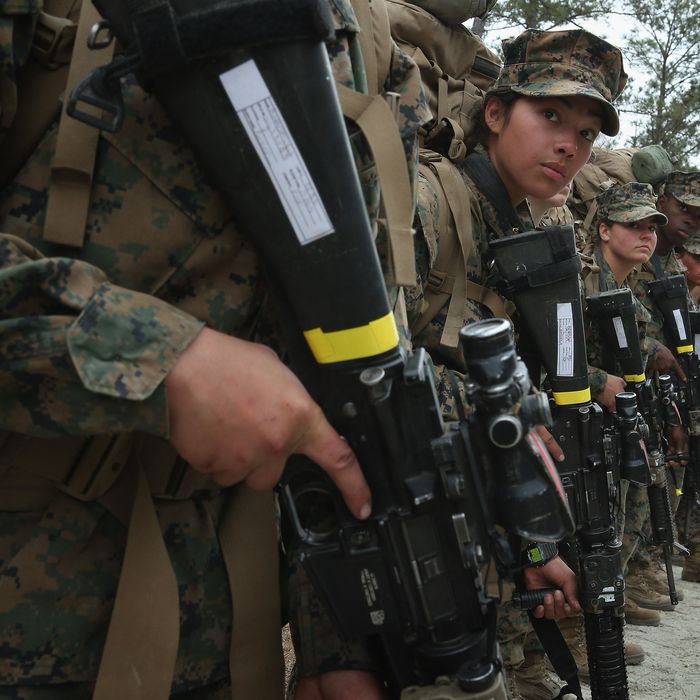 Marines.
Photo: Scott Olson/Getty Images
The official laws governing U.S. Marine and Navy personnel have been updated to ban revenge porn specifically, a change that comes weeks after it was revealed that hundreds of nude photos of female military members had been shared on a Facebook group called "Marines United," BuzzFeed News reports.
The U.S. Navy Regulations were updated Tuesday with a provision that bans the distribution of an "intimate image" without consent of the subject of the photo. A person will be considered to have violated that rule if they distributed the photo with the intent of humiliating, harassing, or threatening the subject of the photo.
Just weeks ago, news broke that the Defense Department was investigating members of the now-closed Facebook group for sharing nude images of active female military members. Shortly thereafter, reports emerged that members who abandoned that Facebook group had migrated, and had begun posting nude photographs elsewhere. Since then, nearly 100 female Marines and Marine veterans co-signed an open letter calling for an end to misogyny in the Marine Corps.
The change to the U.S. Navy Regulations went into effect immediately, and violators of the new rule will face consequences, from administrative punishments to criminal actions, depending on the case's circumstances. Per BuzzFeed News:
"The addition of Article 1168 'Nonconsensual distribution or broadcasting of an image' to Navy Regulations serves to underscore leadership's commitment to eliminating degrading behaviors that erode trust and weaken the Navy and Marine Corps Team," Rear Admiral Dawn Cutler told BuzzFeed News. "It provides commanders another tool to maintain good order and discipline by holding sailors and Marines accountable for inappropriate conduct in the nonconsensual sharing of intimate imagery."
Currently, 15 active military members have been identified as potentially facing felony charges over the matter, according to military officials, while 12 civilians could also face felony charges. The investigation is ongoing, and more people could potentially be identified as it continues, BuzzFeed News points out.