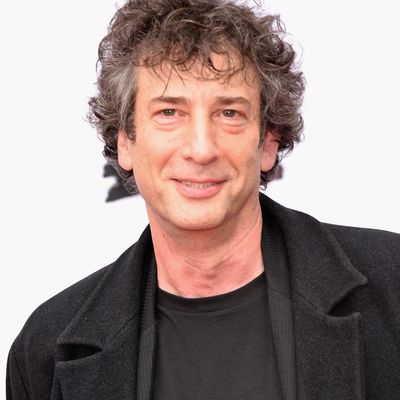 Neil Gaiman.
Photo: Jeff Spicer/Getty Images
It's par for the course for perfumers to wax poetic about fragrance, but Neil Gaiman is driving the concept of a scent story to a literal space. The author, who has quietly created fragrances for more than a decade, is releasing a beauty line this month that includes 60 fragrances, a selection of nail polishes, and linen sprays. The collection is pegged to Gaiman's 2001 epic novel American Gods, which has been adapted into a television series premiering April 30.
Working with longtime collaborator Black Phoenix Alchemy Lab, Gaiman is updating the American Gods fragrance line he released with the avant-garde scent house ten years ago. So, which American Gods fragrance is right for you? Eostre of the Dawn, named after the American Gods character, is a subtle skin scent, with notes of jasmine and honeysuckle (Kristin Chenoweth plays her in the television adaptation). Coin Trick is slightly soapy, while gunpowder and leather notes make a whiff of Black Hats a starkly foreboding experience. Fuck You, Said the Raven smells chocolaty; Becoming Thunder is a sparkling scent that vibrates to notes of frankincense, ambrosia, and musk; and Bast broods with layers of amber, honey, vanilla, and cacao. The scents are fun and wholly interesting in their own way.
Like Gaiman's previous collections (he has in the past released fragrances for The Graveyard Book, Anansi Boys, Good Omens, and Stardust), proceeds from the beauty sales will benefit the Comic Book Legal Defense Fund. While only a limited portion of the 60-piece collection is available now, expect another rollout — which includes the nail polishes and linen sprays — April 30.