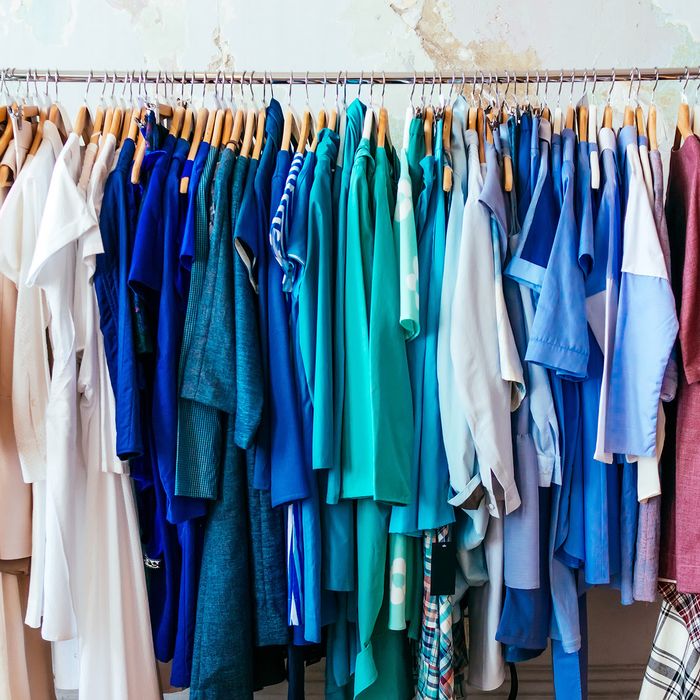 Sarah had never done this kind of thing before. Diligently ticking boxes about her height, weight, and lifestyle, she clicked "submit" and hoped that a matchmaker would find exactly what she'd been looking for all these years. This isn't a love story set in the digital age. It's a tale of online shopping.
"I was so excited to get my first box of clothing," says Sarah, a 30-something architect in North Carolina who counts Jessica Alba as a style icon. She was trying Stitch Fix, an online subscription and personal-shopping service, for the first time. After completing a "mostly boho but a little bit classic" style profile, she was assured the wardrobe of her dreams would materialize.
Sarah sheepishly admits that she tracked the package for several days, rushing home to meet the delivery on her doorstep. Her heart sank as she pulled tissue paper from the box, along with two billowy shirts and a pair of jeans nearly identical to a pair in her closet. "There was definite disappointment," she says. "The pieces were either too plain, not my style, or two sizes too big."
According to experts, Sarah's experience is indicative of a pervasive problem with online shopping — and one reason traditional stores are making a comeback. Despite the ease of one-click buying, people want to know how an item fits, how well it's made, and even how the fabric feels against their skin before relinquishing their credit-card details. In fact, the Pew Research Center recently found that, all things being equal, 64 percent of Americans would rather shop in a brick-and-mortar store than online.
"A physical store can bring a brand to life in a way that's hard to do with words and pictures," says Maggie Winter. Three years ago she co-founded womenswear label AYR, part of a second generation of digitally native brands that followed pioneers Warby Parker and Bonobos. Like those brands, AYR started as a direct-to-consumer model available exclusively on the web.
Winter discovered firsthand the benefits of brick-and-mortar last December, when she opened Pop Shop, a temporary AYR boutique in Manhattan. The same items women swiped left on while shopping AYR.com were flying off shelves. They'd run a hand over camel hair or raw denim, and triple-digit price tags would suddenly seem reasonable. This see-it-to-believe-it mentality made it easier for luxury brands like Chanel, Louis Vuitton, and Céline to drag their feet when entering e-commerce. Who's going to remortgage their house for a hand-beaded, bias-cut dress they've seen in two dimensions? The priority was getting the client into the store, where a doting salesperson could extoll the virtues of quality craftsmanship and fine textiles.
In AYR's experience, certain product categories — like jackets and outerwear — do much better in person than they do online. The internet still hasn't found a way to convey the emotional transformation that occurs when you slip into a sapphire velvet smoking jacket. "You can put on a coat and feel like a total boss," says Winter. "You don't get that experience virtually." After the Pop Shop started generating 30 percent of the brand's overall sales, AYR confirmed that a permanent shop — or possibly two, in Los Angeles and New York — is on the horizon for 2017.
Leandra Medine, founder of Man Repeller, is also up against the internet's limitations. The fashion blogger and author built an empire online, but she always fantasized about connecting with readers in real life. Last month, Man Repeller launched MR Bazaar, a temporary gathering space in New York's Canal Street Market. "The dominating impetus [for launching a pop-up] was developing a location for our community (and us) to hang out," she tells the Cut. "We started running community events at the beginning of last summer because we wanted to take the conversation offline and get to know our readers better."
But the space has a secondary function, which is to support the brand's fashion collaborations. Medine says she began teaming up with fashion labels, like Superga and Atea Oceanie, because Man Repeller's fans wanted a physical symbol of their allegiance to the brand. With the pop-up, readers can chat with like-minded neighbors while trying on a Man Repeller T-shirt or cactus-heeled platforms (part of Medine's footwear collection, which can be ordered in shop from Net-a-Porter.com). "We thought we bought enough stock to take us through the month," Medine says of hats and T-shirts, "but we sold out of almost everything the first weekend in business." The space establishes an intimacy — with people, and with products — that can't be replicated online.
When brands attempt to replicate it, the result can feel like catfishing. Bridesmaids Kelly and Jane were asked to wear red dresses to a friend's wedding, and both were won over by look-book images on popular e-commerce sites. Zooming in and out on varying dress angles, they were confident in their purchases.
"I liked the idea of several dresses I found on ModCloth," says Kelly, a marketing executive in Boston. "In pictures, the colors were exactly what I was looking for, and the fabric seemed to fall really well. When they arrived, the quality really didn't reflect the prices." Many of the site's formal gowns fall between $75 and $130, and Kelly faced a new set of challenges when she attempted to recoup that cost: a $5.99 return-shipping fee, a default option to accept a store credit rather than a refund, and "rude" customer service reps. In the end, she wore an off-the-rack dress from her local David's Bridal.
Jane, on the other hand, is immortalized in the same wedding photos wearing a dress held up with safety pins. "I bought it on ASOS, and the fit wasn't at all as described," the California-based photographer says of a body-con dress that hugged even the ASOS model's minimal curves. Long and lean, Jane ordered her usual size (small) and confirmed the estimated arrival date before placing her order. For whatever reason, the shipment was delayed, and the dress arrived the day before the event. It was huge. It was also too late to find a replacement. "We pinned the inside of the waist and boob area. The experience actually deterred me from shopping online again."
Some experts have identified that bait-and-switch tactic as a key factor in Nasty Gal's bankruptcy filing last November. With an edgy image and a hefty marketing budget, Nasty Gal had no trouble attracting new customers. Getting them to come back for more was the challenge.
"After reading so much about the fledgling company that catered to millennials in a way that not many companies were doing at the time, I decided to give Nasty Gal's merchandise a shot," says Clare, a fashion marketing executive who ordered two dresses in 2010. Neither style fit, so she followed the site's instructions for sending the items back. Her return was met with radio silence, and, seven years later, she still hasn't received a refund. "I realized they had no intention of resolving the issue, so I just gave up. I could never bring myself to spend another dollar with Nasty Gal."
She's not the only one. By the time the brand opened its first Los Angeles shop in 2014, sales were already on the decline. The store was meant to give the nasty gal what she wanted: "to try things on before she buys them," founder Sophia Amoruso said at the time. It was too little too late, and last month Boohoo Group bought Nasty Gal for a relatively paltry $20 million (for scale, the brand's revenue was estimated at over $300 million in 2015). The label's two shops were casualties of the deal.
Nasty Gal's cautionary tale suggests digitally native retailers are being strong-armed into brick-and-mortar against their better judgment, and their DNA. Amoruso did little to dispel that theory when she said that opening a physical store is "going to force us to learn so many things."
But Winter stresses that digital brands aren't just catering to customers' whims when they go the traditional route. They're catering to their profit margin. "The myth is that the [online] margins are fantastic, but they're in between retail and wholesale. Fulfillment costs are high, shipping rates are high, and return rates are high." This is especially true for emerging brands, whose customers are still testing the waters with sizes and cuts.
Jaime-Lee, the Sydney-based fashion blogger behind Mademoiselle, was determined to collect Everlane's silk blouses and cashmere sweaters when the American label first came on the scene. Because Australia wasn't originally on the site's list of shipping destinations, she set up a mail-forwarding service and accepted that returns were a logistical nightmare.
Jamie-Lee has chronicled her Everlane hits and misses on the blog, pointing out quality inconsistencies, misrepresented hues, and erratic fits between rave reviews. Over time, she established a formula for shopping on the site. "I initially based a lot of my purchasing decisions on the feedback of others … and played it safe by investing solely in tops that would still look great if they were on the larger side," she explains. Now, after experimenting with dozens of cuts, her general rule of thumb is to size down and hope for the best.
Perhaps that's why Everlane opened two permanent locations last month, a new Soho Studio in New York, and a revamped Everlane Lab in San Francisco. The digital retailer's founder, Michael Preysman, notoriously said that he would "shut the company down before we go physical retail." Shortly after, the brand launched a series of pop-up shops and "experimental spaces." Everlane declined to talk to the Cut about the shift in strategy, but Preysman has been vocal about wanting customers to see the collection in person.
Sarah, the architect, says she's willing to give Stitch Fix another try next season. In the meantime, she'll be shopping at the mall. According to the Census Bureau, her buying habits are not unusual: e-commerce accounted for just 8.1 percent of total retail sales in 2016. That figure has been creeping up in recent years, but experts predict that it will plateau at 30 percent by 2020, which means that most purchases will continue to happen offline. It's a trend that affects not just the mom-and-pop stores of the digital world, but the Amazons and Alibabas, too — something they seem to have predicted.
Alibaba, China's biggest online retailer, made waves in February when it signed a partnership deal with Bailian Group, the country's largest brick-and-mortar retailer by store number. The announcement came shortly after rumors circulated that Amazon might snap up Macy's. It was unfounded chatter, but the move isn't far-fetched for a virtual marketplace that has rolled out physical bookstores and a grocery store. The magic of an Echo smart speaker, a vibrant coffee-table book, or even a juicy peach hardly jumps off the computer screen.
"It's like when you meet a person and there's an electric connection," Winter says of discovering the perfect silk dress on a boutique rack. "Online dating makes the argument that you can fall in love through words and pictures, and our first year in business supports that testament," she says. But if you're looking for a happily ever after, nothing beats a love story free of returns or exchanges.