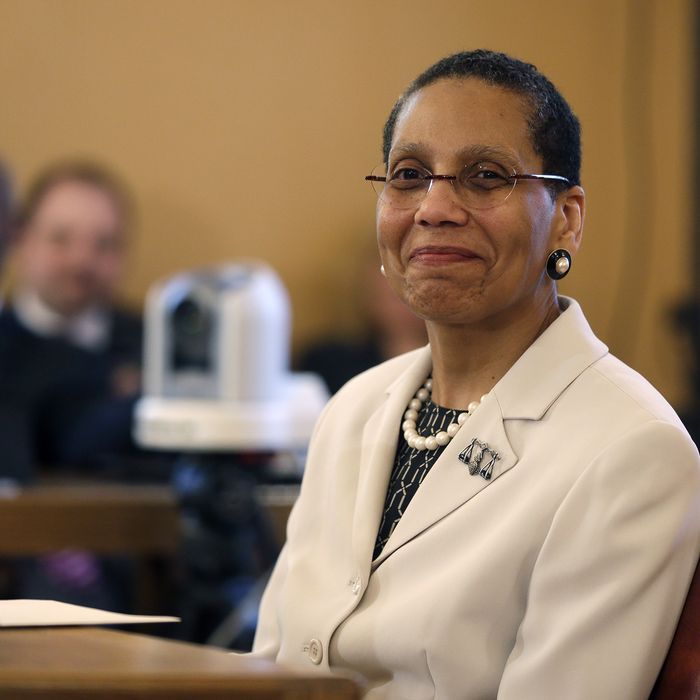 Justice Sheila Abdus-Salaam.
Photo: Mike Groll/AP
Sheila Abdus-Salaam, a trailblazing judge on New York's top court, was found dead on Wednesday in the Hudson River, multiple outlets reported. Abdus-Salaam made history in 2013 with her judgeship when she became the first African-American woman to serve on the seven-member Court of Appeals in New York. Abdus-Salaam, 65, had previously earned the distinction of being the first female Muslim judge in the United States when she began as a New York State Supreme Court Justice in 1994, according to the New York Times.
Abdus-Salaam's body was found fully clothed and without visible signs of trauma, police told the New York Daily News. Residents had called authorities shortly before 2 p.m. when her body was found floating on the bank of the Hudson River by the parkway near 132nd Street. Her husband, who identified the body, had reported her missing from her home in central Harlem earlier that morning, according to the Daily News. Police are still investigating how she ended up in the river.

Governor Andrew M. Cuomo, who appointed Abdus-Salaam to the appeals court, said in a statement that the late judge was a pioneer in the field. "Through [Abdus-Salaam's] writings, her wisdom, and her unshakable moral compass, she was a force for good whose legacy will be felt for years to come," Cuomo said, according to the New York Daily News.
As a judge, Abdus-Salaam was a consistently liberal voice on the court. According to the New York Times, she often sided with the marginalized:
On the court, Judge Abdus-Salaam was among the most reliable and steadfast liberal voices, regularly siding with vulnerable parties — the poor, impoverished immigrants and people with mental illnesses, for instance — against more powerful and established interests. She also tended to lean toward injured parties who brought claims of misconduct, fraud or breach of contract against wealthy corporations.
Abdus-Salaam was born into a working-class family in Washington, D.C., and graduated from Barnard College. She later earned her J.D. from Columbia University School of Law and it was there that she became classmates with former U.S. Attorney Eric Holder. Holder was also present at her swearing-in ceremony in 2013, where he lavished her with praise. He recalled to the audience then, "[Abdus-Salaam] could boogie, but there was a seriousness about her, a strong sense of purpose at a relatively young age." Ultimately, he added, "She never forgot where she came from."
Indeed, Abdus-Salaam developed an interest at a young age in her family history, according to the New York Times. Her research into her family ancestry led to the discovery that her great-grandfather was a slave in Virginia. The fact that, a few generations later, she was in a vastly different position wasn't lost on her. "All the way from Arrington, Va., where my family was the property of someone else, to my sitting on the highest court of the State of New York is amazing and huge," she said in 2014 when she recalled the lineage in an interview about black history, according to the Times. "It tells you and me what it is to know who we are and what we can do."