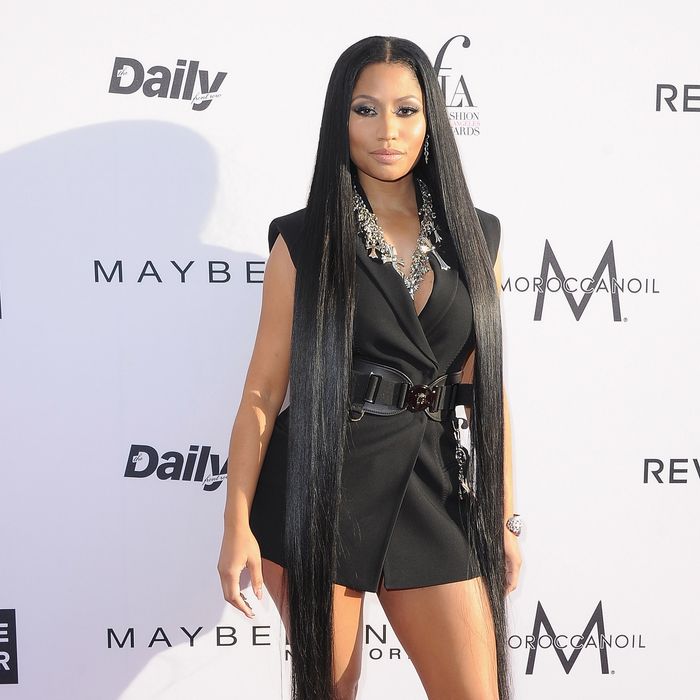 Nicki Minaj.
Photo: Jon Kopaloff/FilmMagic
At the Daily Front Row's third annual Fashion Los Angeles Awards in West Hollywood, California, Nicki Minaj must have felt like she could be honest about celebrity life. During her acceptance speech for the Rebel Fashion Award, Minaj opened up about the difficulties of being an entertainer. She spoke about the insecurities that all confident, successful women occasionally face.
"We all have insecurities," Minaj said, according to Us Weekly. "I want to say, shout-out to all of the kick-ass women, not only in this room, but all around the world. You know what, we win and fail in the public eye. That's not easy to do." She elaborated on how people think they "know what it requires [to make it in the industry]" Minaj said, according to Elle. That is, until people are actually placed in the shoes of someone else. What it takes to succeed, Minaj said, is a fearless attitude in the face of the critics. "It takes guts," she began. "It takes balls, to fail and to make mistakes in the public eye, and to read shitty comments about yourself every fucking day and to still have a beautiful fucking smile on your fucking face." Dang. It's true. Who wants to volunteer for constant scrutiny here?

That doesn't mean, though, Minaj is feeling down on herself. So don't think for a moment that she's backing down. "I took some time off to rest," she said, "and now it's game time, bitches."

Yep — like she said: It takes guts