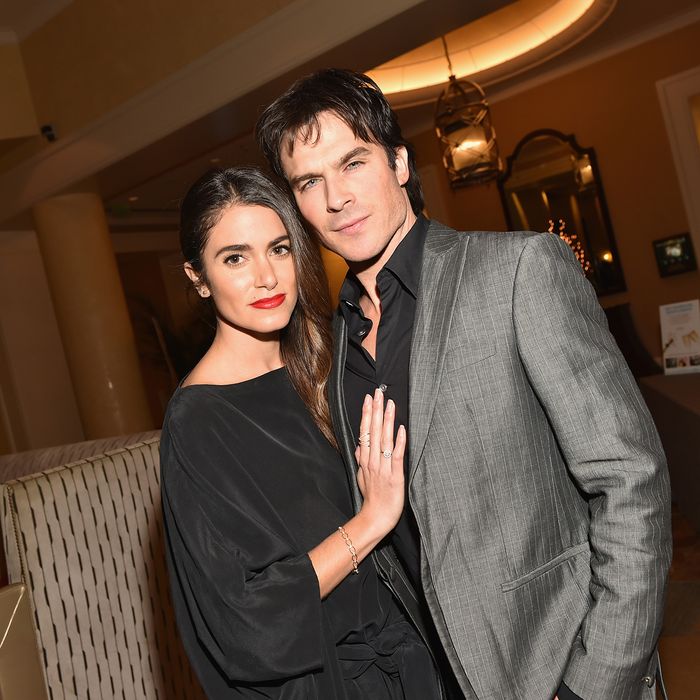 Photo: Moses Robinson/Getty Images
Nikki Reed and Ian Somerhalder are not shy when it come to proclaiming their love for one another in public. The two actors celebrated their two-year wedding anniversary on Wednesday with quite the love notes to each other on Instagram. (Note: If you're feeling jaded about love, proceed with caution.)

For starters, Somerhalder wrote this in the caption of an Instagram post: "To you my love, I say that I know we will have so many of these we can't even count them. Partly because I'll be so old … I love you."

A smitten Somerhalder also shared an intimate video (in black-and-white, no less!) of a recording studio session Reed was in. Just look at that blissful smile!

Not to be outdone by her beau, Reed shared her own gush-worthy post on Instagram. Read it, swoon, and wonder to yourself why these two haven't started a side business in writing for Hallmark. "Navigating the waters of life with you is the greatest and most rewarding adventure I've ever known," Reed wrote. "We climb, we grow, and we laugh at all of it. Thank you for being exactly who you are, and for loving all of me. Thank you for your willingness to go even deeper."
Now if that's not worthy of being printed on thousands of anniversary cards, I don't know what is.