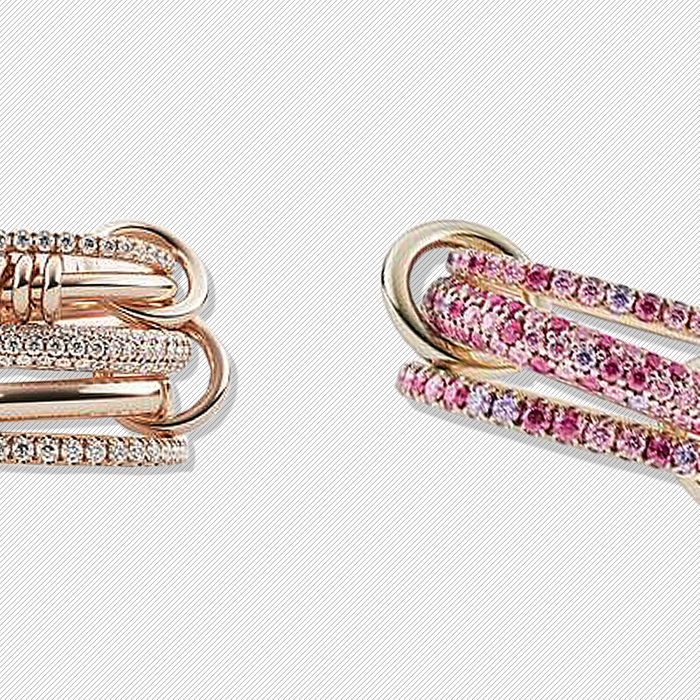 When you think about wedding bands there are generally two overwhelmingly popular options: a plain gold or silver ring, or a diamond-encrusted "eternity" style. They're solid choices worth the investment, but they're not for everyone. What if you want something unique that you'll still appreciate years from now? Meet Yves Spinelli.
After decades of working at Maxfield, a luxury Los Angeles boutique where Spinelli sold pieces from top jewelry designers, he decided to create his own line. The result was a collection of interconnected rings that you could stack on one finger or split among neighboring digits. Some feature diamonds, while others are plain gold or silver. That idea seems to lend itself perfectly to wedding bands, and now, the brand has expanded into the bridal business.
The newly launched collection was inspired by Spinelli's own recent marriage and features the brand's signature linked-ring design. You can customize the combinations with 18-karat gold or platinum options, or add color in the form of sapphires, emeralds, and rubies. They're intended to be built upon — a single band with a solitaire diamond could be the engagement ring before adding another on your big day. Maybe you add a third as you celebrate a major anniversary. Or you can just buy one and call it a day — it's your choice. The genius is that you own a piece that strikes a delicate balance between classic and unique. And you can rest easy knowing that if you glance down at your hand decades from now, you'll love it just as much as you did at first sight.
Scroll down to see our favorites from the new collection.
This band has a diamond inside, which is a cool twist.
If you're not a fan of the standard engagement ring, this is a stunning alternative. The layers of yellow-gold rings with rose-gold link connectors and white diamonds feels just as special.
Separately these are two very traditional rings, but the addition of those links gives it that little kick to satisfy your rebellious streak.
If you buy something through our links, New York may earn an affiliate commission.