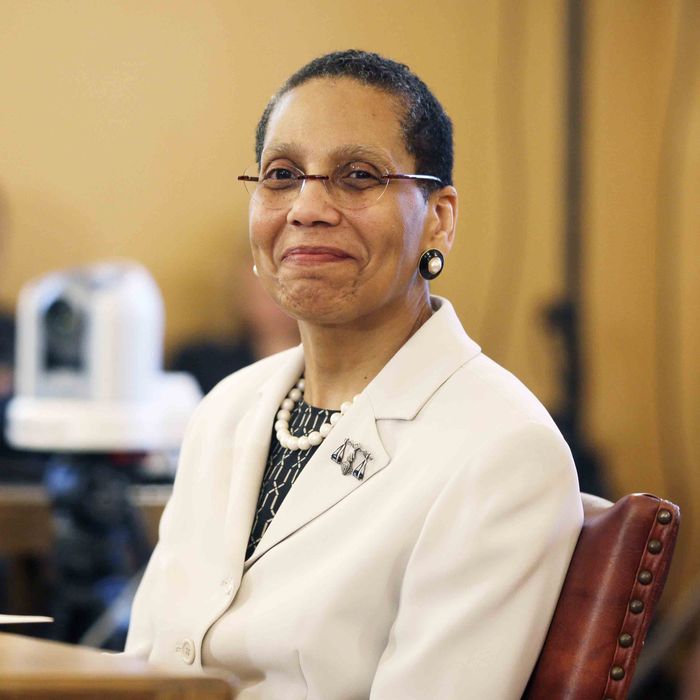 Judge Sheila Abdus-Salaam.
Photo: Mike Groll/AP
After Judge Sheila Abdus-Salaam, a groundbreaking judge on New York's highest court, was found dead in the Hudson River last week, initial reports suggested she may have taken her own life. However, the New York Police Department is now investigating her death as "suspicious," the New York Post reports.
The body of Abdus-Salaam, the first black woman to sit on New York's Court of Appeals, was found on April 12, floating in the Hudson River off of Manhattan, by the parkway near 132nd Street. She was found fully clothed and without visible signs of trauma, and her husband had reported her as being missing after he was notified that she had failed to show up for work.
"We're looking at it as a suspicious death at this point," NYPD spokesman Stephen Davis told the Post. "We haven't found any clear indications of criminality, but at this point we can't say for sure. We're hoping if anyone could shed any light into the hours before her disappearance, it would help us establish what happened."
According to the Post, investigators have spent several days scanning surveillance video to try to trace the judge's final moments, and additional cops have been assigned to review video from residential buildings, stores, and mass transit. The NYPD also issued an "Information Needed" notice on Tuesday, tweeting out a request for information from the public.
Abdus-Salaam, 65, was reportedly last seen alive by a deliveryman at her apartment the morning of April 12, after receiving a package, though her husband received a call around noon that day informing him that she had not shown up for work. Her death was initially described as a suspected suicide, and there were no signs of forced entry at her home. The judge also left her purse, wallet, and cell phone at home, which sources told the Post are possible signs of suicidal intent.