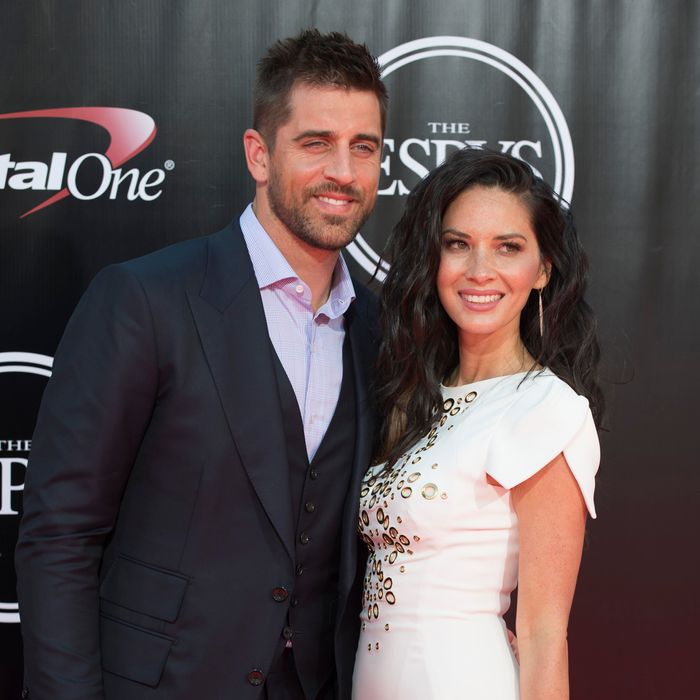 Olivia Munn and Aaron Rodgers.
Photo: Image Group LA/ABC via Getty Images
Not all breakups need to be messy. At least, Olivia Munn and Aaron Rodgers are kindly reminding us of that fact. The actress and the Green Bay Packers quarterback quietly ended their three-year-long relationship earlier this month and so far, well, they seem to be doing just fine. This, of course, comes to us via reporting from an unnamed source in E! News, who says Munn is not speaking with Rodgers "as much as he would like," since "she feels that distance is best at this time."
Should we take this as a sign that Rodgers is hoping for some future reconciliation? If not that, then at least for a softening of the blow, though there's also some indication that both sides understood before the breakup that their days as a couple were numbered. The same unnamed source in E! News hinted that Munn and Rodgers were so hesitant to call it quits, the breakup dragged on. "It didn't feel good anymore, and they should have split up a few months ago," the source told E! News. "They were holding on to this idea of their relationship, even though they knew a breakup was bound to happen."
Other reports say that the two are calmly moving forward at their own pace. And, while rumors have surfaced about what role Rodgers's family may have played in the breakup, it seems they're just that — rumors. So what's left for a former couple who ends it with no drama, no feuds, and no scandal? Reconciliation? Maybe. Or, perhaps, just a reminder that that's how most responsible adults call it off.