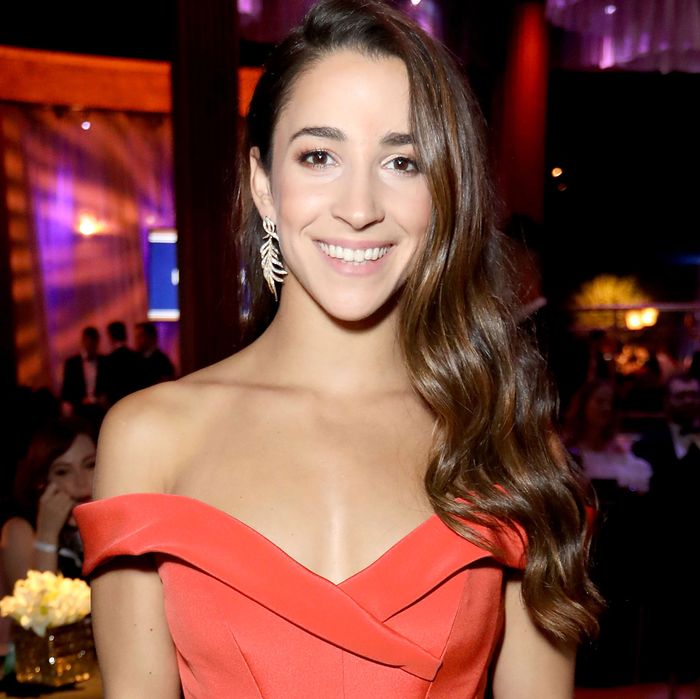 Aly Raisman.
Photo: Rachel Murray/Getty Images for NBCUniversal
We were glued to our TVs last summer, watching as Aly Raisman and her Final Five gymnastics teammates dominated the 2016 Summer Olympics in Rio de Janeiro. Since returning home with some shiny new medals, Raisman has taken some much needed time for herself — hanging out with her family and pressing the pause button on her intense training schedule. But now, she's partnered with Playtex Sport's new Compact Tampon campaign to show young women they can still compete in sports when they have their periods. The Cut caught up with Raisman as she paid a surprise visit to young athletes of the nonprofit Wendy Hilliard Gymnastics Foundation in Harlem, and chatted with her about cherry juice, baths, and the importance of taking a break.
How I start my mornings: Right now, it just depends on the day, because I'm traveling a lot. But I always eat breakfast right away when I wake up in the morning. I usually like to have two pieces of whole-wheat toast with an egg or cheese — I love cheese — and then I'll usually have coffee with it. Or I'll have a bagel — it just depends on what I have in my house. I'm a really big believer in carbs, because without carbs, you don't have the energy to work out. I try to have a glass of skim milk in the morning as well because, for me, that makes me have more energy when I work out. Everyone's different, and I think it's about finding what works for you. Then I always put on Revision Skincare Hydrating Serum on my face and then I put on sunscreen, even in the winter, because I think it's really important to wear sunscreen, since the sun is very damaging. And, if I don't have anything going on, I'll get a workout in. It just depends on what I have going on or if I'm traveling or have to be at the airport. I try to keep a routine as much as I can so that, no matter where I am, I feel normal.
Wellness, to me, is: All about finding time for yourself and finding out whatever works for you. Something that works for you might not work for me, or something that works for me might not work for someone else. It's really about having quality time for yourself and figuring out what makes you happy, because we're all different. You know, my diet is going to be different than Simone's diet or Laurie's diet or Gabby or Madison. We all don't eat the same exact thing every day, but whatever they do works for them and whatever I do works for me. You can use tips from other people, but it's about figuring out what works for you.
How I sweat: The thing with gymnastics is, there's never really an off-season. But because the Olympics just happened, I'm taking a break. I need to because you won't survive another four years if you don't — at least, I won't. My body's still recovering from all the training and everything. I actually haven't worked out in two and a half weeks because I'm just trying to heal everything and make sure everything's okay. I thought it would be harder to not work out, but it's actually really nice having a break. Sometimes it's okay to be a little bit lazy and be in bed and relax. You don't always have to be working out and going crazy, which is hard for me, because I'm used to working out so much. But I think just going out for walks outside right now is as much of a workout as I'm doing, and that's okay. I have to learn to be okay with that for now while I'm resting my body.
My skin-care routine: I love skincare products. I'm obsessed with it. It's comforting having the same routine, and it relaxes me. It's just as important as brushing my teeth. I use Revision Skincare products, and my favorite product is their D.E.J Face Cream. It just is really moisturizing and it helps to even out your skin tone. I love the feeling of washing your face after a workout when you're all sweaty and then coming out and putting lotion and cream on. I look crazy because my face is all white and I don't care who sees it, but I love it. It makes me feel confident.
On makeup: When I'm training at home I don't wear makeup. I would just put sunscreen on. But when I was competing, we did our makeup ourselves. It's kind of relaxing for me to do it myself; it's sort of therapeutic. It's not really the focus — it's the last thing on your mind. I like doing my makeup because I have fun with it, but the priority is obviously the training. I would just do a normal makeup as if I was going out to dinner with my family. I think the best thing is kind of whatever makes you feel comfortable at that moment you do, because it's all about feeling confident in that moment. Otherwise you don't compete well. If you don't feel like you're following a routine, then you feel uncomfortable.
How I relax: I take a lot of baths. I love taking baths, I love lighting candles, I love using bath salts, and I like using essential oils — anything that makes you feel relaxed and calm. Taking walks outside helps, too, and getting fresh air.
On talking about periods with young athletes: It is sort of crazy because you can't really do anything about it, obviously, if you have to compete. When you're training, you have to also train yourself to getting used to having your period and not feeling good because of course, everyone has those days when they don't feel great. It takes practice, and some months are harder than others, but there's obviously plenty of times I've competed or trained in a white leotard when I've had my period and that's not always so fun. It is what it is, and one of the reasons I wanted to work with Playtex Sport is because it's important to talk about it. A lot of girls actually drop out of sports because they're so uncomfortable with having their period, which is really sad. I think about how gymnastics is such a big part of my life and how grateful I am for it, so it makes me sad that these girls let their period get in the way with it. Being able to talk about it with them and start the conversation, let them know that it's not as awkward to talk about as they think it is, I hope that will help keep kids in sports.
My best wellness hack: I drink a lot of Cheribundi juice. It's actually their tart cherry juice. I drink it at night because it helps you relax, and I also drink it for recovery after a workout. The tart cherry is actually really good for inflammation — I have a ton of inflammation in my body from training and working out and all the traveling. So I would say that's probably my favorite thing, and it tastes good. I try to balance having a lot of fruit and not having a lot — you don't want to have too much sugar because that creates more inflammation — so the tart cherry juice is really a perfect balance for me.
On life after the Olympics: I was just home for three weeks, and it was so great. I slept a lot and I just rested. I spent a lot of time with my family, and I think spending time with your family is really, really important and special. I really value my time with them. Obviously this stuff is amazing and it's fun, but no matter what you're doing, knowing that you can come home to your family is the most special thing. I feel really sad when people don't have that or have someone they can go to that supports and loves them because I think the most important thing for a person to have is to feel happy and feel loved and have someone who wants to look after you.
This interview has been edited and condensed.