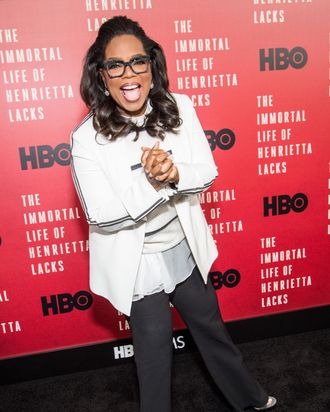 I'm Oprah!
Photo: Mark Sagliocco/FilmMagic/Getty
Oprah doesn't need to work very hard to convince anybody to watch The Immortal Life of Henrietta Lacks this Saturday night. Some of it has to do with the fact that it's an HBO film adaptation of a best-selling book of the same name, which tells the long-overlooked story of a black woman who provided the key to countless major breakthroughs in modern medicine. But there's also the fact that The Immortal Life of Henrietta Lacks stars Oprah, and Oprah could narrate two minutes of a 14-hour Norwegian slow-TV special and it would still be a smash hit.
All this is to say that even though Oprah has a movie to promote, she — Oprah — doesn't need to behave as other celebrities with movies to promote do. They must work hard to make sure people like them and buy tickets to whatever thing they are selling. Not Oprah. She need not do a Facebook Live Q&A, or go on SNL (though, my god, please), or be subjected to Carpool Karaoke with James Corden (though, again, my god, please). Basically, she doesn't have to pretend to be on the same level as her co-stars or any other celebrity or human being on this earth. She could have just stayed home and taken a bubble bath — but remember, Oprah is generous. So, instead, she has given us these carefully selected, highly enjoyable moments. Please enjoy the highlights of Oprah's Henrietta Lacks press tour.

She shared a cover:
Most celebrities book lots of covers around the time of a movie release or TV premiere. And if they land a cover, do you think they share it? Of course not; they hog it as if nobody has ever made them think about other people. Not Oprah. Why would she need to hog! She has her own magazine where she can put herself on the cover every month. Instead, she graciously shared her Essence cover with her co-star Renée Elise Goldsberry, and they wore glorious coordinating white gowns.
She made it a #blackgirlmagic moment:
Oprah is not the first celebrity to attempt to make a stop on the press blitz stand for more than just Hollywood nonsense. However, with other people it's like — blah blah, whales, blah blah, feminism. Causes just become buzzwords for SEO-friendly headlines. Not for Oprah. Nah, Oprah walks the walk. For example, she hosted a special junket for black female journalists. (It's okay that I was not invited. I can work it out in therapy.)
She employed the lesser members of her empire:
We all know that Dr. Oz is no Gayle or Stedman, but Oprah still managed to include him in her shine by sitting his couch for an episode of that show he hosts that is somehow still on the air.
She's humble:
If Oprah wanted to buy 60 Minutes, host it, and make it 120 minutes, she could. Instead, she pretends to be all in awe of a giant clock prop. So nice of her to pretend.
But she's giving:
She gave us the gift of this very perfect ponytail.
Swish.
Oprah. Thank you.