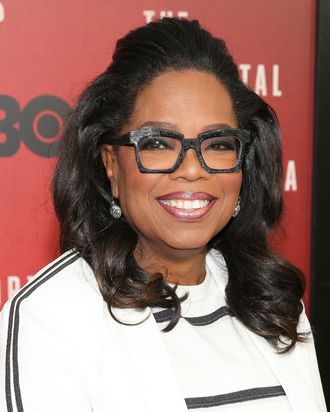 Mama Oprah and her beautiful hair.
Photo: Bennett Raglin/WireImage
Where were you when Oprah, haver of long, beautiful hair, allowed Chris Rock to rake his fingers through her anointed scalp? The scene played out on The Oprah Winfrey Show in 2009, where Rock, in the midst of his Good Hair press tour, inquired whether Winfrey's hair was embellished with an extension track or two. It was not, and Winfrey deigned to invite the comedian to feel her hair as proof.
Eight years later Oprah's hair is still long, luscious, and aggressively rich, and in an interview in O, her hairstylist explained why. "Oprah gets a deep conditioning twice a week — and a heat-protecting spray when styling with a hot tool," Nicole Mangrum told the magazine. She didn't specify which deep conditioner she uses on Winfrey, but folks this is Oprah. Her deep conditioner of choice is probably worth a mint.