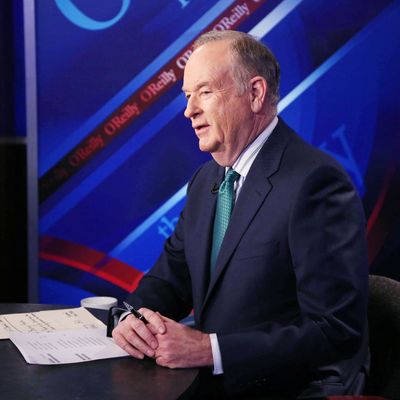 Bill O'Reilly.
Photo: Rob Kim/Getty Images
When the New York Times revealed that Fox News host Bill O'Reilly had reached settlements with five women over sexual-harassment claims, Fox responded by saying that the company takes workplace matters seriously — noting that it had addressed the accusations, despite the fact that none of O'Reilly's accusers had called the company's internal ethics hotline to anonymously register their complaints. Lisa Bloom, the lawyer who represents Wendy Walsh, one of the now eight women who have allegedly been harassed by O'Reilly, said that at first the statement irritated her — but then it gave her an idea.
"A little lightbulb went on," Bloom explained to the Cut over the phone. "I decided to use their statement against them." She realized that, even though Walsh's statute of limitations was up, calling the hotline would force an investigation.
"In my file, I happen to have a copy of the Fox News employee handbook from prior sexual-harassment cases I've dealt with. I looked at the rules: There was no timeline for when a person could complain. And anybody could call, not just an employee."
Bloom fired up a video camera and sat with Walsh as she made the call. "I knew that at that point, they were on the hook," she explained. "They had a legal obligation to investigate." A few days later, the legal team conducting an internal investigation called her back. "The hotline was a great vehicle to force them to do the right thing."
Bloom's stunt showed that employer hotlines can work, but the O'Reilly case has raised questions about their efficacy in cases of workplace harassment.
Publicly traded companies like Fox are, by law, required to have whistle-blower hotlines to report illegal or inappropriate behavior at work. (Private-sector companies are not required to, but there are laws in place to protect whistle-blowers who report wrongdoing externally.) For Fox News, their internal hotline is contracted by NAVEX Global, the world's largest compliance-hotline company.
On the NAVEX hotline, the first question callers are asked is whether they'd like to remain anonymous. Callers are then asked for details about the incident — the who, what, where, when, and why. Once all the appropriate information has been collected, the compliance hotline will send a report to the company and the company will get an alert that a new report has come in.
"The HR person has to decide, as a department or with management, on where to go with certain issues and certain problems," Lynda Zugec, managing director of the Workforce Consultants, a network of consultants in human resources, told the Cut over the phone this week. "It could be that some of the follow-up in the investigation is done outside. It depends on the sensitive nature of the issue. Whether they have the internal HR capabilities to handle it. Some people just don't have the training."
Some hotlines are automatically set up for certain reports — like workplace-violence threats — to be flagged as high priority. And in NAVEX Global's 2016 benchmark report, which looked at 2,382 companies contracted with their hotlines, cases close after an average of 46 days. Roughly 60 percent of complaints are called in anonymously, and 72 percent of all reports that NAVEX gets are in the "HR, Diversity and Workplace Respect" category. Eleven percent of those reports were related specifically to discrimination and harassment.
If what Fox alleges is true — that none of the women called the internal hotline to report abuse — then why didn't they? Could fear over reporting harassment come from the thinking that the issue would get buried and covered up internally anyway? Former Fox contributor Margaret Hoover said on CNN this week that, "Many of the executives who knew about this behavior, who were complicit in this behavior, are still there."
"That happens all the time," Laurie Ruettimann, an independent human-resources consultant explained over the phone. "Look at Enron. It happened at BP. People know what's going within an organization before it bubbles to the surface. In that case, it feels like there's nothing you can do." Ruettimann said that her advice in these cases is not popular: "If you, in good faith, have addressed your concerns and called the hotline, and you don't want to get a lawyer, the best you can do is get a new job. If the culture really sucks, and enough people actually left, it would eventually impact profitability."
Ruettimann and Zugec said that one of the biggest problems with compliance hotlines in the first place is that most people don't even know their company has one. "It is really important that everybody read their employee handbook," Ruettimann said. "It's on the HR page. It's on your intranet. People are so tuned out and I don't blame them! They're trying to do their jobs. But if you read your employee handbook, that's going to save a lot of people."
Zugec added that employers share the responsibility to make their staff aware of the hotline. "It could be an organization that is really well managed. They've got a vision that includes a statement about being ethical," she said. "But if you're not sharing that this hotline actually exists, and you're not encouraging people to use it, that's a problem. If your company supplies services 24/7, year-round, your compliance hotline should be available 24 hours a day, year-round, too."
Whether an organization has a hotline available or not, Bloom says there are other key ways employees should register any harassment complaint. Bloom advises to remain vigilant. "It is always a good idea to report harassment and discrimination internally, but make sure to do it in writing and keep a copy. Write out the facts: the who, what, where, when, why, and how. Gather up your witnesses, your evidence, hold on to everything," she says. "Sometimes the company will do the right thing." Ruettimann added that if a hotline doesn't work, spreading word in your informal networks can make a difference. "Tell your friends and family what just happened to you. Women can be one another's buddies in these situations by talking candidly and off the record about what is happening. I know that sucks and I know that's totally an imperfect solution, but you'd be surprised at how things can snowball."
And if no progress is made, and the harassment continues, Bloom said it might be time to contact "a strong feminist attorney."