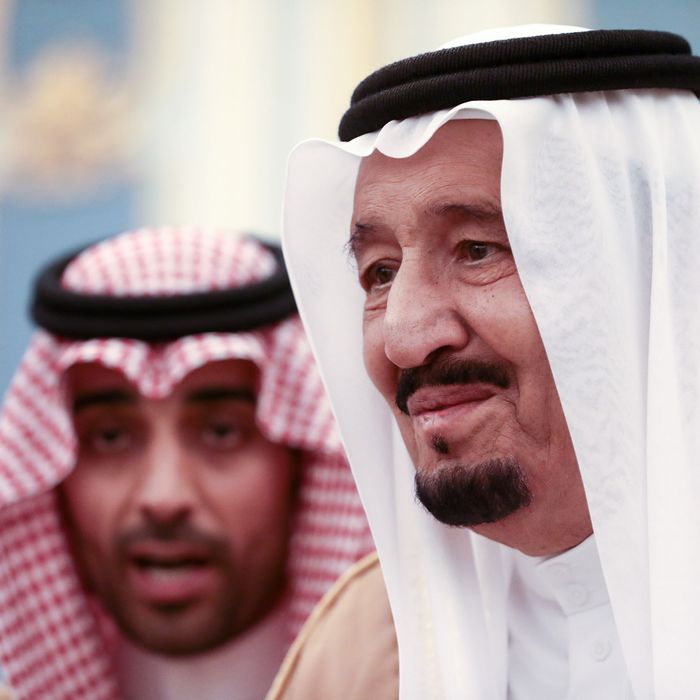 Saudi Arabia's King Salman bin Abdulaziz still enforces a male-guardianship system.
Photo: Bloomberg via Getty Images
Last week, Saudi Arabia — a country where women can be arrested for not wearing a hijab, only recently gained the right to vote, and remain permanent legal minors — was appointed to the United Nations Commission on the Status of Women, the self-described "principal global intergovernmental body … exclusively dedicated to the promotion of gender equality and the empowerment of women."
According to Fortune, Saudi Arabia was approved for the 2018–2022 term in a secret ballot. It received 47 votes, fewer than any other country on the ballot, but enough to pass the threshold to join the commission. And human-rights leaders are outraged.
"Electing Saudi Arabia to protect women's rights is like making an arsonist into the town fire chief," said Hillel Neuer, the executive director of UN Watch, a nonprofit watchdog. He said in a separate interview that the vote "definitely has the power of sending a message" to Saudi women by "putting their oppressor in a position of power and influence when it comes to women's rights."
Rothna Begum, a women's-rights researcher at Human Rights Watch, called the decision "shocking;" Medea Benjamin, co-founder of global women's rights organization Code Pink, called it "disheartening and so revolting;" and one Saudi woman told Newsweek she felt "betrayed and kind of invisible." "There's no way they could know what women in Saudi Arabia go through every day," she said of those responsible for voting the country in.
The UN sent out a press release on Wednesday mentioning that Saudi Arabia had been added to the commission, but besides that, it has yet to comment. Meanwhile Helen Clark, the former administrator of the UN Development Programme, appeared to support the appointment when she tweeted, "It's important to support those in the country who are working for change for women. Things are changing, but slowly."