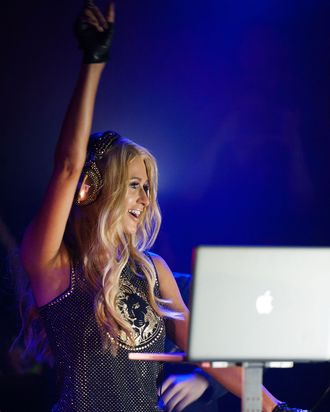 DJ Paris Hilton.
Photo: Valerie Macon/Getty Images
A few years ago, Paris Hilton, not content with merely the life of an heiress, took it upon herself to follow her true passion: DJing. Her art has taken her to Brazil, to Ibiza — noted DJing capital of the world — and, most recently, to an Equinox gym in West L.A., where she DJed a yoga class for free.
Hilton provided her skills pro bono for "Om This Way," a charity yoga class to benefit the Felix Organization, a nonprofit that helps children in the foster-care system. You can see her in action here.
Yoga instructor Maeve McCaffery told "Page Six" that Hilton "spoke with heart and was very gracious."

It goes without saying that she also dropped the bass with heart too.