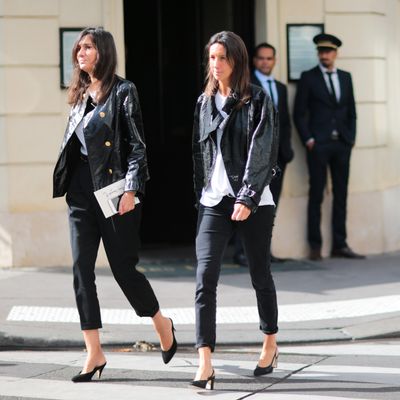 Photo: Edward Berthelot/Getty Images
"You don't look French," says the woman sitting next to me on the white leather couch. We're at Pioneer Works, a converted Brooklyn factory fostering artistic and scientific creativity (and, judging by the crowd gathered for the monthly meetup that is Second Sunday, experimentation in fashion). I spot a woman with pink and purple hair, but she pales in comparison to the creature prancing around in a gold mask and iridescent aluminum jacket. With my grey coat, plain jeans, and black Converse, I feel very under dressed. And, I thought, very French. "Well, I am," I tell the woman sitting next to me. She looks at me suspiciously.
The woman is French too, obviously. Only people from my country go about contradicting complete strangers. As it turns out, we are both recent imports to New York City, and on the same visa: the O-1, for "aliens with extraordinary ability." It's reserved for artists and athletes, and we belong to the first category. "Another extraordinary alien!" she says to me. We find the official description very funny. In Old French, the word alien means strange, and nowadays it's mostly used to refer to extraterrestrial life. Un alien — that's how I often feel in France, with my platinum hair and eccentric outfits.
I was born and raised in Paris's very bourgeois 16th arrondissement. The ambient conservativeness, coupled with an innate need to protest, quickly turned me into a pint-sized punk. At age 4, I started cutting my own hair. The rebelliousness took many forms in subsequent years, most of them sartorial: I attended a strict Jesuit school, so clothes became the best way to express disagreement with the rules. While the preferred style was pleated skirts and penny loafers, I opted for bell-bottom trousers, Nirvana shirts, and skateboard sneakers. Even with the cool kids, I felt like a misfit. While they all dressed in Levi's jeans and Gap sweaters like their favorite Friends characters; I was obsessed with Daria Morgendorffer.
Just as rigid as the Jesuits' réglement, the dress code known as What French Women Wear reigns supreme in Paris. Its cardinal virtues are little black dresses from Sandro, perfectly fitted APC jeans, a Saint Laurent tuxedo jacket, and patent-leather ballerina flats from Repetto. As for the capital sins: Sneakers with skirts, tights and sandals, flip flops on the metro, and wearing more than three colors at once.
French style is all about being in the know, and even though I was born there, I constantly felt like I'd missed the memo. My ballet flats were golden and shiny (a far cry from the requisite black matte), my go-to jeans were gigantic denim dungarees, and my pants were slouchy black Topshop trousers covered in glitter. "Where do you think you are, on the rue Saint-Denis?" asked the members of the good-taste brigade when they saw my version of the LBD, a bright-red velvet bodycon from American Apparel. (The rue Saint-Denis, by the way, is where the prostitutes hang out in Paris. It's also where I found a perfect pair of platform sandals covered in leopard-print velvet.)
Two years ago, I packed my gold suitcase with tropical-print denim shorts, python sandals, and neon silk tunics, and headed to New York City for the summer. As soon as I stepped inside the Brooklyn-bound J train, I knew I'd found my kin. Even the men had rainbow-colored rucksacks and had platinum hair. Over the next two weeks, staying with friends in Chinatown and Bushwick, I took my sparkly pants to museums and galleries, and my flowery jumpsuit to dim sum and ice-cream parlors. During the last weekend of my trip, I attended a loft party in Williamsburg, where people wore oversized overalls and sexy disco dresses. I was seduced by the joie de vivre with which New Yorkers dressed. I flew back to Paris wearing a dog-print sweater and a pair of '80s Guess jeans I'd bought at Beacon's Closet. I was certain New York was the planet I belonged on.
The following September, I quit my job, left my apartment, and spent a year migrating back and forth across the Atlantic Ocean. In the treasure troves that are New York's thrift stores, I bought tacky and tasteful garments from all over the world, and felt more at home than ever before. One rainy day in May, while trying on a pair of iridescent Birkenstocks and Lee baggy jeans at my favorite vintage store in Bed-Stuy, Fleetwood Mac's "You Can Go Your Own Way" started playing on the stereo. I took it as a sign, and decided to apply for a visa.
"Isn't this a weird time to be moving to America?" asked pretty much everyone I knew in Paris. I had submitted my petition three days after Trump signed his ban on immigration. On the contrary, I felt lucky, and ready to prove to the world that America forever remains a nation of aliens. I was wearing my Lee baggy jeans the day I got the approval email from my lawyer, and I wore them again for my interview at the U.S. embassy. A week later, I was at the airport with the brand-new visa in my passport.
What does a free woman wear for a one-way trip from Paris to New York City? Velvet leggings, Air Max sneakers, and a black cashmere Bompard sweater. No glitter, no zebra print. I was chic and monochromatic, and bored to death by my own outfit. "What is happening to me?" I wondered on my way to Pioneer Works a week later, wearing the baggy jeans once more, with bleach-stained Converse and my boyfriend's baby-blue sweater. "Has moving to America for real made me more French than ever?" Before reaching the bus stop, I passed a thrift store. Of course I went in. Ten minutes later, hidden under my grey wool coat, was the most beautiful thing I've ever seen: A silk leopard-print jacket, complete with cowboy fringe and épaulettes.