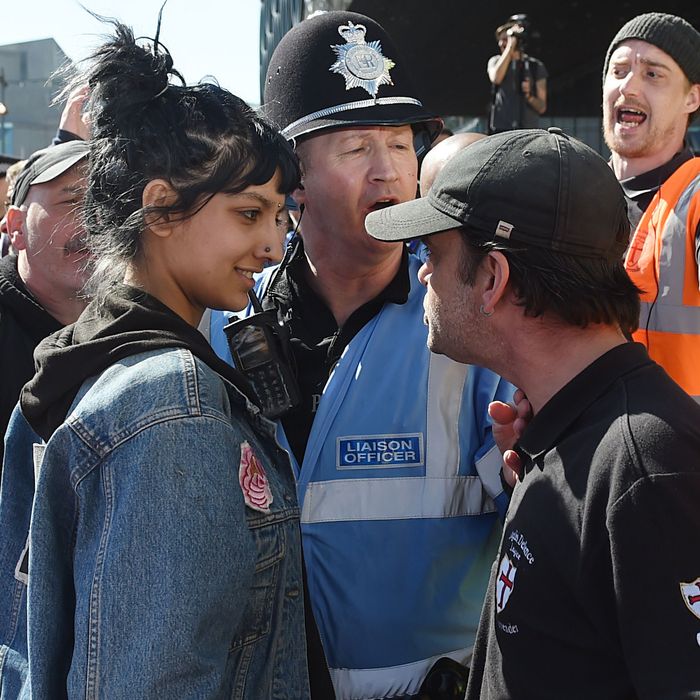 Saffiyah Khan stares down English Defence League (EDL) protester Ian Crossland.
Photo: Joe Giddens/PA Wire/AP Images
Saffiyah Khan — a U.K.-born, half-Pakistani, half-Bosnian resident of Birmingham, England — hadn't planned to get involved in a demonstration of the far-right English Defense League in her hometown on Saturday. But when she saw a group of about 25 "quite big-looking EDL lads" surround a woman wearing a hijab who'd yelled "Islamophobe" at them, she intervened, she told the BBC.
"She was 360 surrounded," Kahn said. "I stepped forward and identified myself as someone who supported her and contradicted them." The EDL protesters surrounded her instead, which is when a photographer snapped the picture that went viral over the weekend: Khan smiling into the face of an angry EDL protester while a police officer holds him back.
"He put his finger in my face," she said. "It was very aggressive. A police officer was there, and the man took his finger out of my face. I wouldn't have responded violently." She added that she "wasn't intimidated in the slightest."
Birmingham MP Jess Phillips tweeted the photo, which at the time of writing had been liked 19,000 times and shared 11,000. And Piers Morgan called the image "photo of the week" on Twitter, captioning it, "Enraged EDL racist stared down by amused, contemptuous Asian woman."
Khan said she was "quite surprised" by the reaction to the photo, but she added that it communicates an important point: "Sometimes it is more important to smile than to shout."