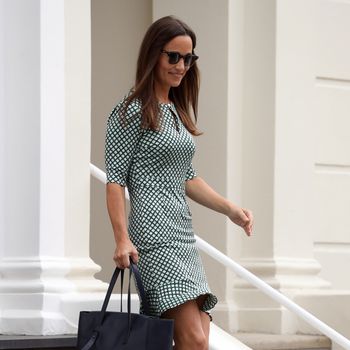 Pippa Middleton.
Photo: Alex Huckle/Getty
Pippa Middleton's upcoming May wedding to British man James Matthews is shaping up to be one of the most exclusive events of the year — so much so, in fact, that even Prince Harry's girlfriend, Meghan Markle, isn't allowed to attend the ceremony. But now, the Church of England has threatened the event's A-list vibe by giving members of the public the right to attend under a new ordinance.
The wedding is set to go down on May 20 at St. Mark's Church in Berkshire, with only close friends and family in attendance, including Kate Middleton and Prince William, Prince Harry, and Matthews's bad-boy reality-TV star brother Spencer Matthews. Plus-ones — including Markle — are reportedly only allowed to attend the reception afterwards, thanks to a strict "no ring, no bring" policy. However, as the Telegraph reports, the Church of England recently published a guidance on "celebrity weddings," which may give mere peasants the right to attend the ceremony.
The guidance, entitled Celebrity Marriages in Anglican Cathedrals and Churches, states that "a marriage is a public ceremony which at the least all parishioners are entitled to attend." That means all residents of Englefield — where the church is located — automatically get an invite. Andrew House, chairman of the parish council for the neighboring village of Bradfield, told the Telegraph, "Some people will no doubt want to wish the couple well, especially those Englefield parishioners who knew the Middleton family from when they lived in the area."
But luckily for Middleton, the guidance also states that locals can only turn up for the wedding "as long as there is available seating or standing room unless a genuine question of safety or security arises." So, if she can prove that having unknown strangers rub shoulders with her royal guests is a security risk, she may be able to keep the event private after all.
Either way, looks like now's the time to start looking into Englefield real estate if you're hoping to attend, just in case.