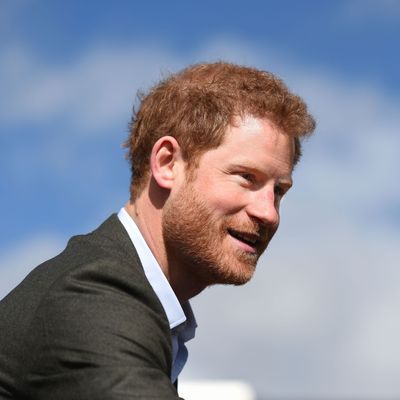 Prince Harry.
Photo: WPA Pool/Getty Images
Prince Harry went to therapy in his late 20s after going through what he described as two years of "total chaos" as he struggled to cope with the grief over his mother's death, the royal disclosed in an interview with the Telegraph.
The youngest son of Diana, Princess of Wales, told the Telegraph's Bryony Gordon in the first episode of her Mad World podcast that he had "shut down all his emotions" after losing his mother at the age of 12. Prince Harry, now 32, disclosed that he spent most of his teenage years and early 20s "sticking [his] head in the sand" and refusing to think about the death of his mom, and that he sought professional help at age 28 at the urging of his brother, Prince William.
"I have probably been very close to a complete breakdown on numerous occasions when all sorts of grief and sort of lies and misconceptions and everything are coming to you from every angle," Prince Harry told the Telegraph.
The prince said he tried to bury his emotions, and spent much of his 20s "running around going 'life is great.'" But after what he describes as "two years … of total chaos" — at which point he felt himself constantly having a "flight or fight" reaction, even at royal engagements — he realized he needed to finally address her death.
Since then, Prince Harry has been to a mental-health professional "more than a couple of times" and has also taken up boxing, finding it to be a useful outlet for his frustration. "That really saved me because I was on the verge of punching someone, so being able to punch someone who had pads was certainly easier," he said.
The royal added that he's now in a good place. "Because of the process I have been through over the past two and a half years, I've now been able to take my work seriously, been able to take my private life seriously as well, and been able to put blood, sweat, and tears into the things that really make a difference and things that I think will make a difference to everybody else," Prince Harry said.