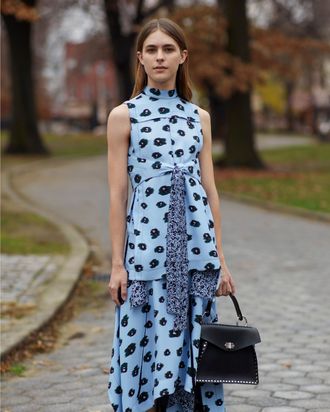 Model Marcs Marcus.
Photo: Ethan James Green for Proenza Schouler
Arriving in stores today, Proenza Schouler's pre-fall 2017 collection is luxurious but casual with bold colors and patterns. Three transgender models star in a lookbook shot by photographer Ethan James Green, a former model who starred in Calvin Klein's sexting ad campaign in 2015: Stav Strashko, Torraine Futurum, and Marcs Marcus.
They and two other models (Michelle Gutknecht and Emm Arruda) wear sequins and stripes, pleated leather, and woven platform sandals, giving each look a collaged quality, as the different cuts are layered.
"This time we continued things like asymmetric hems, pleating, and striped knits from spring and started to focus on ideas that would become important for fall, like all the tailoring and the emphasis on outerwear," said co-founders Lazaro Hernandez and Jack McCollough.
They asked Green to cast girls he had previously worked with, and he brought Strashko, Futurum, and Marcus, who are also his close friends. "The mix felt right and the overall message of diversity very contemporary," they said. "The whole thing felt like the New York we know."
Scroll down for some of the looks and shop the collection here.