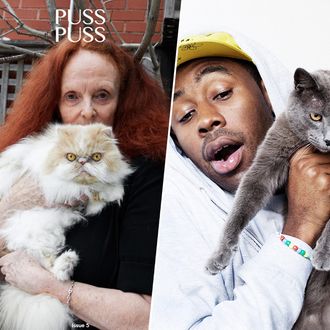 Puss Puss.
Photo: Juergen Teller; Kenneth Cappello; Amber Mahoney
In the boom era of indie publishing, there really is a magazine for everyone. Now, for cat ladies whose aesthetic sensibilities are more CR Fashion Book than Catster, there's Puss Puss, a biyearly, luxury lifestyle publication featuring stylish takes on culture, fashion, music, and art, all with a feline twist.
Available online and at various newsstands across the city (as well as the MoMA), Puss Puss is designed to "debunk the vision of the crazy cat lady covered in cat hair," explains London-based founder and editor-in-chief Maria Joudina-Robinson. "I feel like most people who like cats aren't like that, and are in fact very fabulous and amazing: stylists, photographers, artists, loads of creative people. The magazine isn't really about cats, it's more about cat lovers."
Now on its fifth issue after launching in late 2014, the magazine has already featured some of the world's chicest feline aficionados, including Chloë Sevigny, Soko, Ai Weiwei, Tyler, the Creator, and most recently Grace Coddington, queen of the high-fashion cat ladies (shot by legendary photographer Juergen Teller). In addition to lavish fashion and beauty spreads with names like "Garfield's Gang" and "The Cat that Walked by Himself" (some that feature cats, other merely inspired by them), Puss Puss also includes essays and cultural criticism, features on historical cat lovers like Ernest Hemingway and Stanley Kubrick, profiles on cool cat lovers in creative industries, and even interviews with wildlife experts about rare big cat species; basically, anything that looks chic and has some cat connection. As Joudina-Robinson puts it: "The more conceptual it is, the more interesting it is."
I called her up to learn more about the magazine that will look good on your coffee table no matter how much cat hair is underneath your couch.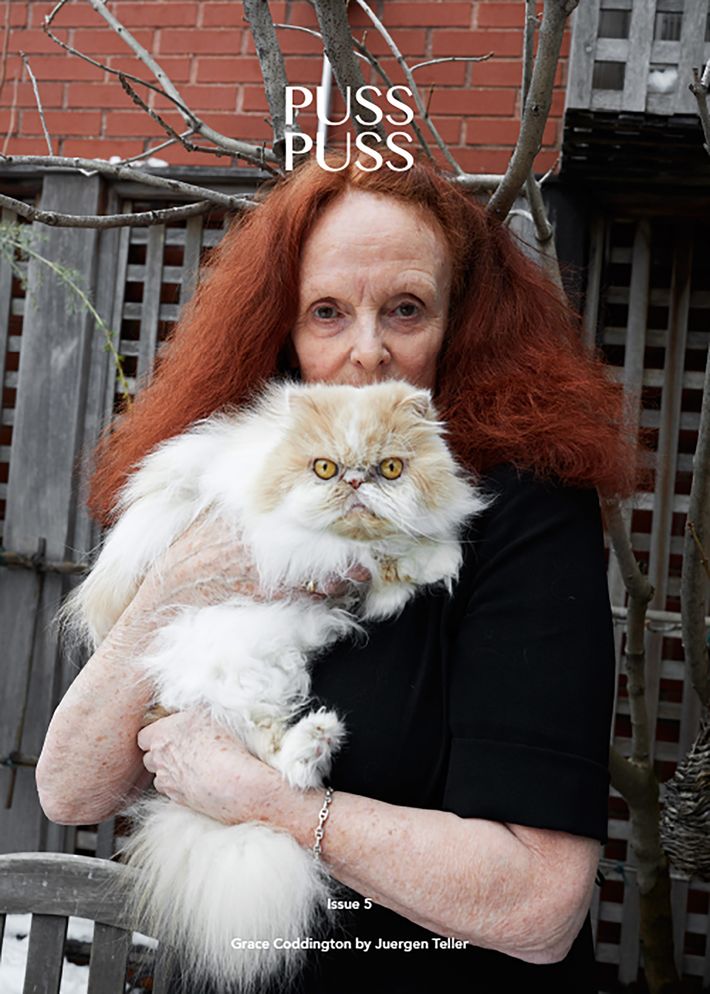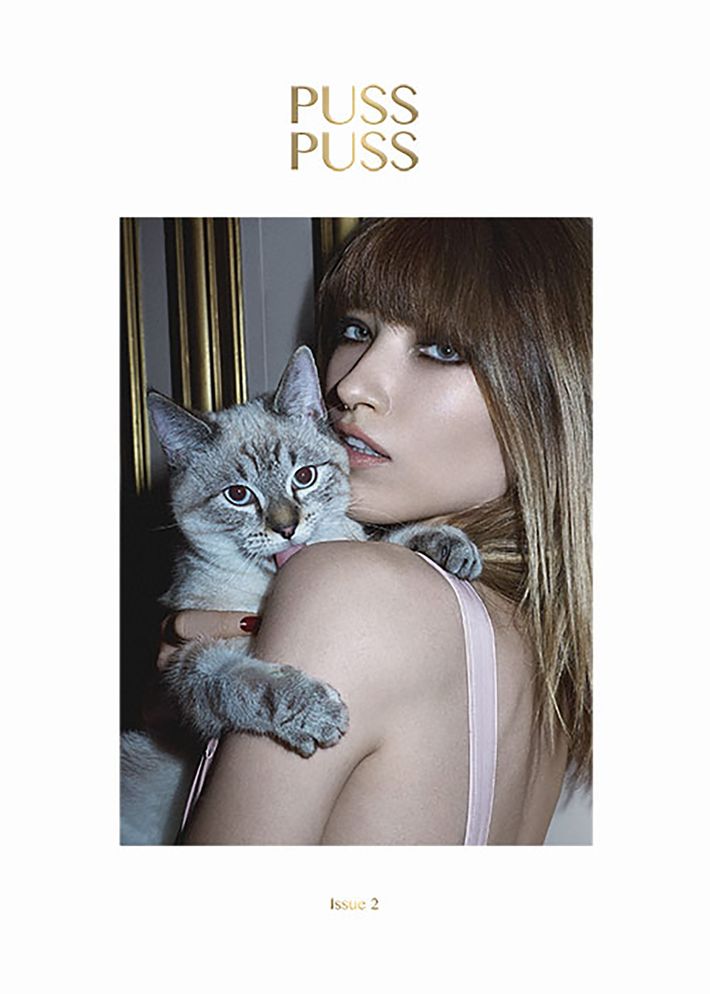 How did Puss Puss come to be?
It was one of those things that was just in the air — it felt like if I wasn't going to do it someone else was going to do it. And everyone I spoke to was very helpful and encouraging and offered to help and shoot for us. For a lot of people it's very much a labor of love. Independent publishing is very tricky and we're not in it because we want to make a fortune.
I wanted someone very credible and serious in the first issue to set the scene, and Ai Weiwei was very visible at the time because he had just been in prison. He's generally a very cool guy and an amazing artist. I watched a documentary about him that was filmed just after his imprisonment, and in it he talks about his cats all the time, and he's in his compound and there's all these cats walking around. And I found it so interesting how he kind of uses the cats as a metaphor for freedom; in China everything is so controlled and the government is so invasive in peoples' lives, and cats still do what they want. And I just thought, if we're going to do this magazine, we need Ai Weiwei. And through an amazing chain of coincidences we got him and it just kind of went from there.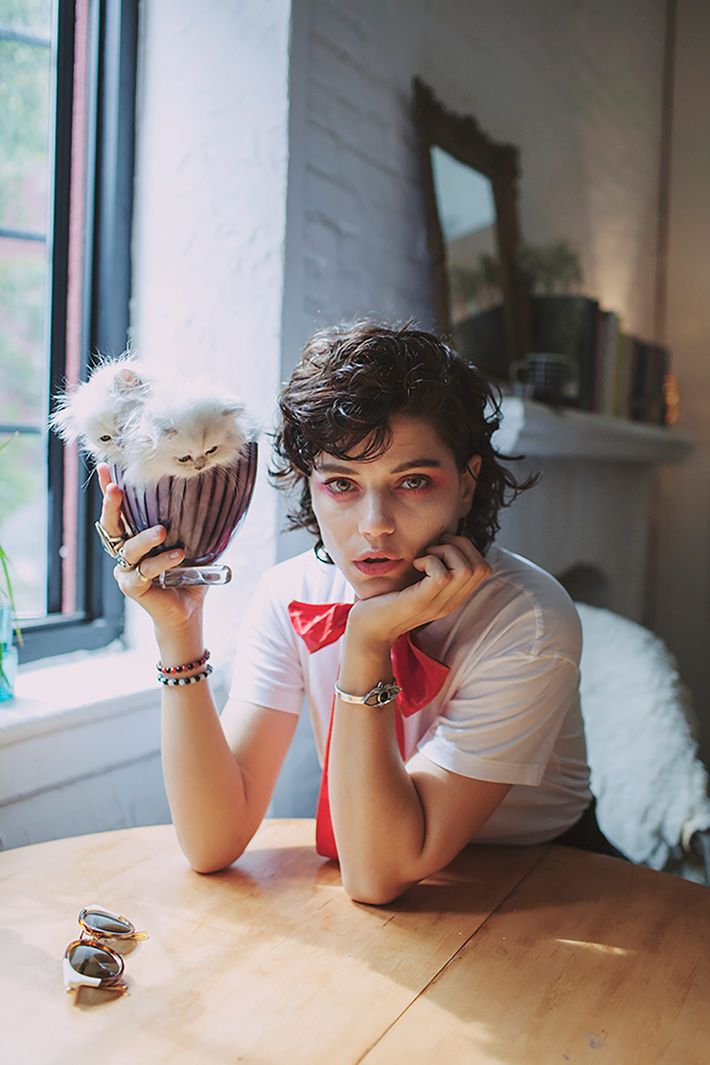 Your new cover star is Grace Coddington, shot by Juergen Teller, which is obviously a huge get. How did she come to be involved?
When I started the magazine there were a couple of people that I thought it would be a dream to feature, and Grace was pretty much the top. We've been trying to claw our way to her for a very long time — we've sent her some magazines and had mutual friends pass her some copies. When we launched our last issue with Chloë Sevigny, we did it at Colette in Paris, simultaneously with Grace launching her perfume that's shaped like a kitty — so we met there. For this issue, we had the amazing stylist Heathermary Jackson on board who co-curated the issue so it was a combination of all the groundwork we had done and Heathermary knowing what people to get involved to make it all happen. I hope Karl Lagerfeld is next. That would be the dream and then you can retire.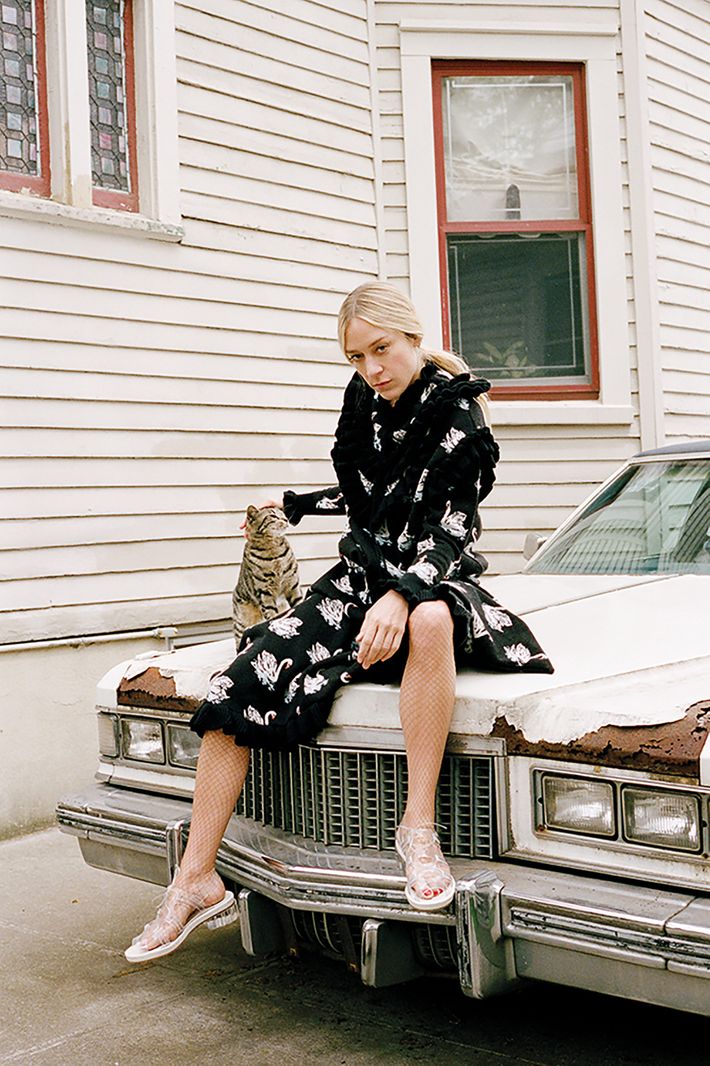 Why do you think cats and fashion seem to have this symbiotic relationship?
I think it's even in the language; there are so many expressions that are to do with fashion or beauty that come from cats: kitten heels, the feline flick. If someone is told that they're quite feline, they'll take it as a compliment, but if you tell them they're canine, they'll probably going to get offended. The way cats move, how they look — they're just really beautiful, elegant creatures, and fashion is obviously always inspired by things that are beautiful and elegant. It's just kind of a no-brainer really.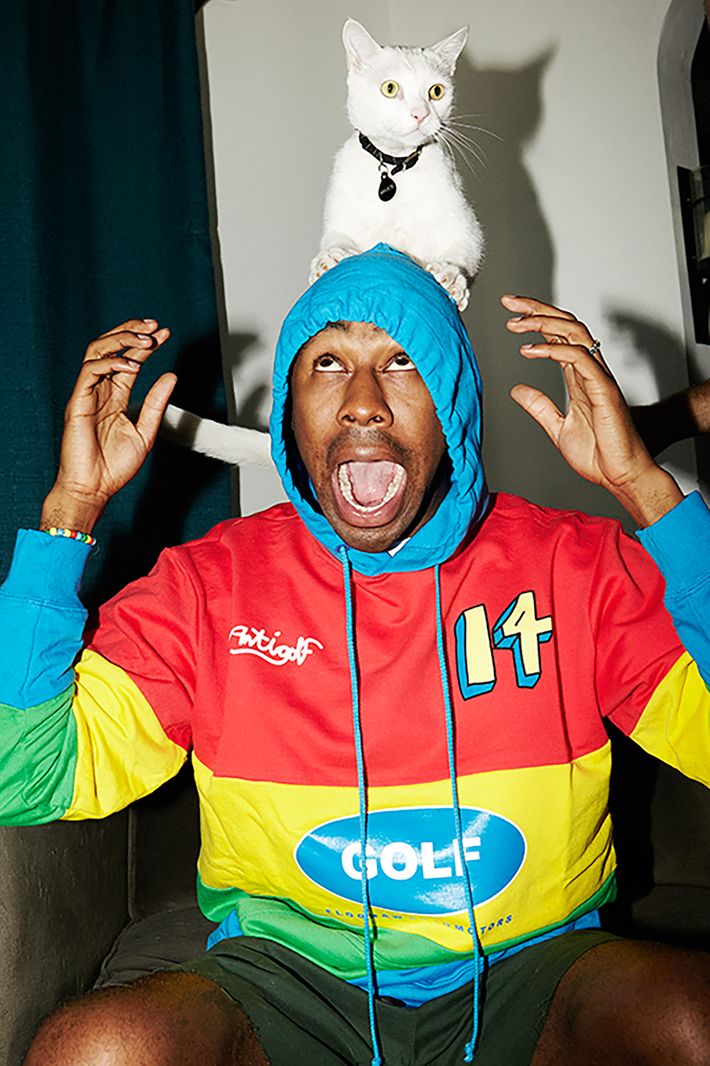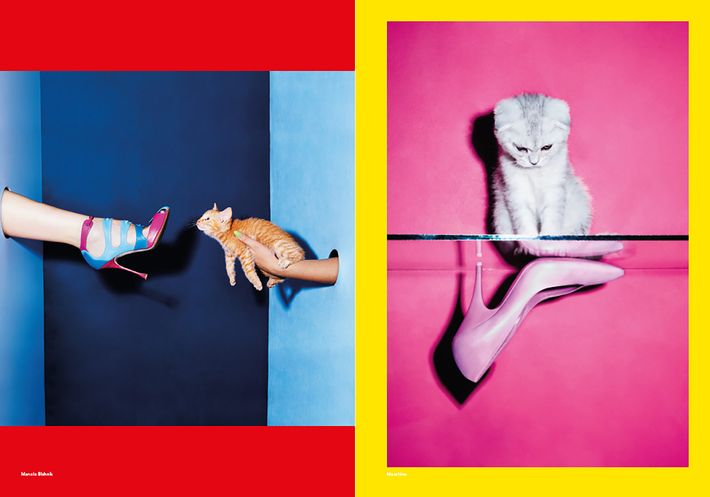 What is the aesthetic you're aiming for throughout the magazine?
We definitely want to take away from the idea of twee cat things. We're not about dressing cats up in funny outfits. There's definitely a space for it in the world and especially on the internet, but what we do is a totally different end of the spectrum. It's quite conceptual. If we took the idea of cats literally we would run out of content pretty quickly, and if we just put cats in every photo shoot it would be a little bit boring and repetitive. We kind of say: You can do whatever you want, it just has to have a connection to cats, as subtle as you want — it can be inspired by film or a song or could even be the body language of cats, it could be a saying. Our contributors have a starting point, but they also have total freedom.
In terms of production value, it's not a throwaway object. It's not just a magazine, it's very much a collector's item. Some people buy it as a gift for their cat-loving friends, and people buy back issues on the website and they'll buy all five issues in one go, because once you put it on your bookshelf with all the spines it looks like a collection. That's very much our customer, somebody who appreciates good-quality print, beautiful content, and they want something nice to put on our coffee table.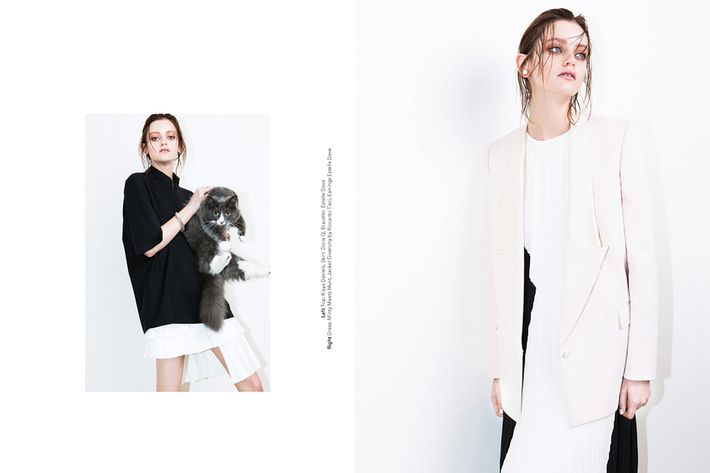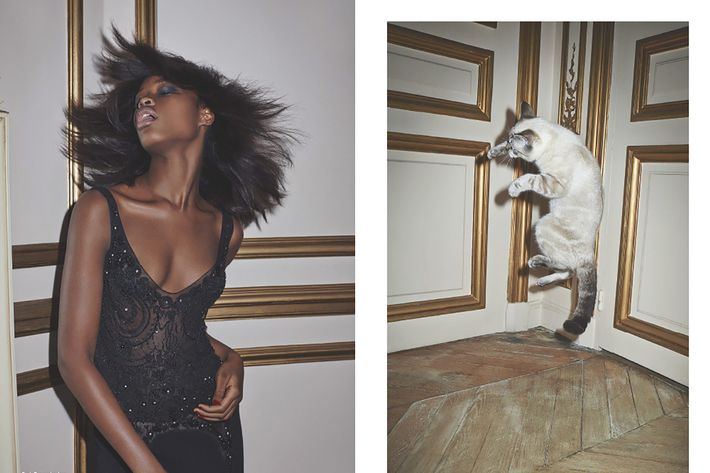 When you're looking to include a cat in a shoot, how do you go about casting a stylish cat?
Well, all cats are stylish I think. Unless it's a crazily overweight cat, I think even the fattest cat still has a grace around it somehow. It's just the nature of those beasts. And in terms of how we get the cats, most of the time we just put an ad on Instagram, and most of the time people who are cat owners just want to have their kitty featured in the magazine. I have a cat, a Russian Blue called Sputnick, who has made it into two issues. She wasn't very happy about it. She's very chill and friendly but she absolutely hates to have her picture taken; she was hissing and it was a bit of a nightmare.
From experience what we do now is we actually get two cats per shoot, because you never know what they're going to be. We did a shoot in Paris with a Siamese cat and it was completely crazy, nobody could pick it up, it took three people to get the cat in its box. And then the Ginger cat was amazing, he was just looking at the camera and loving it. We don't have a budget to have professional cat models.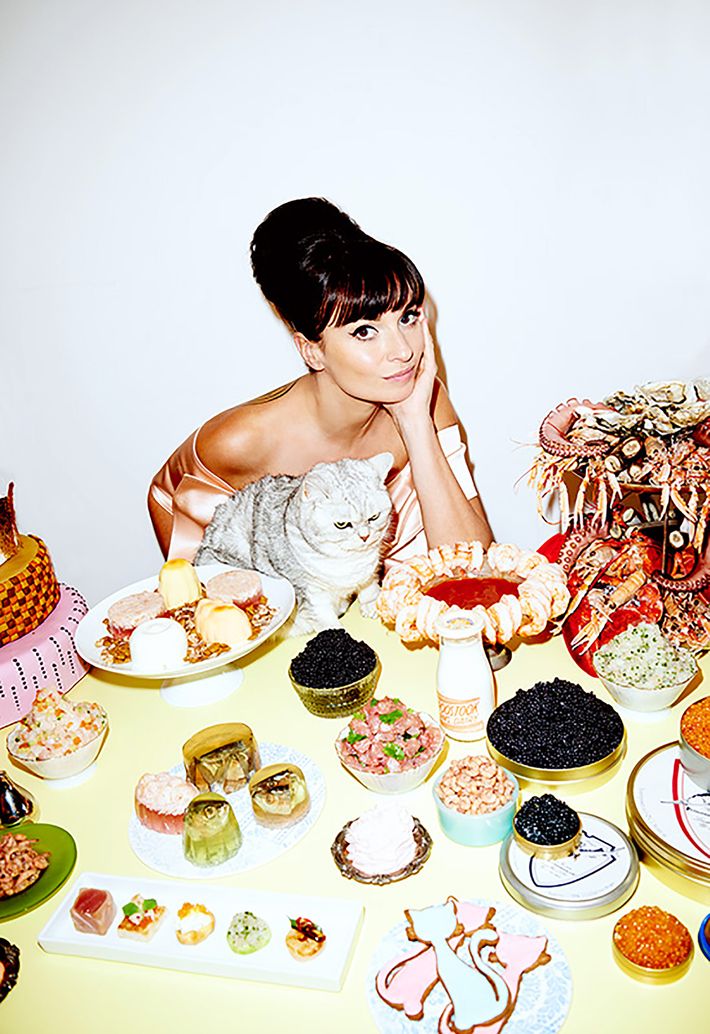 This interview has been edited and condensed.