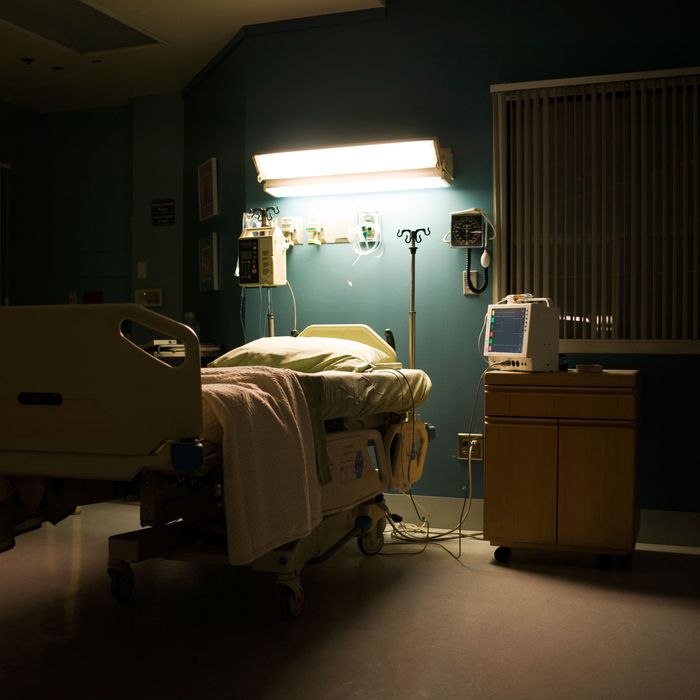 A new study looked at the cost of rape treatments.
Photo: Thomas Northcut/Getty Images
Rape victims in the U.S. are often stuck paying a substantial chunk of their hospital bill after receiving medical treatment — even if they are privately insured, a new study found. On average, women with private insurance end up paying $950 (or 14 percent of the total bill) out of pocket for medical services after an assault, Reuters reports.
Published in the American Journal of Public Health, the study examined hospital billing records for privately insured women who visited the emergency room in 2013, and identified 1,355 instances of assault. In total, insurance providers and victims were found to have paid over $9 million for sexual-assault related medical services that year, with the average rape costing $6,737. Of that price, about $5,789 was usually paid for by the woman's insurance, according to Reuters.
"With other violent crimes, victims are not responsible for paying for the damage that results from the crime," lead author Ashley Tennessee, of the Medical University of South Carolina, told Reuters. "Many people know sexual assault is an issue, but they're often unaware that victims have to pay for associated medical charges."
Under the Violence Against Women Act, states are required to pay for "rape kits," or sexual-assault forensic exams. But as Reuters notes, the costs of those exams vary by state, and hospital billing procedures often include services beyond the rape kits. Of the 1,355 victims in the study, in only 32 were they admitted to the hospital following their ER visit, each of whom paid an average of $788 for inpatient services, while others incurred around $316 of outpatient costs. Additionally, nearly 7 percent received prescriptions for antibiotics, HIV-prevention drugs, emergency contraception, or other medication, and 214 paid an average of $48 to fill their prescriptions.
The study's findings are limited since researchers didn't look at men or LGBTQ victims of sexual assault. The costs incurred by women with public insurance or homeless women who aren't covered at all (but face higher risk of assault) also weren't analyzed in the study. As a result, the researchers noted that follow-up studies should look at the costs associated with all survivors of sexual assault, and more work should be done to inform victims of possible funding sources.