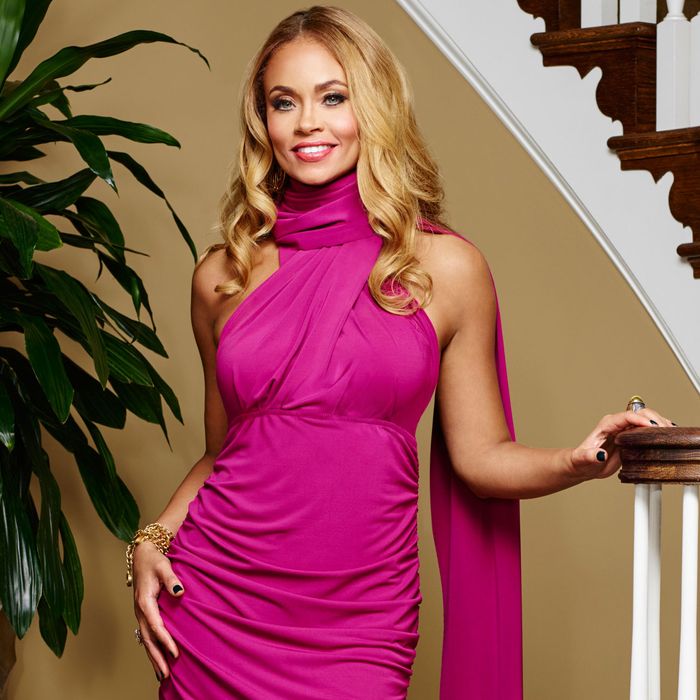 Gizelle Bryant.
Photo: Bravo/Tommy Garcia/Bravo
The Real Housewives of Potomac is no The Real Housewives of D.C., where the latter was so tragically boring that not even an infamous White House–state-dinner crash could save the show from cancellation after its first season. For one, the Potomac cast is entirely black (or multiracial, to be specific). Race — the acknowledgment or lack thereof — in fact, was a plotline itself during Potomac's debut season last year. Leading the charge was cast member Gizelle Bryant, who confronted former castmate Katie Rost about embracing her African-American identity (Rost is biracial).
But Rost is now gone and new dramas are afoot this season (season two premiered last Sunday). In grand Housewives tradition, Bryant is launching a business — a makeup line. The Cut caught up with Bryant to discuss her new venture and what it's like being a Real Housewife.
How did you become a Real Housewife?
The casting director from season one is a really good friend of mine. When he was looking for ladies in the Potomac area, he called me. At first I was like, "No, this doesn't sound like it's for me," but he was like: "What else are you doing right now?"
Were you worried how the details of your private life would be thrust into the national spotlight?
My only worry was about my kids. I didn't want them negatively affected about what people might say about their mom. I had a conversation with them and they were like: "Mom, you're wonderful, just go for it." I'm very proud of my life. I don't mind sharing it with the world.
What has the experience of being a Real Housewife been like for you?
I'm happy to be going down this road with the other ladies on the show. And I do like the other ladies. There are some moments where I'm just like: "Aye, aye, aye," the cameras are in my face every five seconds, but you get over that quickly. I just decided to have fun with it.
What do you think viewers get wrong about you?
People might feel like I'm a little insensitive at times, and I can be, so maybe they're not getting that wrong.
The Real Housewives franchise is notorious for making the women look incredibly glamorous during the confessional interviews. What is the hair and makeup process like for those?
A lot goes into what color to wear, what the background looks like … It is a process to get that interview-confessional look down. It takes an hour to an hour and a half. The lighting takes the longest part. I always tweak my look. I don't want to look like a mom or an old lady.
You've developed a makeup line called EveryHue Beauty. Tell me about that.
Women of color have been overlooked by the makeup industry, especially when it comes to tinted moisturizers and foundations. I've always had trouble as a black woman finding a tone and shade that matched my skin tone. I've always had to buy two or three shades to try to find a match. Me and my partners at EveryHue Beauty are launching a tinted moisturizer for all women of color. We'll have 12 shades, from the darkest you could possibly think of, all the way to the lightest. We should be launching in about three weeks.
How long did it take to create the line?
It's taken longer than I thought. We started working on this maybe two years ago. I thought I could get this up and running in six months, but it takes much longer than that.
What are the price points for EveryHue Beauty?
We're in between $28 and $32 for a tube of tinted moisturizer. We're also coming out with a compact with a highlighter, a bronzer, and a finishing powder all-in-one pack for $39.40, which is extremely affordable.
Do you wear your beauty products on the show?
Yes! I've been wearing EveryHue for almost a year now.
Do you have any background in the cosmetics industry?
No. I have three other partners and one of the partners has been in the makeup industry for 30 years. If I'm not in the lab, she's in the lab. She's been the go-to for how the products should feel, look, and dry.
Okay, back to the show. If you could name a theme for this year's The Real Housewives of Potomac, what would it be?
Hot like fire.
This interview has been edited and condensed.