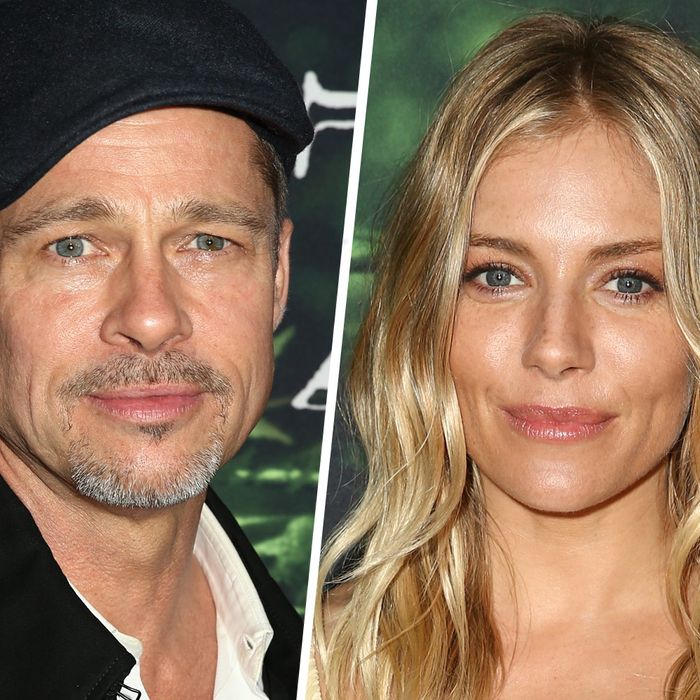 Brad Pitt and Sienna Miller.
Photo: Getty Images
In the wake of his contentious divorce from Angelina Jolie, Brad Pitt has been experimenting with new hobbies: creating sculptures, texting Jennifer Aniston, wearing baggy pants … all sorts of things. Recently, according to a new report from "Page Six", he has also tried flirting. With Sienna Miller!
A "Page Six" source claims that at a private dinner for The Lost City of Z, which Pitt produced, Pitt engaged in some "serious flirting" with the film's star, Miller. The source adds that the co-workers were "heavily enjoying each other's company" and "talking to each other all night." You read that right. Serious flirting. Heavy enjoyment of each other's company. All-night talking.
If all this real official canoodling sounds familiar, it is. Pitt and Miller reportedly flirted with each other two years ago (on the set of The Lost City of Z). At the time, Miller denied the rumors by telling a SiriusXM radio host that she had only met Pitt twice. "So this is the truth about that," she said. "Brad Pitt is producing the movie that I just wrapped, but I didn't see him. He's not been to the set."
During a red-carpet interview at the premiere of the film last week, however, Miller told Entertainment Tonight that Pitt was "very active" in his role. She also said this: "He's obviously a very handsome producer."
A major compliment.
Whether Pitt and Miller have ever flirted, seriously or otherwise, at any time in human history, remains unconfirmed. Both stars' publicists declined to comment to "Page Six."