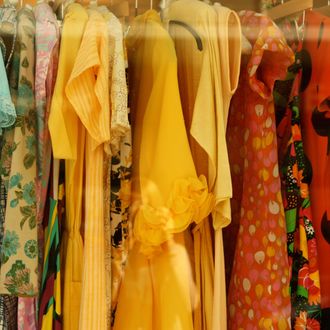 Photo: Candy Pop Images/Getty Images
The world of designer online consignment has expanded beyond eBay and Etsy, with popular sites like the Real Real and Fashionphile selling gently worn Chanel jackets and Marc Jacobs dresses, but most still fail to include clothing for curvy women. One year ago, serial entrepreneur Carolyn Thompson saw an opportunity in the market for designer consignment in bigger sizes and decided to start Resell XL, or what she calls a "solution revolution" of designer clothing available to women sizes 14 and up. Thompson has found success simply by tapping into the $19.9 billion plus-size market in the U.S. that runway designers still refuse to pay attention to.
Her mission was simple — to create "an inclusive community for plus-size buyers and consigners seeking high-quality merchandise." While shoppers were skeptical at first, and felt that there weren't enough diverse labels, the stock has continued to grow: There are a lot of pieces from Anne Klein and Eileen Fisher, as well as more high-end labels like Gucci, Michael Kors, or Ralph Lauren in a range of sizes as well.
Prices range from $50 for a simple top to over $300 for a piece from designers like Oscar de la Renta. Thompson says that the business continues to increase with flocks of more high-end labels coming in because of the simple fact that 60 percent of the buying public is plus size and has to be embraced, even when it comes to fashion. And she recommends for buyers to "make sure what you're getting is authenticated as far as designers go. We partner with authenticators to ensure quality merchandise is being listed."